From Daikikougyou comes a new 1/6th scale figure, an original character from master sculptor Otoyama Houjun (乙山法純)!
The figure, named Gyuho-san, features a stunning woman in traditional Japanese clothing, cow horns, and a cow-print bow on the front.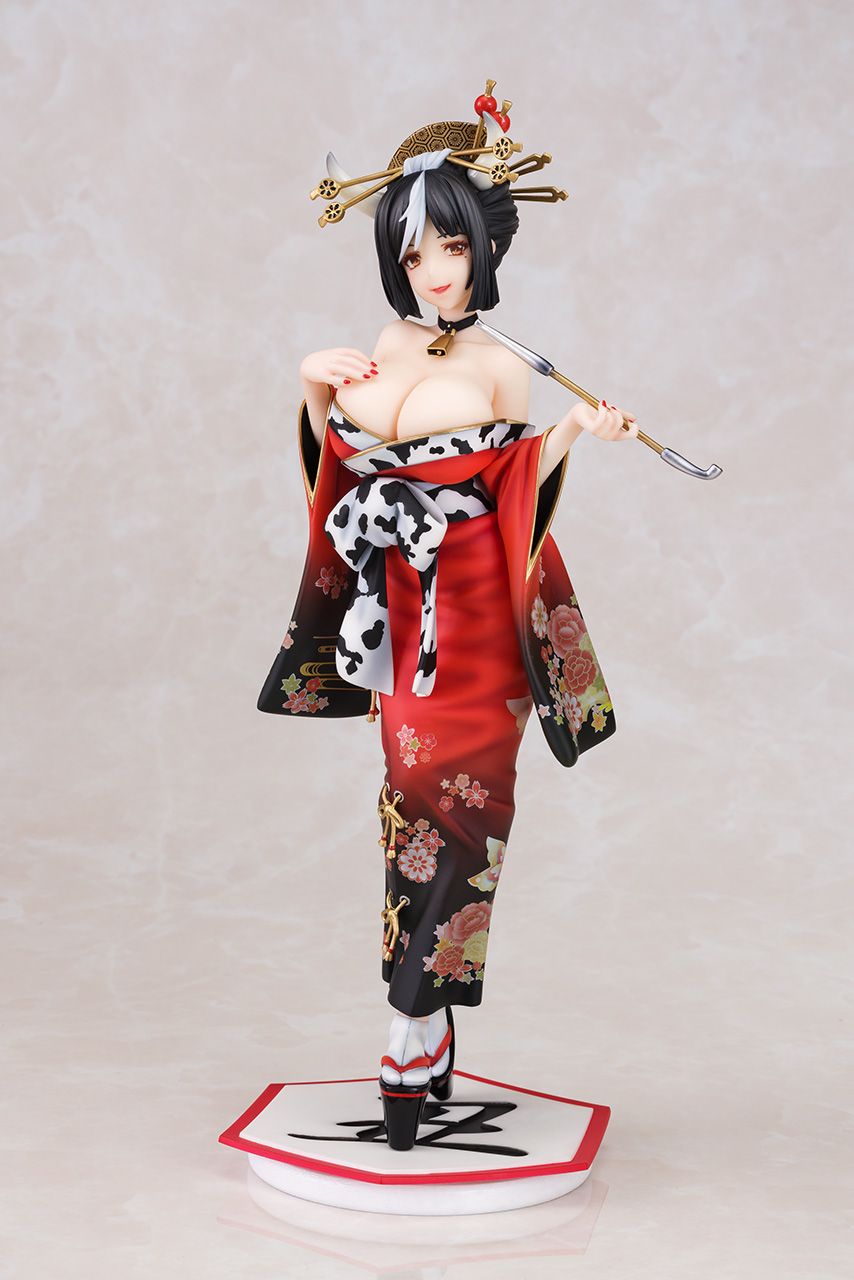 Gyuho-san features many charm points as well, from her gorgeous cow-colored hair to the cowbell around her neck. She also has a long, elegant pipe in her hand.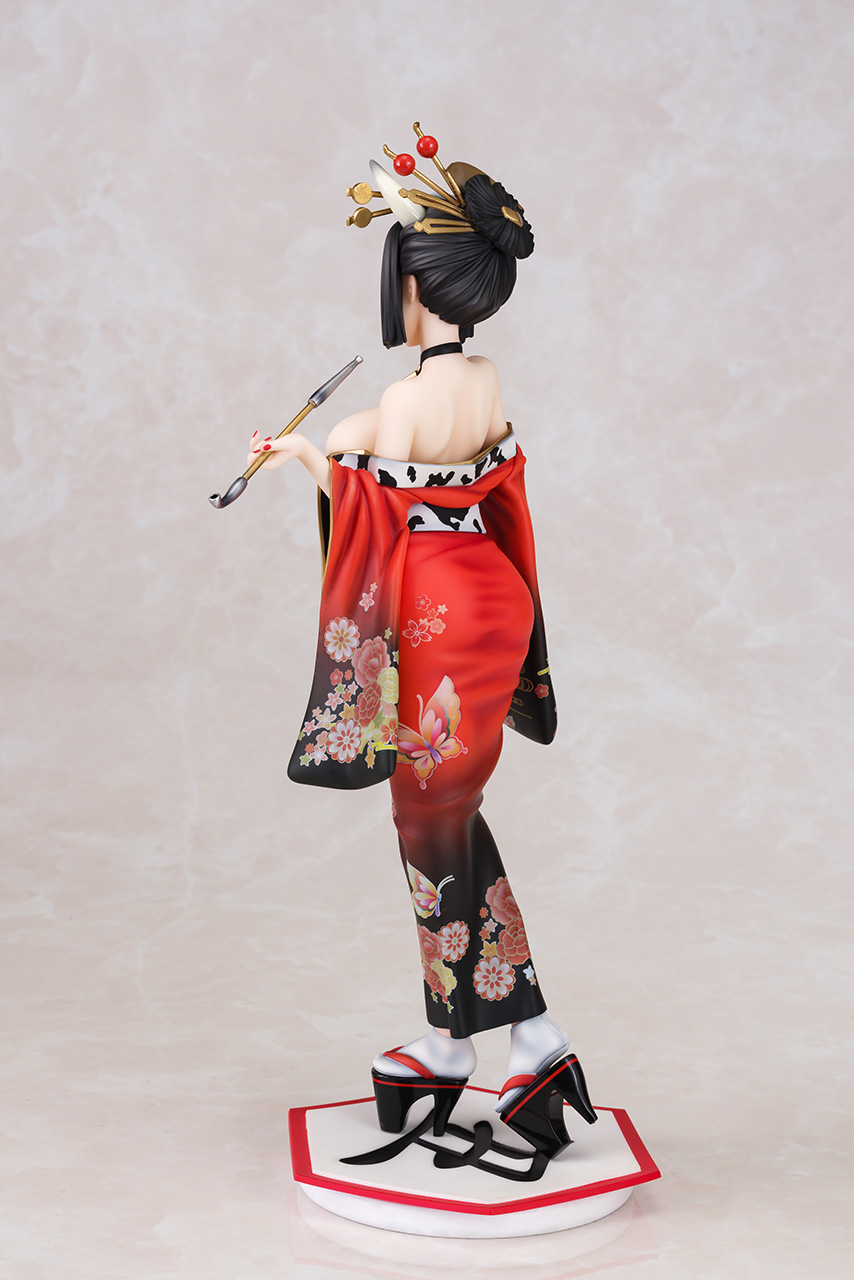 Every inch of both Gyuho-san and her clothing is covered in gorgeous art and immaculate detail. The dress sits just below her chest and shoulders, showing off her shoulder blades.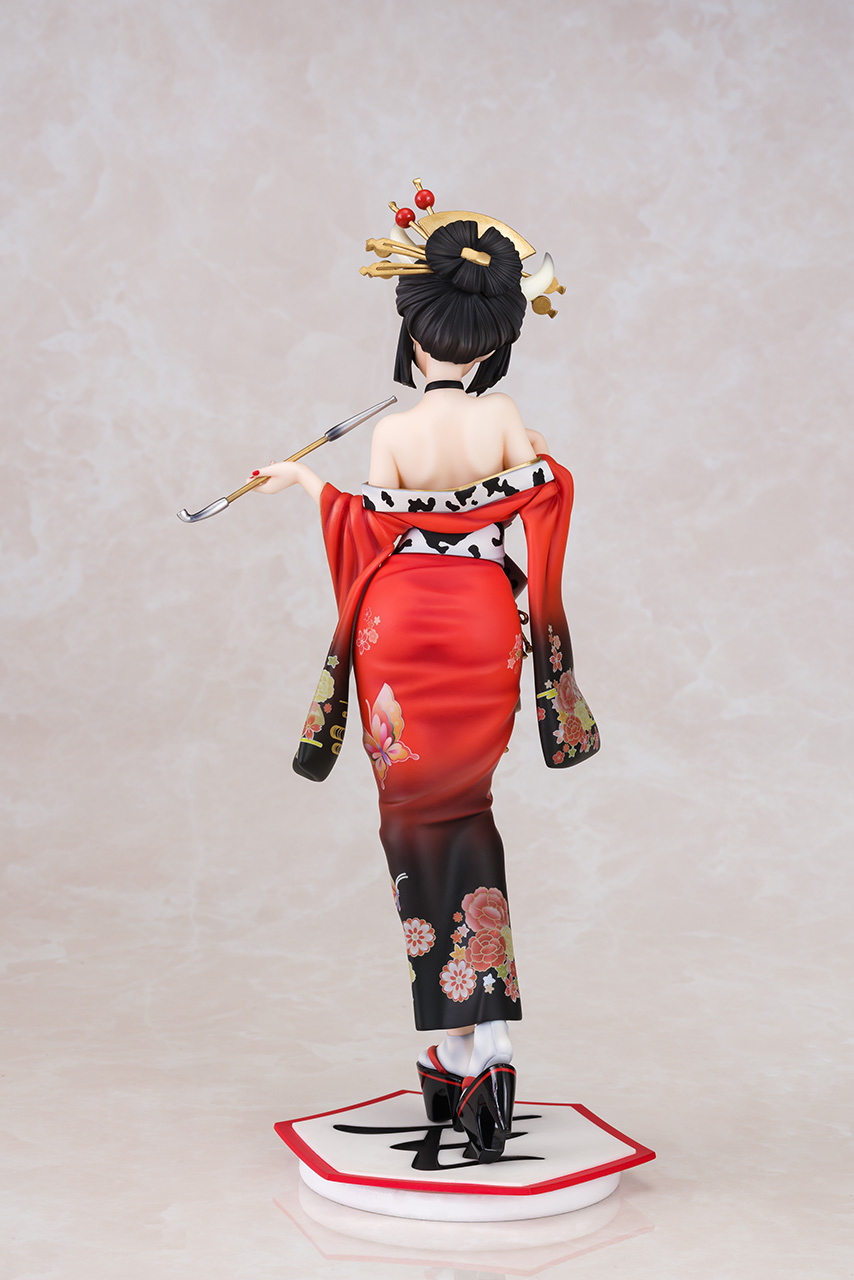 Her hair is decorated in a stunning bun, with a myriad of hairclips and motifs keeping it in place. The kimono also hugs and curves tightly around her body, giving the illusion of actual fabric.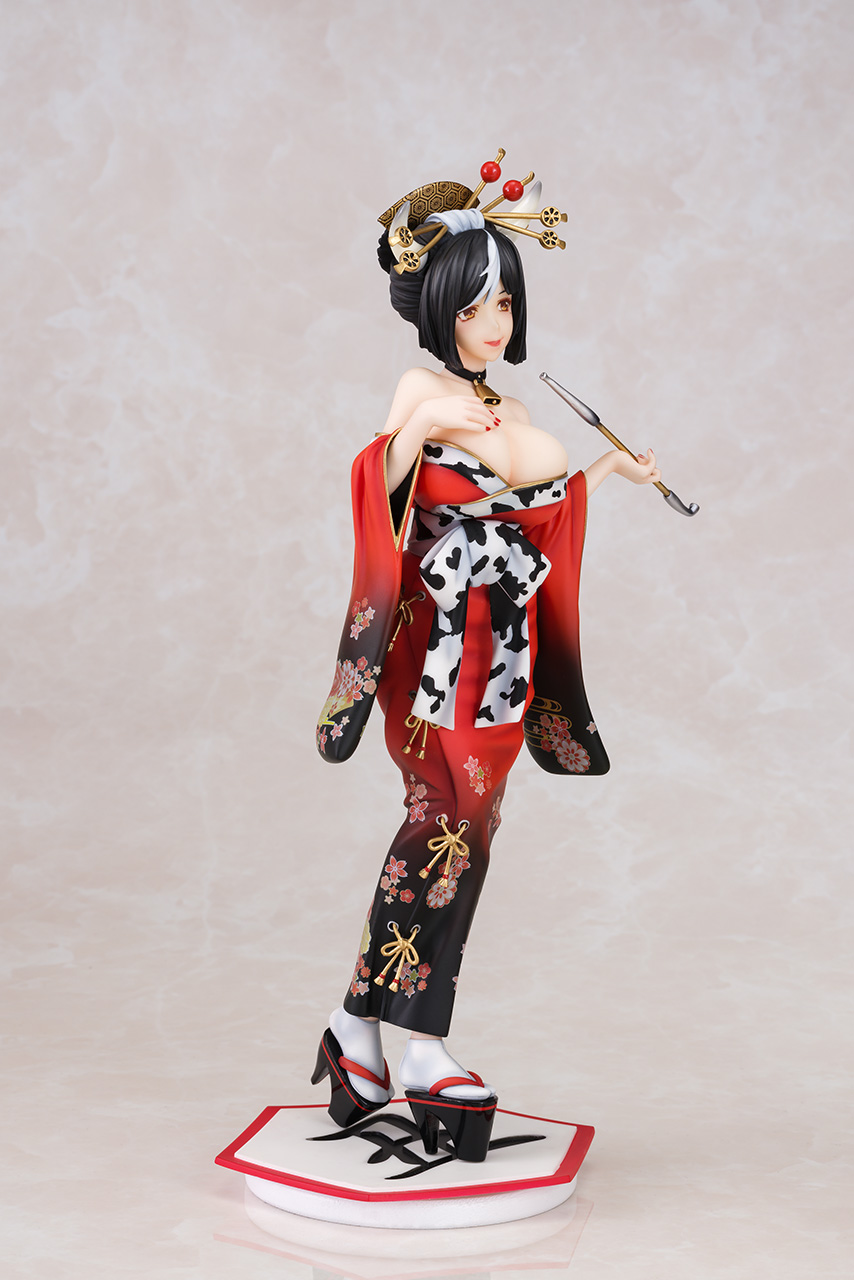 Her dress is covered in an eye-catching floral pattern, with flowers drawn in different shapes and sizes decorating the kimono in a traditional Japanese art style. The side is also held together by small, shimmering gold rope.
The long sleeves of her outfit dangle freely as they would if they were actual fabric, all while she gazes to the side with a slight, sly smirk. Even her base is simple but elegant, with a dynamic coloring that adds to Gyuho-san's image.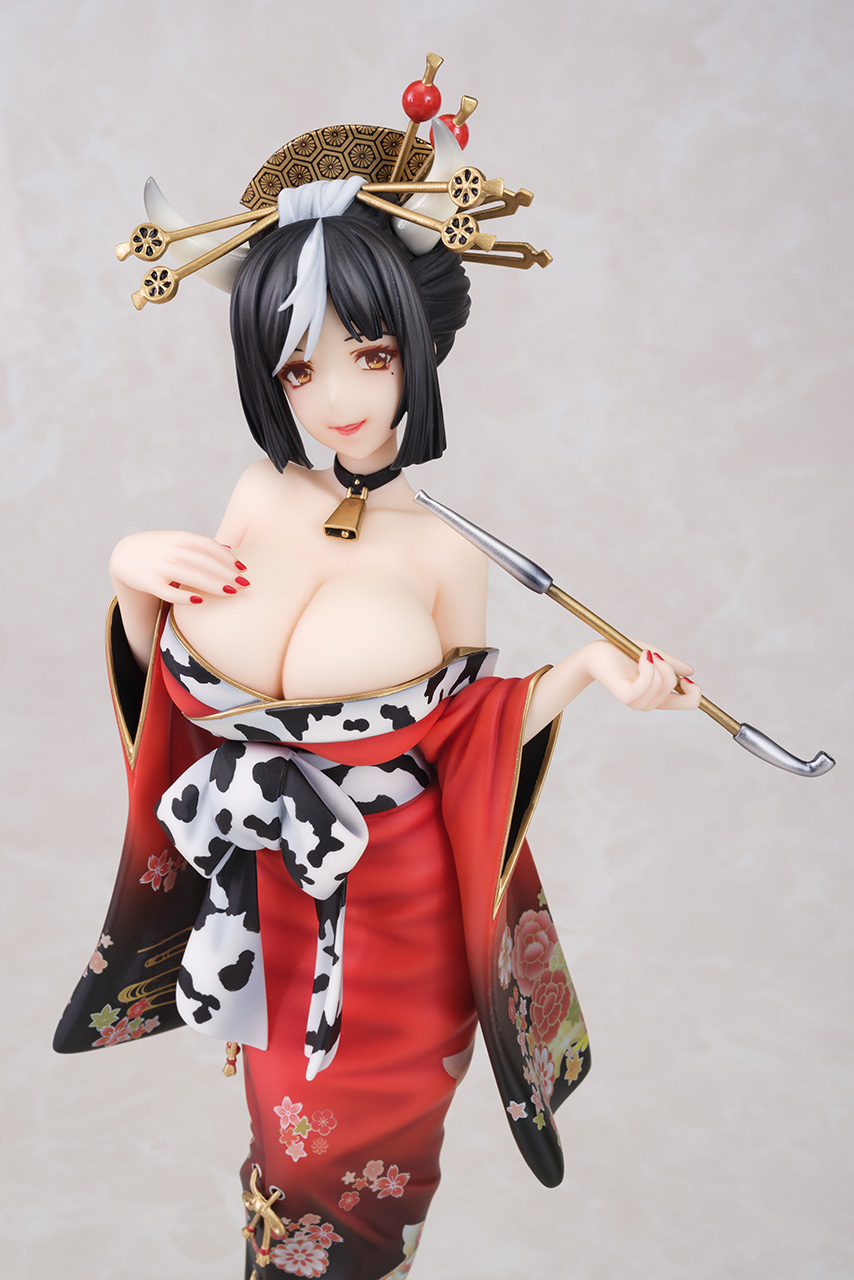 Just under her eye is a captivating beauty mark, and the figure's detail even extending to the sharp red makeup around her eyes and lips.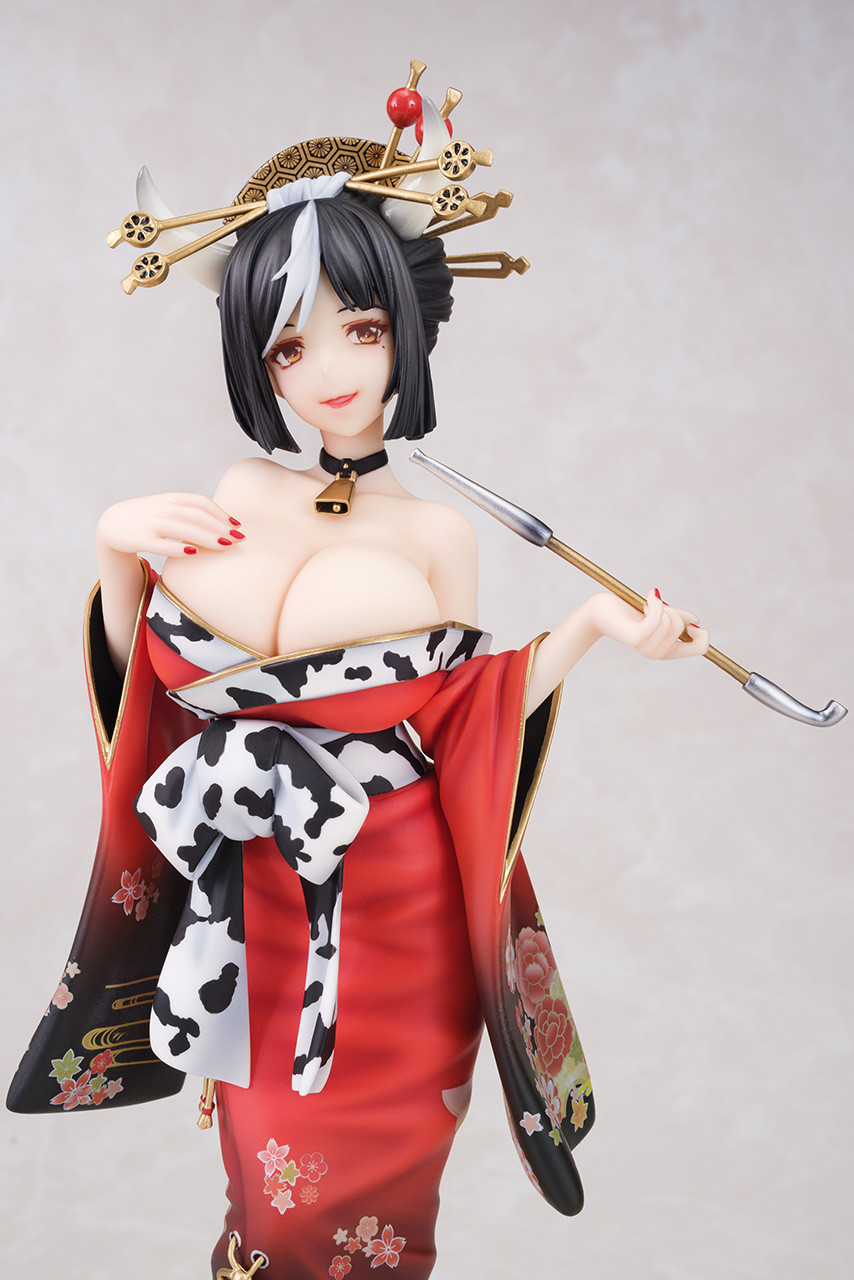 Gyuho-san is fashionable even to the tiniest of details, matching her nail and makeup color to the bright red hues adorning her outfit. It's wrapped together by the gold in her accessories, which also lines the inside of her kimono.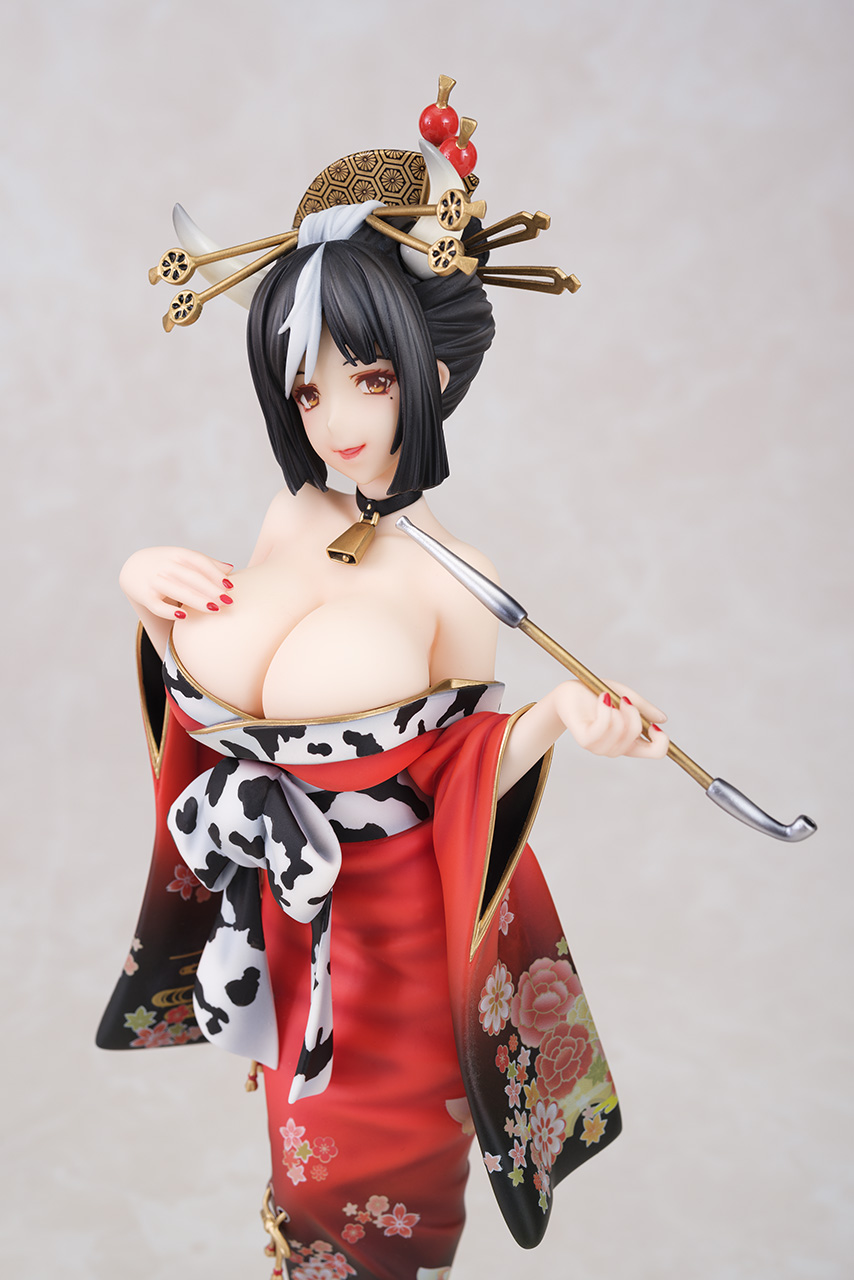 Her hair also features striking detail, with each individual strand seemingly styled individually. Even though it's a sculpture, the hair looks exactly as it would if it was put in a bun and styled in real life.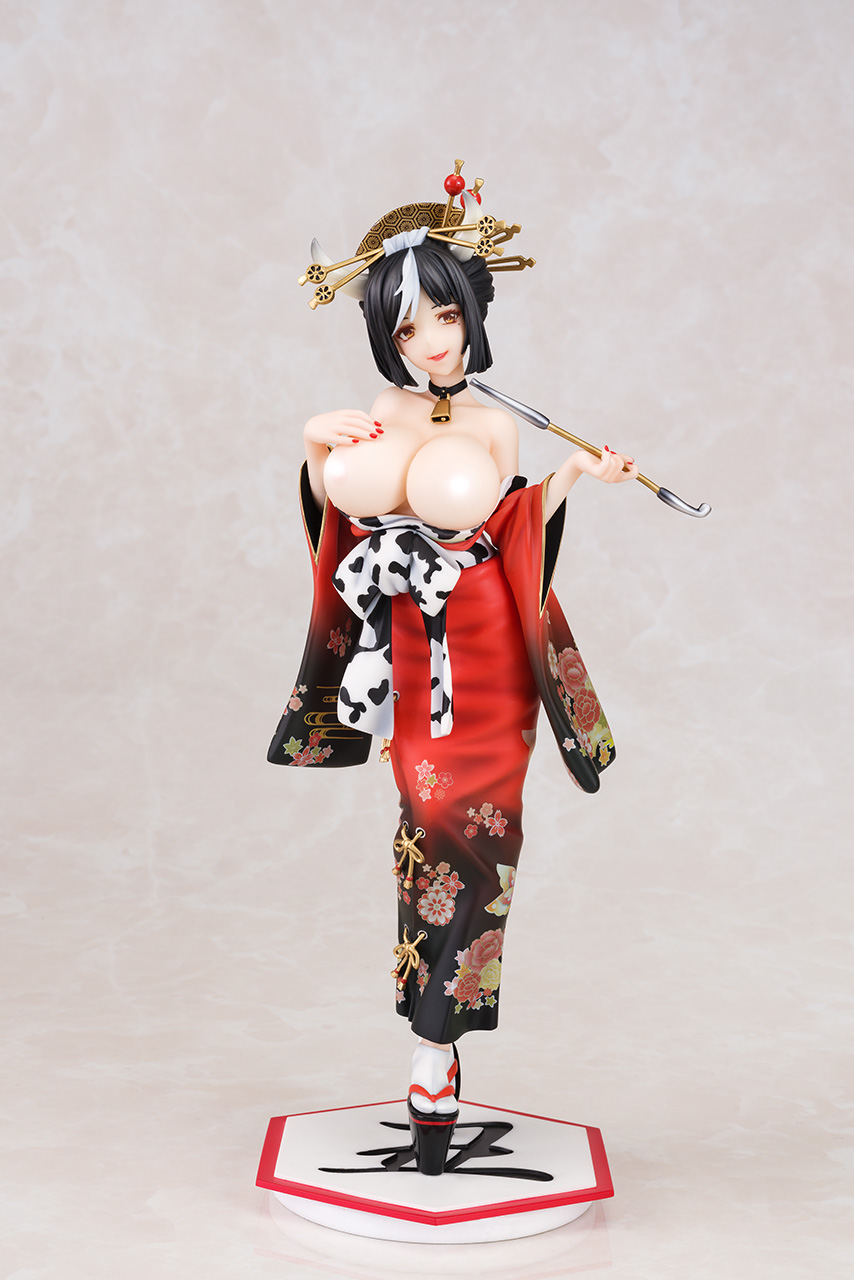 It's easy to fall in love with Gyuho-san's mysterious beauty, and the figure is made even more memorable with the ability to lower her dress further–revealing her breasts.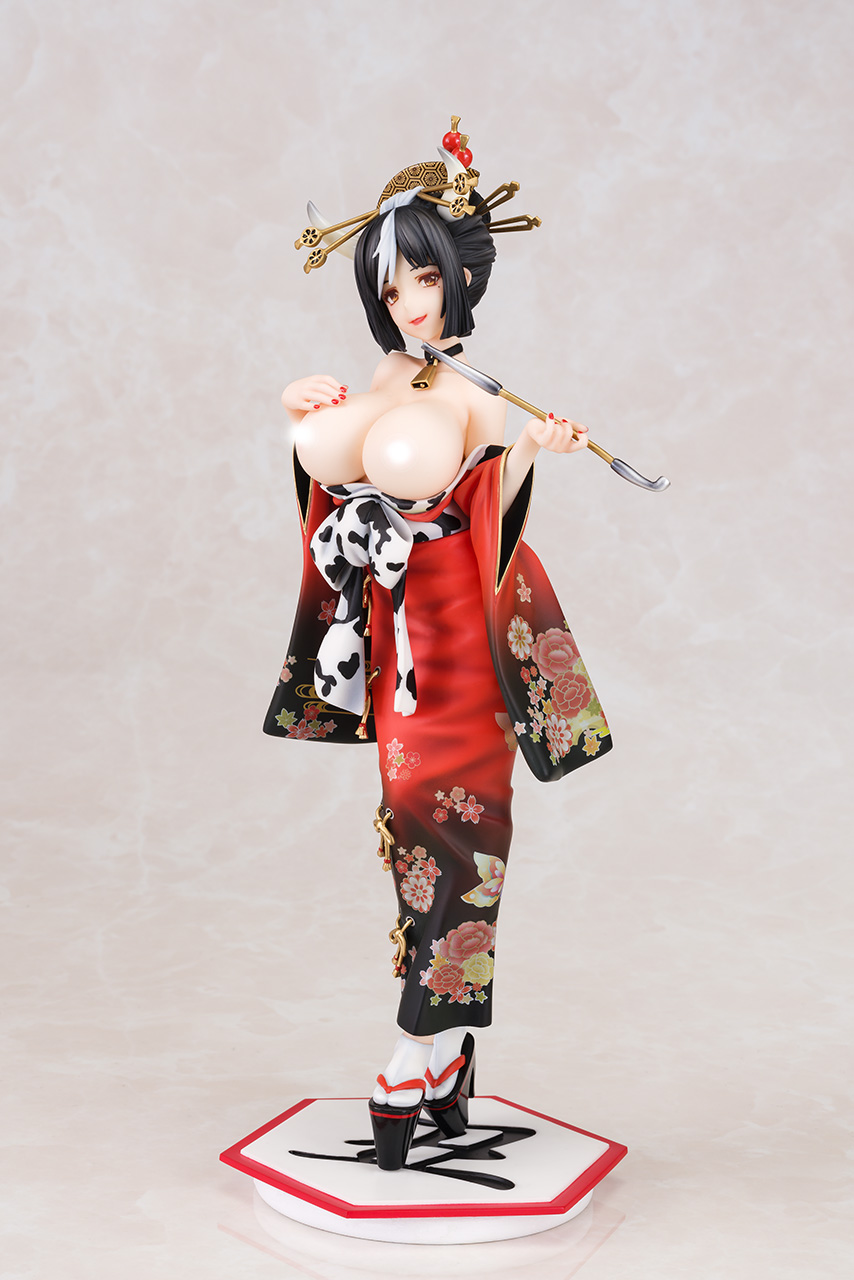 With their size catching the attention of anybody who sees the figure in person, it's easy to see that Gyuho-san's cow dynamic even matches her anatomy.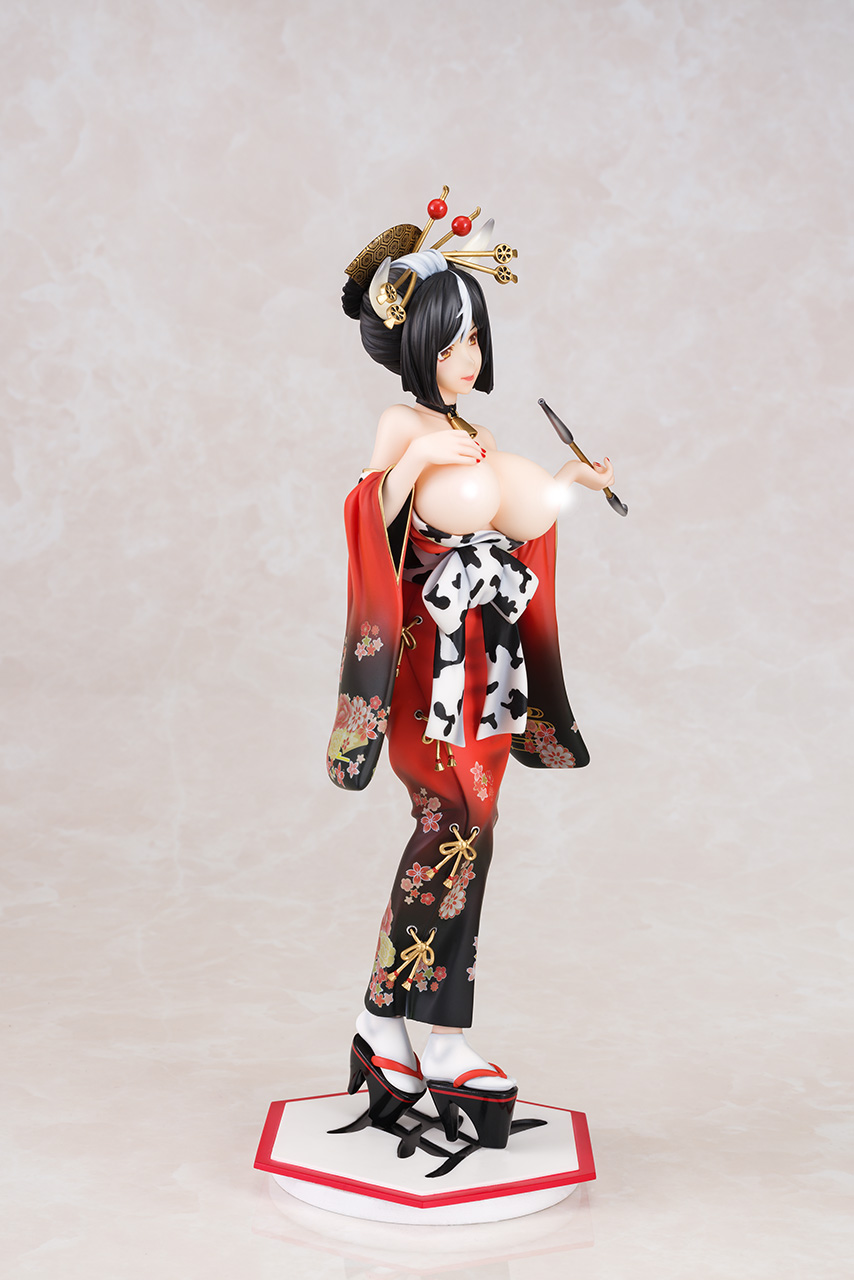 Even with this alternative display option, the attention to detail isn't lost. The dress, now further down, still carefully wraps around below her breasts, as if she removed her top just for you.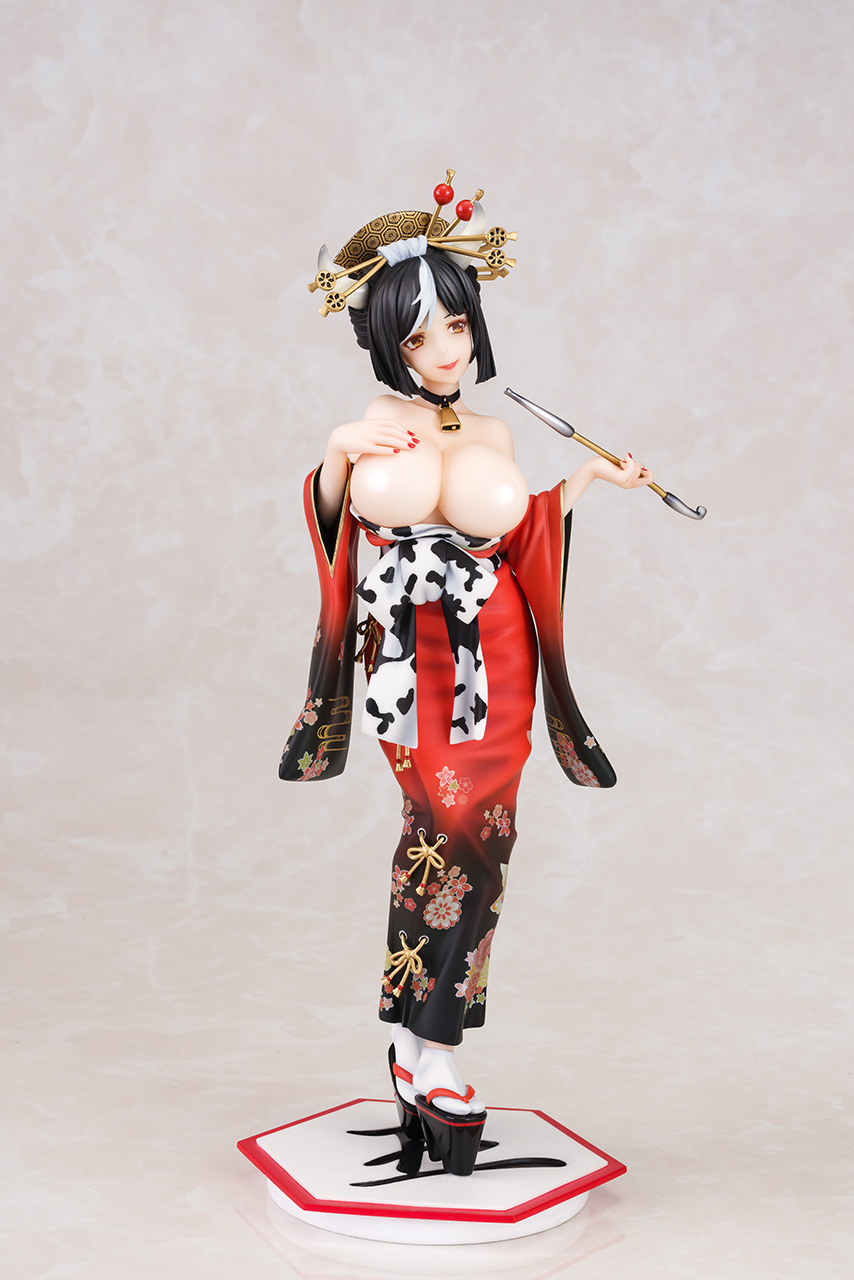 The atmosphere of the figure also changes ever so slightly when displaying Gyuho-chan topless, from a mysterious woman who immediately draws your attention to a gorgeous woman beckoning you over with her captivating glance.
Up close, you can really see where her flower dress really wraps around Gyuho-san's body, with folds molded around her knees and waist.
Her nipples are also crafted diligently, protruding forward and with an softer, brighter skin tone that matches Gyuho-san's complexity. The bell on her neck even lays in a way that shows the curvature of her breasts.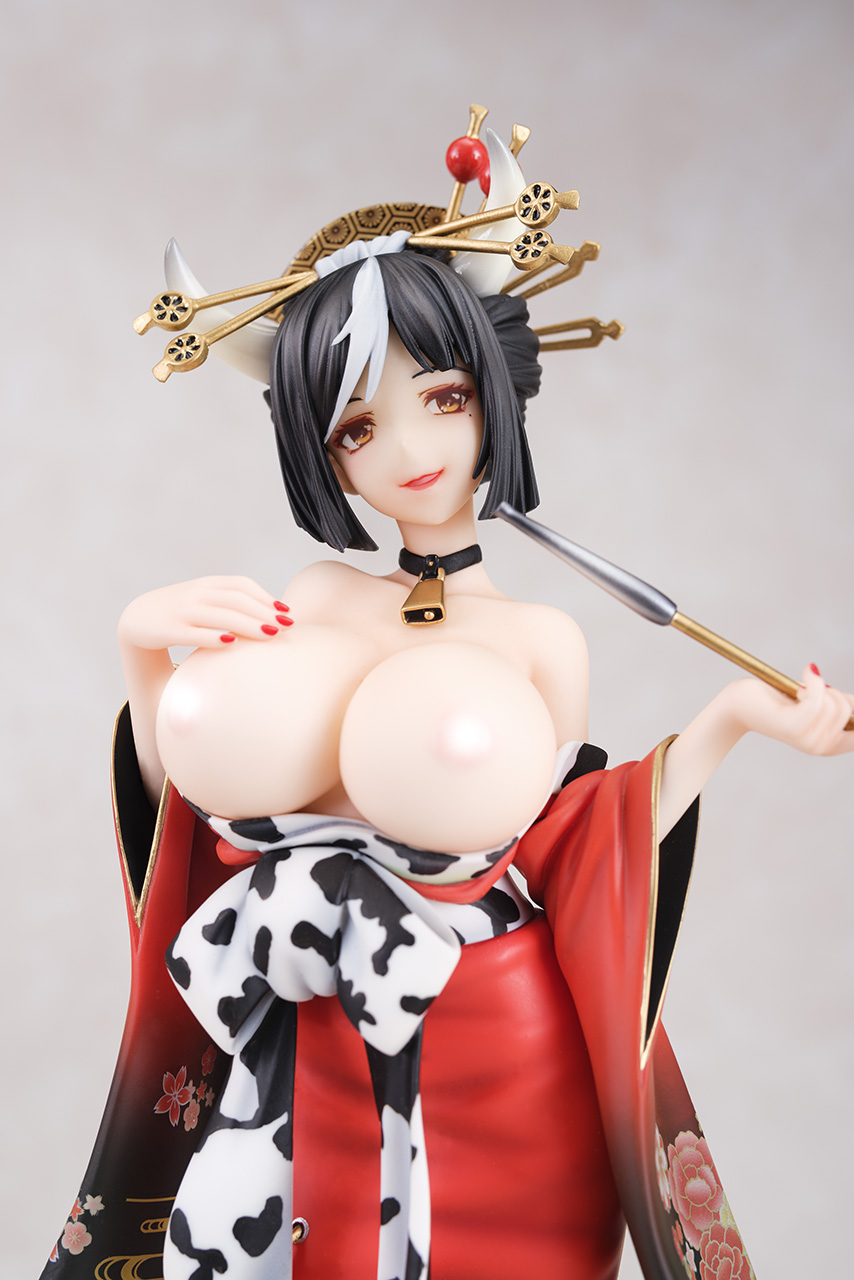 Her seductive gaze can be seen in her reflective, golden eyes, which also match the golden accessories decorate throughout her hair. The crown like disk at the back of her head features a repeating design, the same type often seen in traditional Japanese headdresses.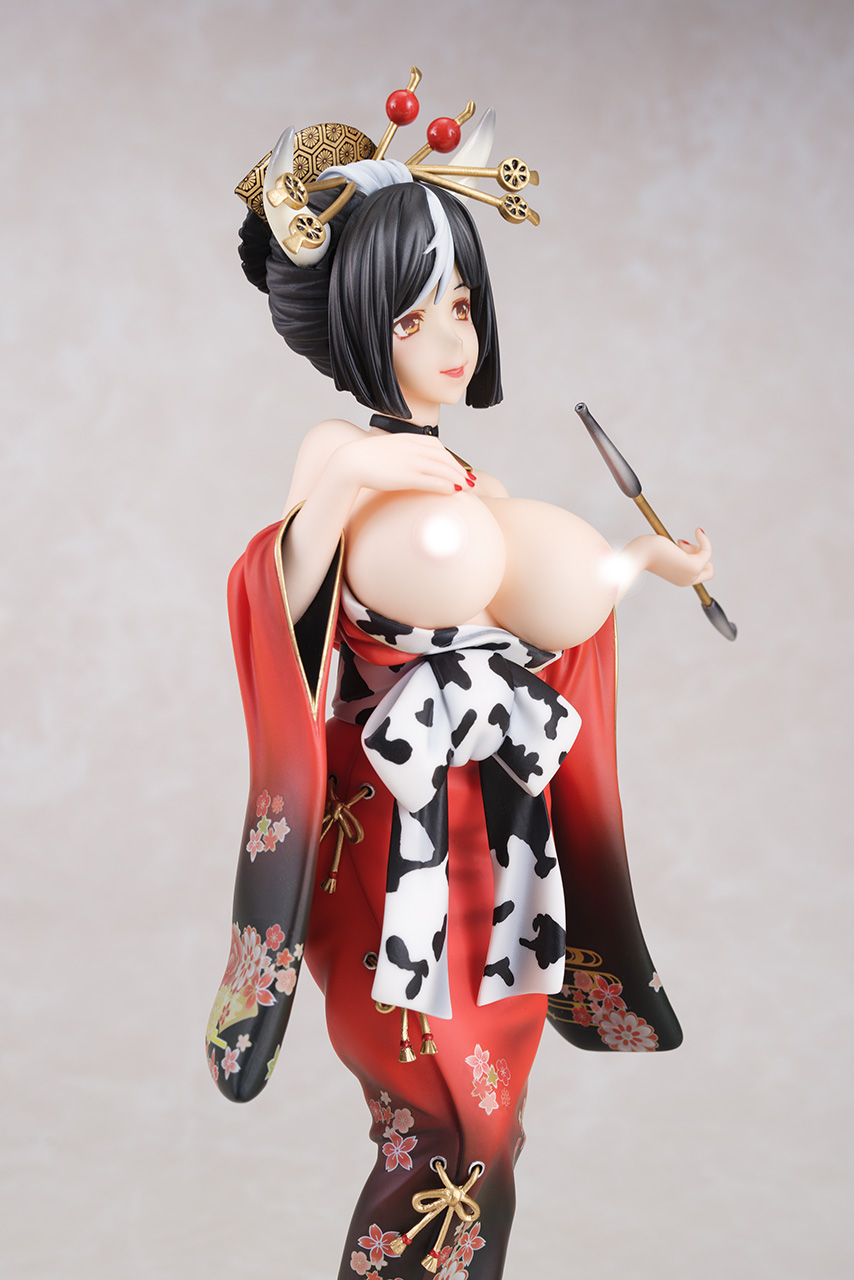 With or without her dress covering her chest, Gyuho-san is a beautiful, highly detailed woman elegantly capturing a cow motif, capturing the precision and beauty that Otoyama Houjun-san is known for in their craftsmanship.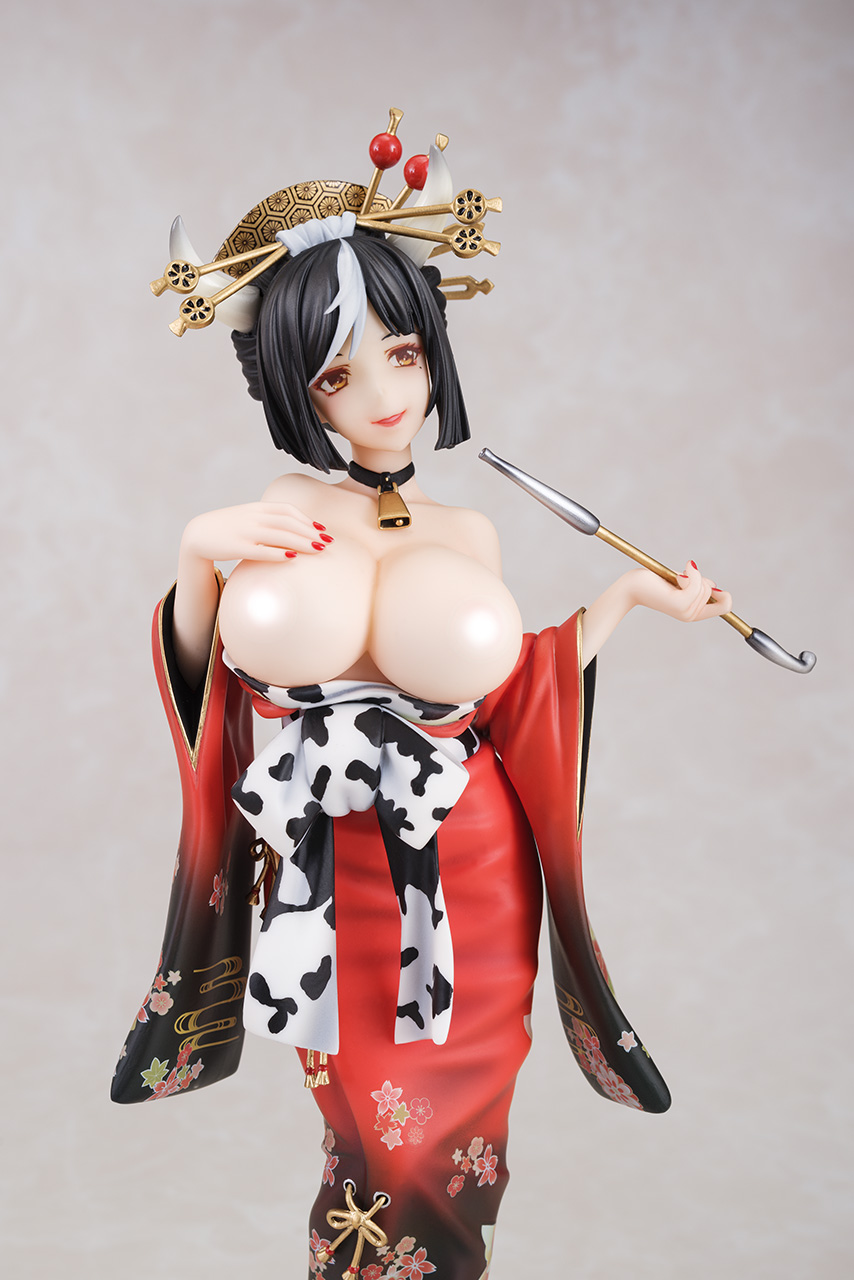 Pre-orders for Gyuho-san are available now until December 15th, 2022. Her scheduled release date is April 2023, and is priced at 25,000 yen plus tax. Be sure to add this stunning, one-of-a-kind original figure to your collection!