It's no secret that throughout Japan, many services and establishments exist that focus on romance–both physically and emotionally. From girls bars to sexual massages and everything in between, often times all it takes is a trip to the red-light district to find what you're looking for…that is, if you're a man. But what kind of services exist for the women that want the same experience? The answer: a women-only sex shop, also known as 女性用風俗店 (Josei-yō fuzokuten).
Watch our full video review here:

Much like their male-servicing counterparts, these women-only sex shops offer a variety of sexual services, all but full intercourse itself, but at the same time vary greatly in how those services are delivered. One such well-established women-only sex shop is Himitsu Kichi, which translates to Secret Base. Despite the name, Himitsu Kichi is well established among its clientele, with a large number of branches all across Japan–but began from humble beginnings.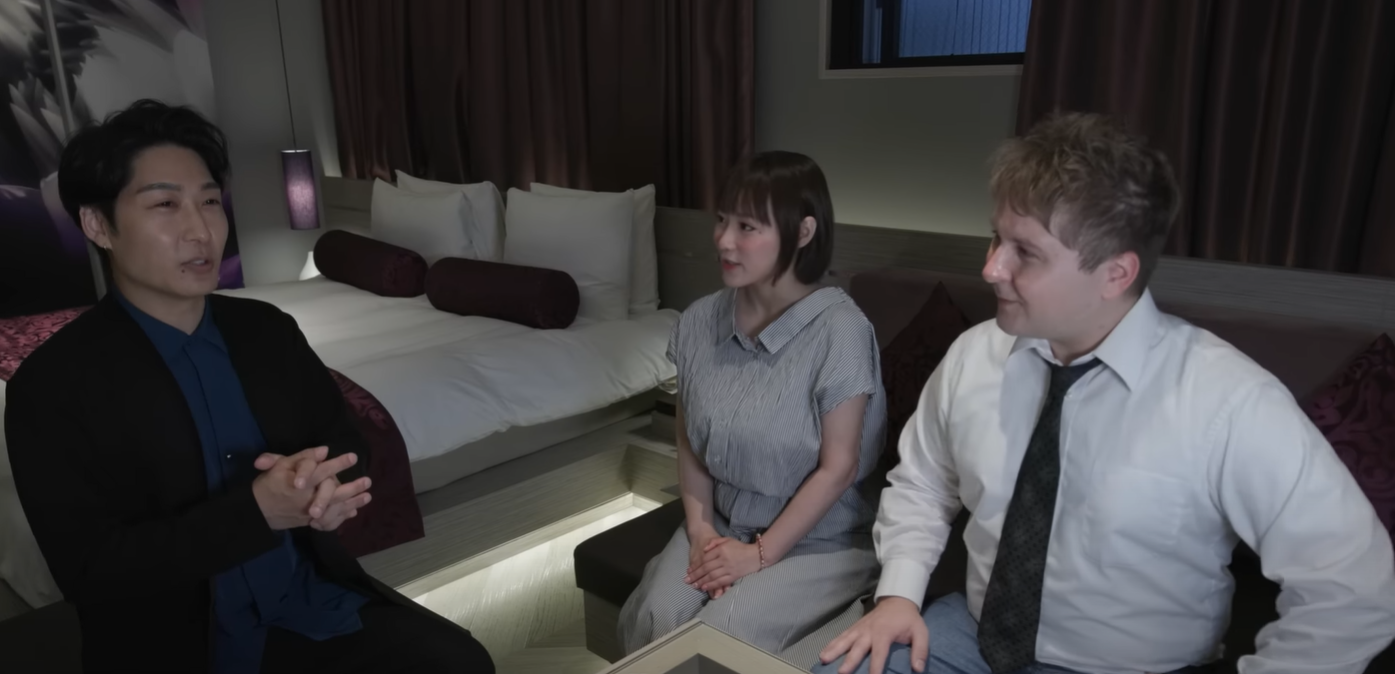 "We started out of a small shop, six years ago." tells Himitsu Kichi CEO Hajime Ichijou, sitting down for an interview with Kaho Shibuya and Around Akiba's own Tristan Junker. "At the time, we only had 5 therapists working. Now, we have over 80 stores and 1000 therapists working for us.
"Simply put, I started this business because there are too many prostitution places for men." He reveals when asked why he started this business. "Women also deserve a healing oasis. That's why I started!"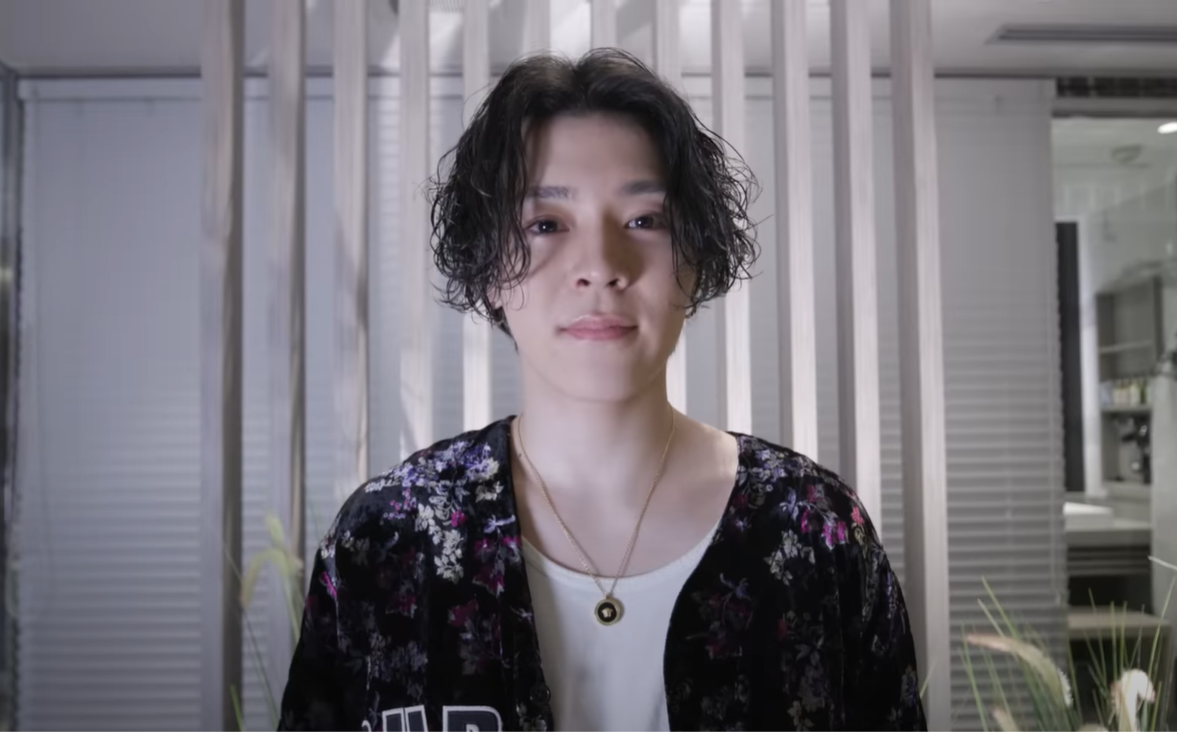 But what, exactly, goes into a client session at a business like Himitsu Kichi? Lucky for us, we were given a live presentation with a real client, instructed by therapist Mitsuru.
"First, you want to sit down and introduce yourself." He told us, demonstrating with an actual client named Sari. He also presents her with three different aromatic oils that will be used during the massage portion, although she opts for a scentless one to prevent her husband from knowing she was there.
"My husband and I don't have sex, so we agreed to exercise our sex lives outside of our relationship." She tells. "I've been coming here for 2 and a half years. It's fantastic and I absolutely love it!"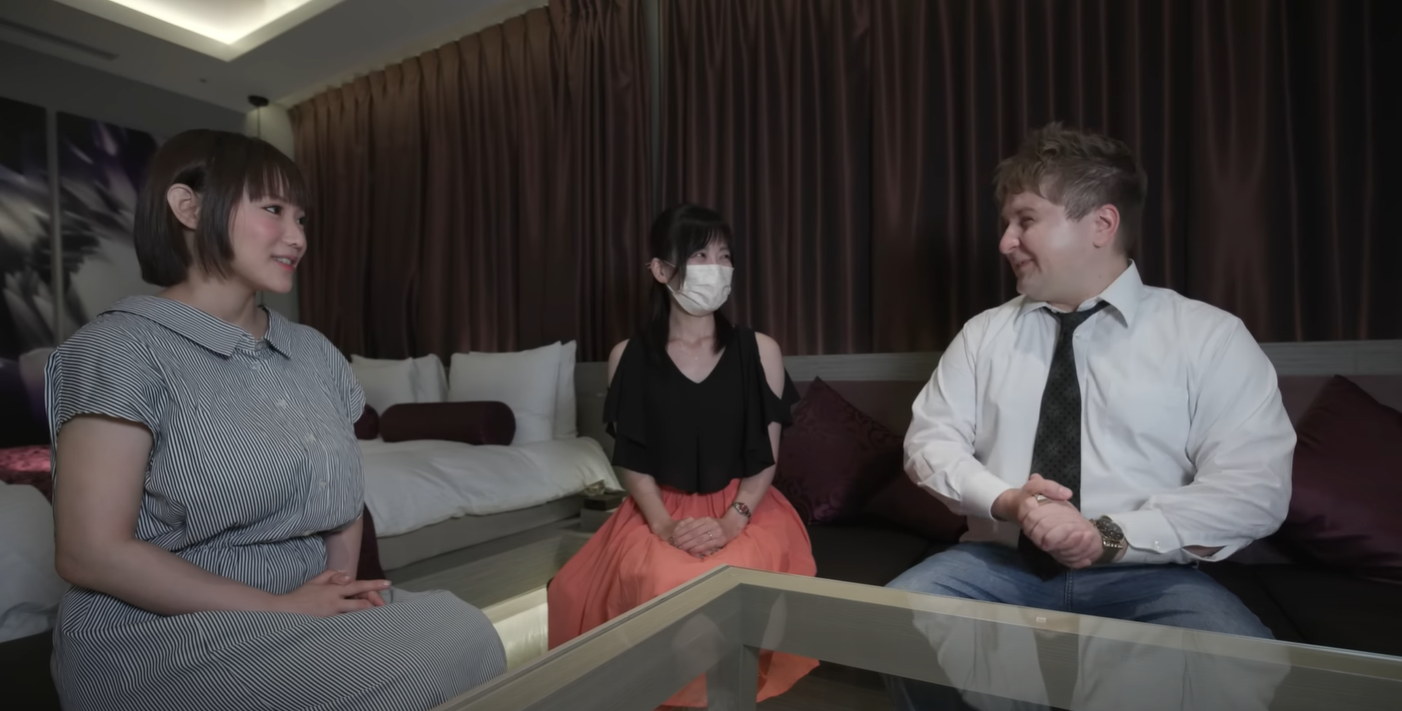 Therapist Mitsuru also walks the client, Sari, through the standard list of procedures that will be performed throughout the session: kissing, hugging, kissing and licking the entire body, cunnilingus, finger insertion, finger and toe licking, anal licking, touching with feathers, verbal aggression, light restraining, blindfolding, bathing together, and others. The client can also choose which things they enjoy the most, and which ones they would like to opt out of. The therapist in charge of servicing the client also listens to any concerns they may have, making for an experience that's completely tailored to the client to ensure maximum enjoyment.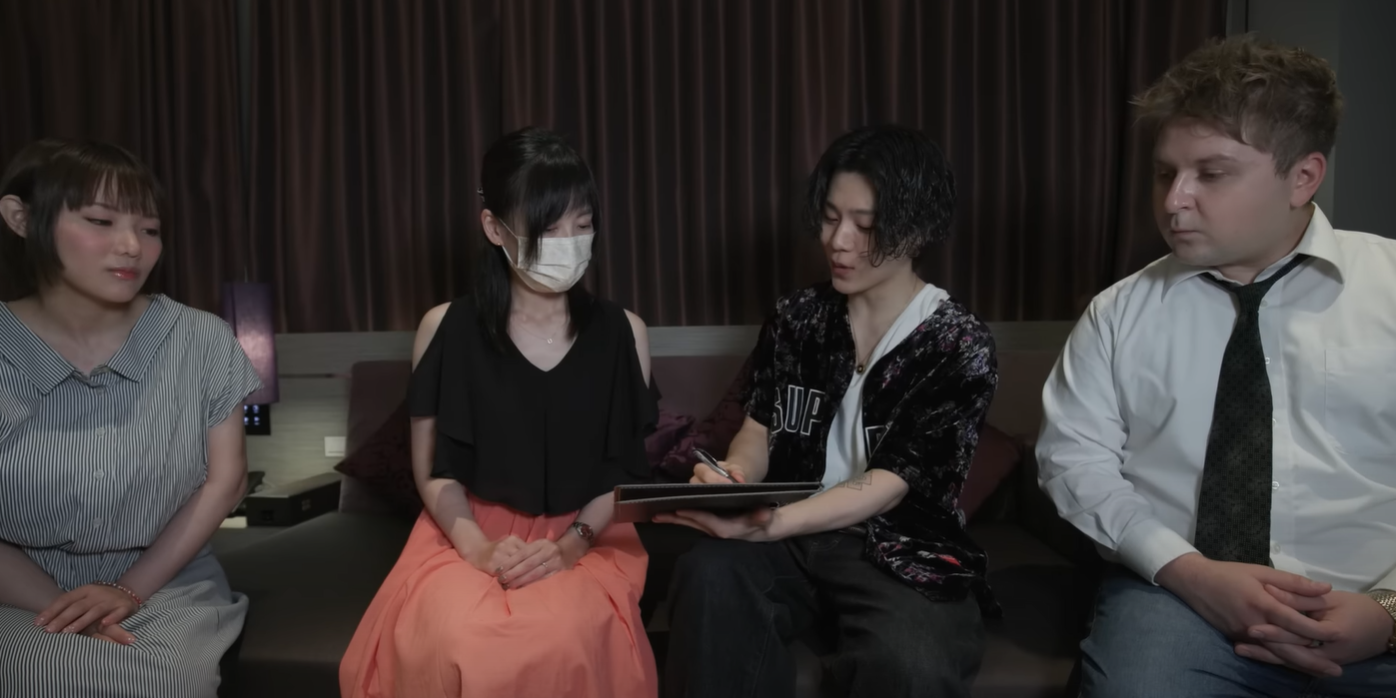 With such an attention to detail and experience needed to service a client perfectly, however, the hiring process for such an establishment is a rigorous one.
"Although a prospective therapist may receive many lessons," CEO Ichijou tells us, "they still need to service a customer and get an evaluation by her. They will need at least 85 out of 100 points from 3 different customers to actually get the job. Out of every 100 applicants, only about 2 will get the job."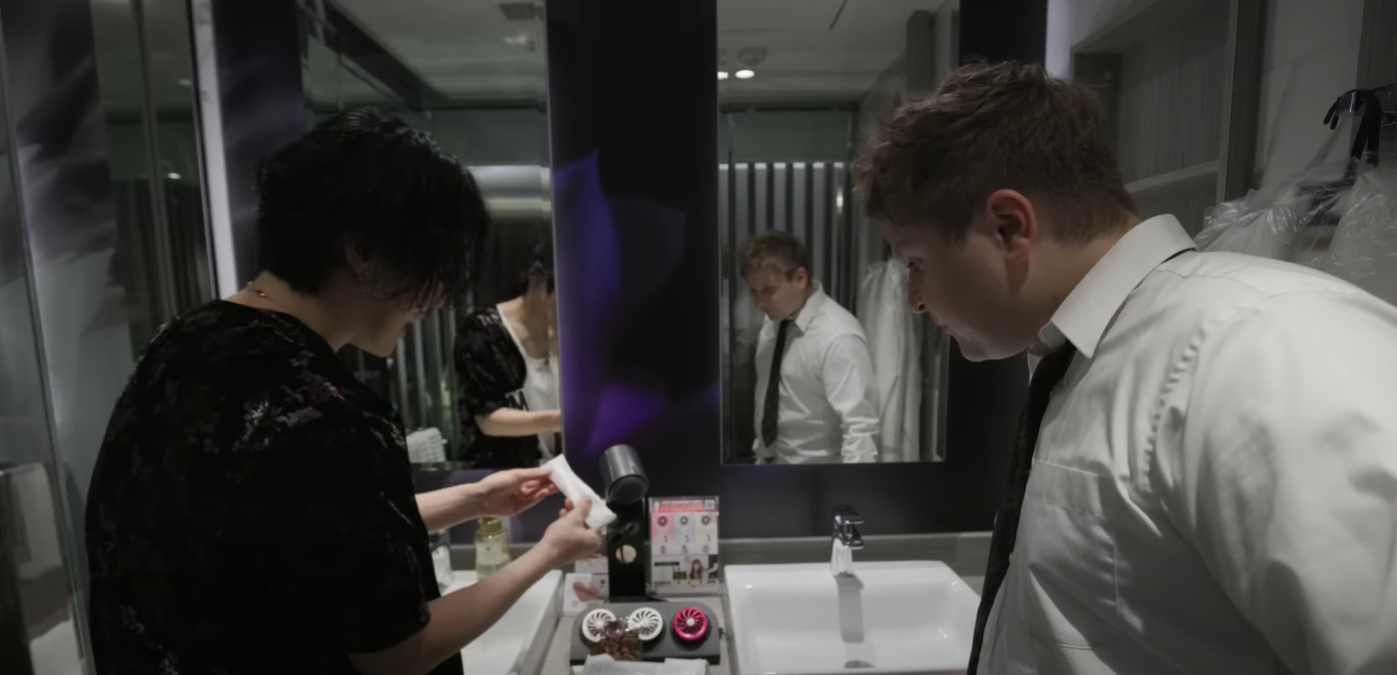 Once introductions and preference discussions are out of the way, the next step is preparing the bathroom for the client. Just as in the beginning of the process, extreme care is taken during every step, ensuring that at no point will the client feel embarrassed or be missing something they need; everything from opening a razor in the event the client would like to shave, to placing toothpaste on the toothbrush, to ensuring the bathwater is already warm and the towels and robes are set out, are done by the therapist. If they'd like, the client can even shower with the therapist.
While they client prepares, the next step is to prepare the bed–first and foremost, to lay a towel down much like in a massage parlor. Once the client is ready, the towel and bed come into use for the first stage: the massaging.
The therapist begins by getting behind the client, and performing what is at first a close-contact, but mostly general massage, slowly getting closer and massaging the customer's hands, neck, and back.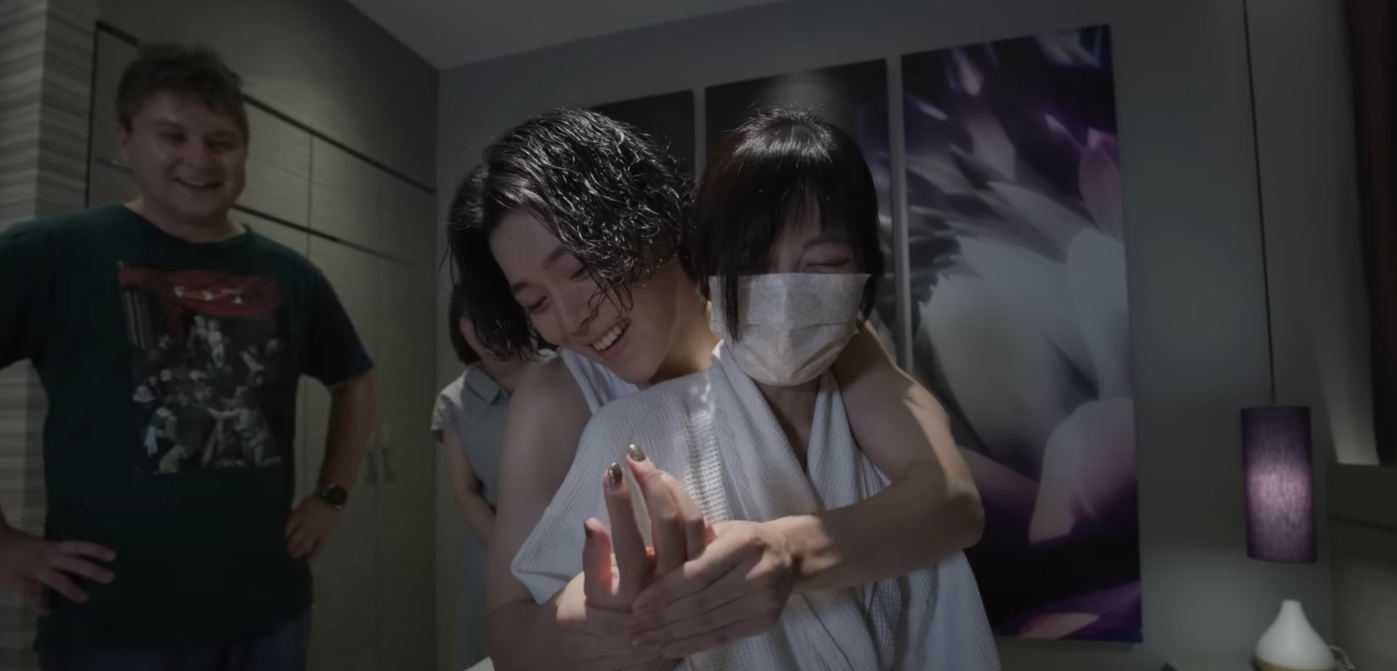 "It's important to start slowly because this way, you get closer to the client and make her open up to you." Therapist Mitsuru explains. "If you just lay her down and begin massaging, it will be difficult to know where the sensual massage begins."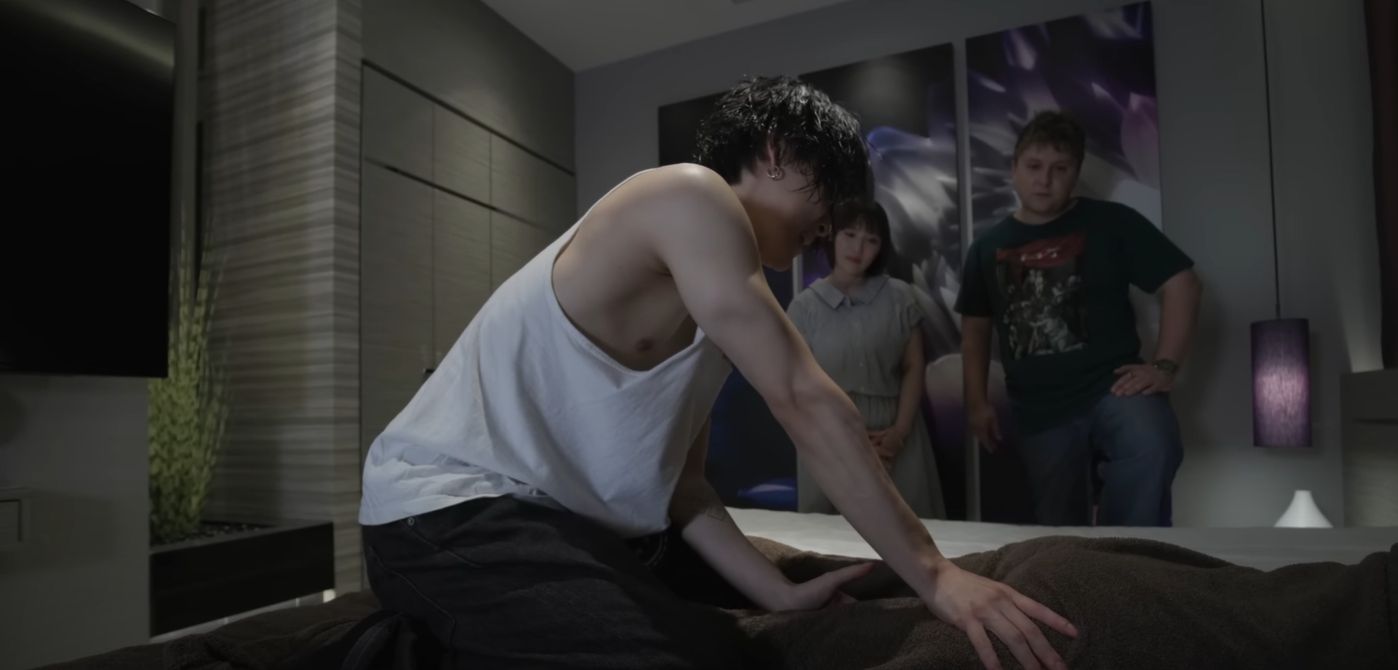 The next massage is the shiatsu massage, gently transitioning to a more sexual massage while still taking the process at a regular pace. The therapist unties the client's robe and lays her on her stomach, covering her with a towel and slowly massaging her body, including her feet and toes. Throughout the entire experience, compliments and pleasant talks are necessary to keep the client engaged and happy.
"The lowest ranking therapist I ever worked with, I gave them 65 points." Client Sari tells us. "He didn't talk to me much. I'm paying money for this service, and I want to have a pleasant time, so lack of communication is no-go!"
This massage moves from the bottom of the client to the top, including touching and massaging of the clients thighs and butt. It continues slowly until the therapist reaches the shoulders, then ends with both people pressing their bodies together, and a gentle whisper into the customer's ear that the oil massage is about to start.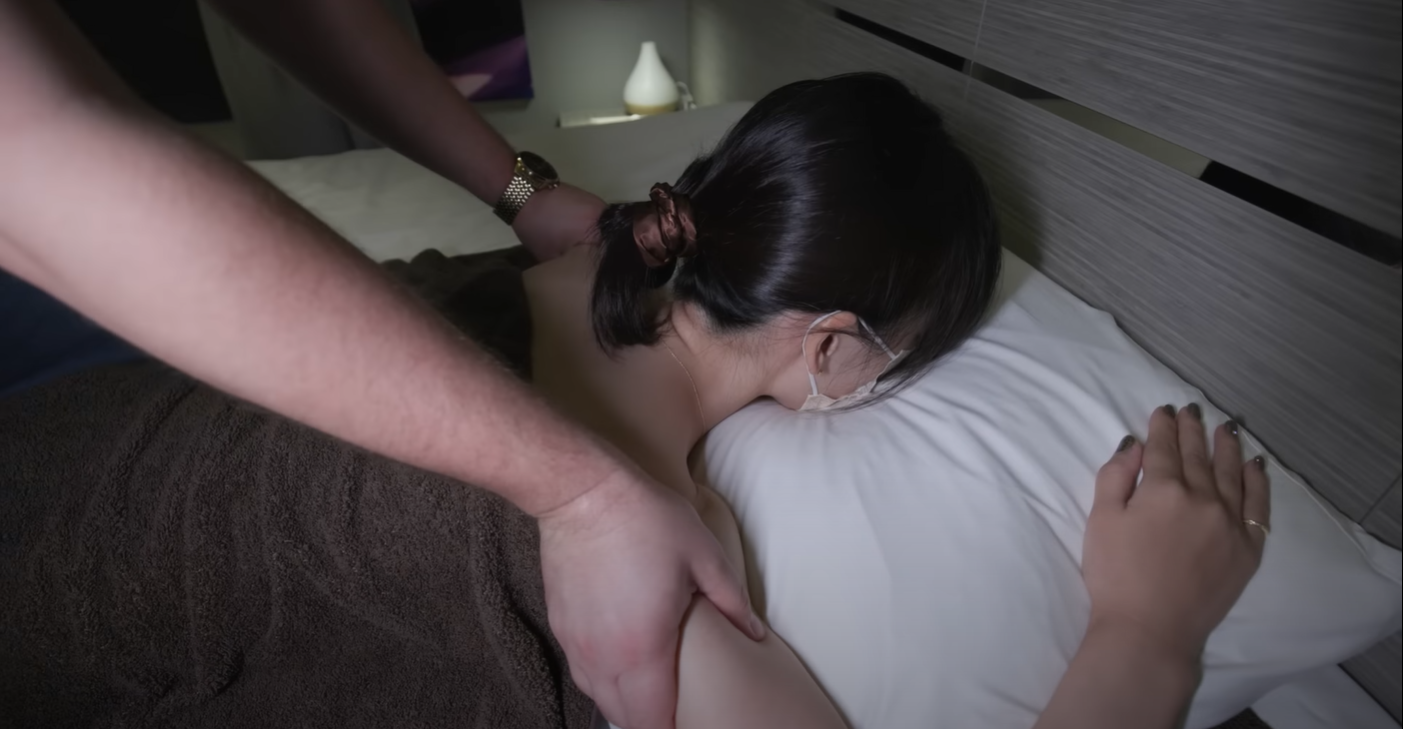 "Here at Himitsu Kichi, we are also all licensed oil massage therapists as well!" The CEO explains, leading to more confidence on the part of the client and a guaranteed high-quality massage.
Following this, the more sexual services begin, with what Himitsu Kichi refers to as a "Fantasy Massage". While still an oil massage by nature, both the client and the therapist are covered in oil, and the therapist begins first to massage the entire body while also gently touching the intimate parts of the client's body. The massage then becomes more energetic and the touching more explicit, with the therapist pressing their oiled body against that of the client, rubbing on and stimulating them at the same time.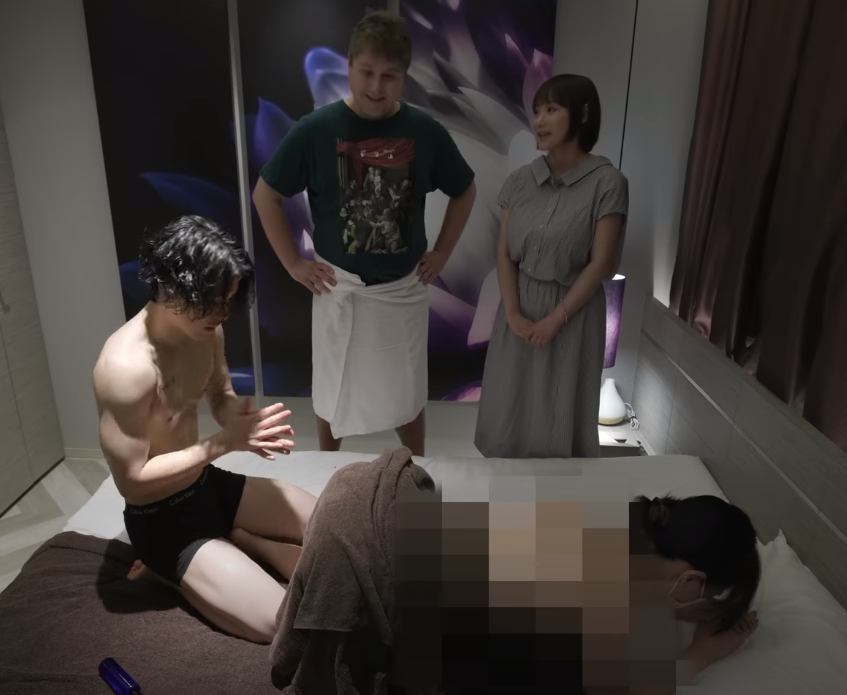 When the massaging reaches a climax, the therapist also begins to lick and stimulate just about every inch of the clients body, including the toes. Following this, the therapist performs cunnilingus and fingering on the client, going for as long as necessary and maintaining a perfect form to ensure the customer reaches max satisfaction.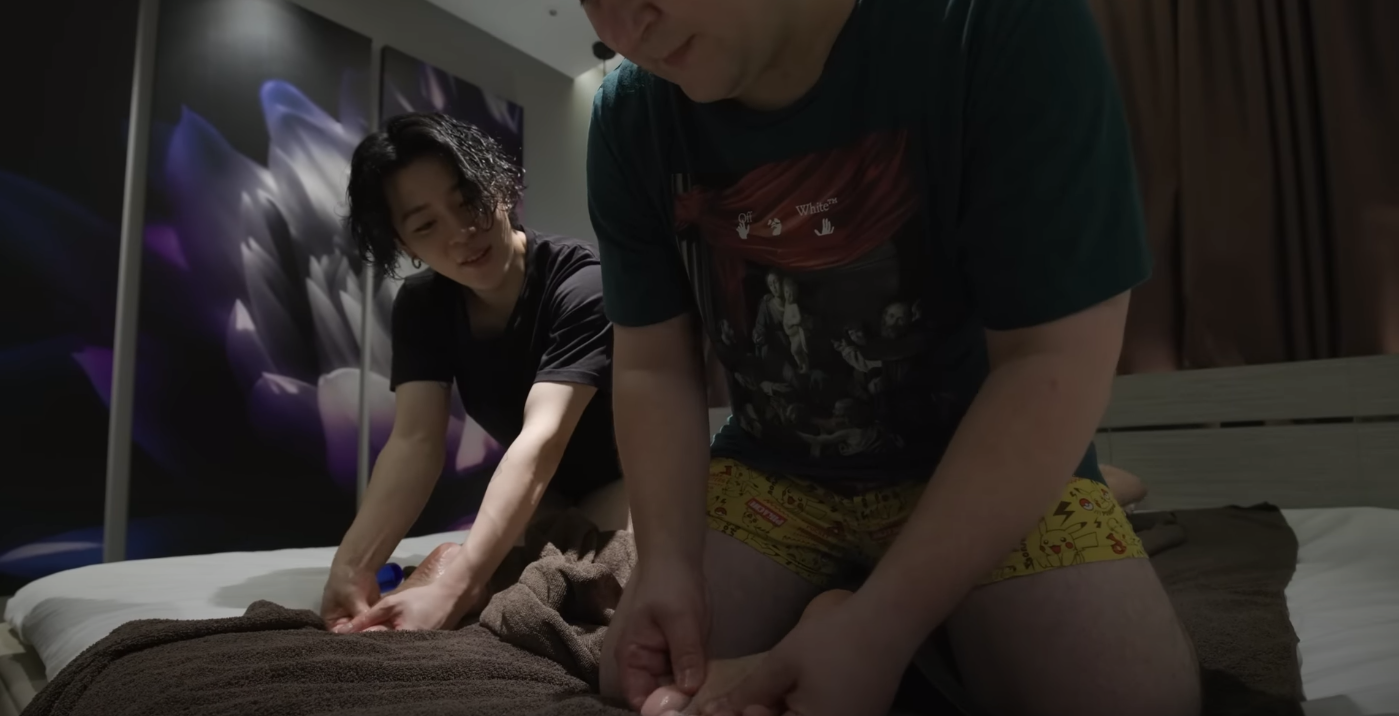 Unlike many male-oriented establishments of similar nature, however, something that sets a women-only sex shop such as Himitsu Kichi is what follows: the pillow talk session. The therapist will take extra care and time to lay with and cuddle with the client, talking to them about what they enjoyed during the session, and also continue foreplay and kissing throughout. The client we observed in this case, Sari, even began to cry during this phase because of how pleasant the session had been.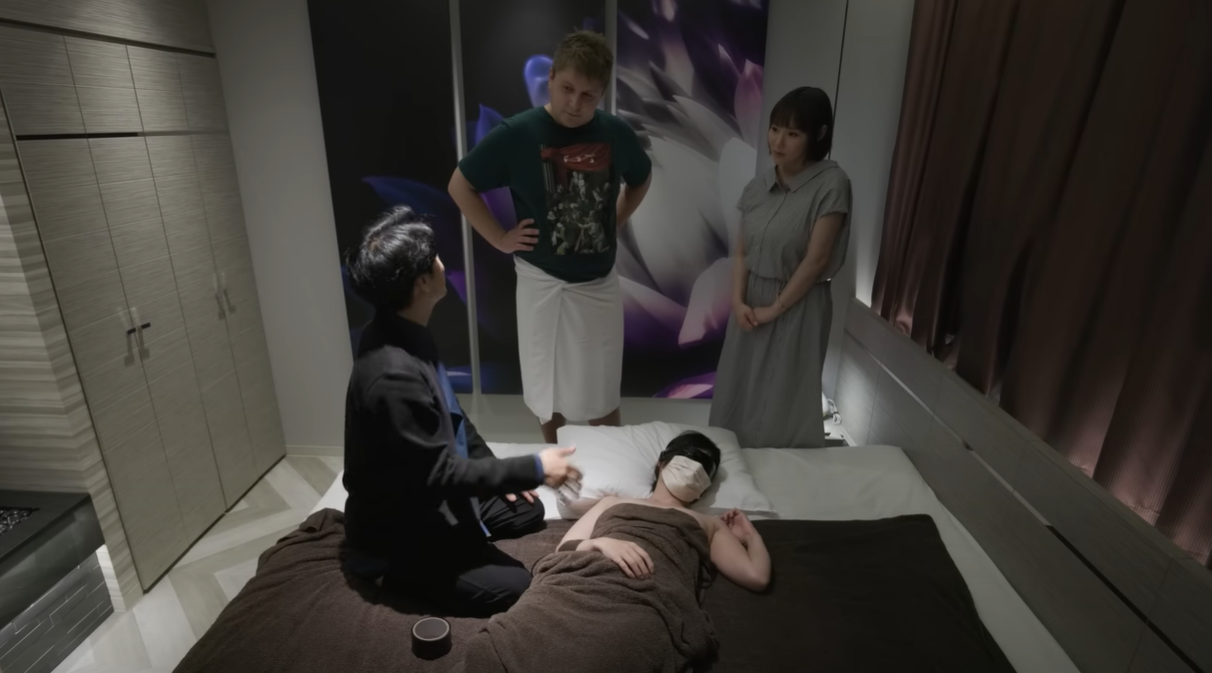 Even aside from typical sexual services, like what one might expect from a standard prostitution establishment, there are also a variety of niche and lesser-known services offered. During our visit to Himitsu Kichi, CEO Ichijou performed what is known as a "brain orgasm" on client Sari; effectively, an orgasm that's achieved without any overt sexual stimulation, instead blindfolding the client and touching erogenous areas of the body such as the stomach or hands to achieve an orgasm.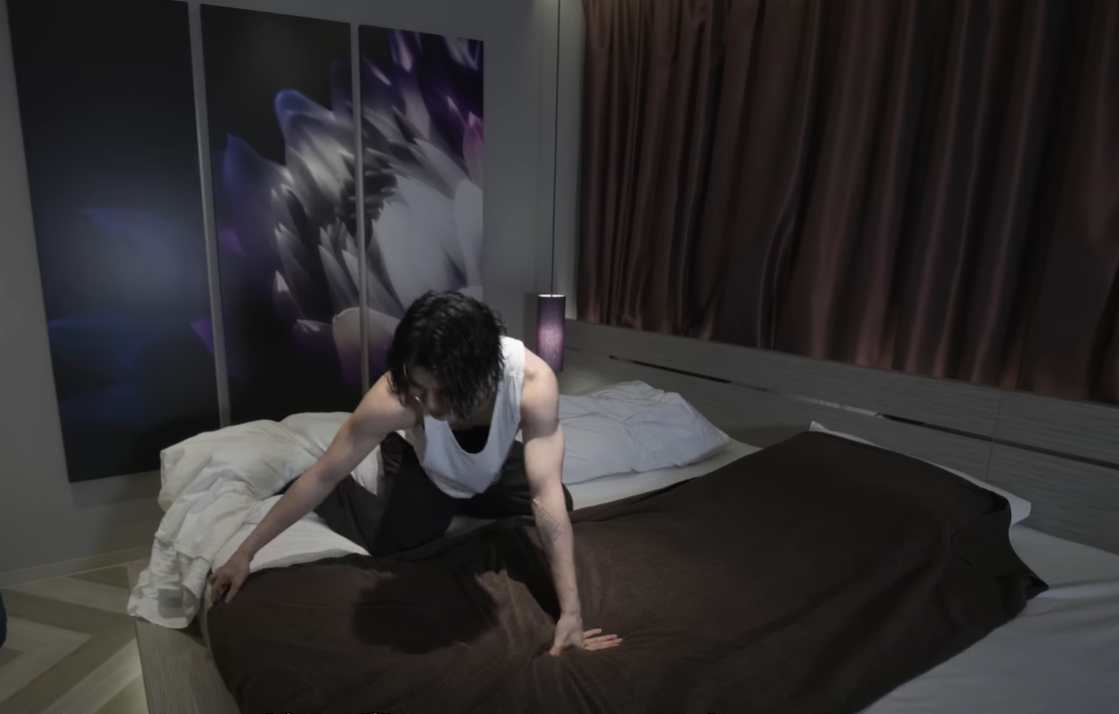 When asked how a client such as Sari chooses the therapist she will have that day, she told us that a variety of factors go into the decision.
"There are, of course, the photos of the therapist himself," Sari explains, "but there's also a private diary on their website where you can read more intimate details of what your therapist is like. I like choosing men who are a bit like my favorite anime characters."
With all of the care and attention that goes into servicing the female clients, Himitsu Kichi also plans to open up a variety of sexual courses for men to improve their own performance at home, similar to the courses they use to train their own therapists.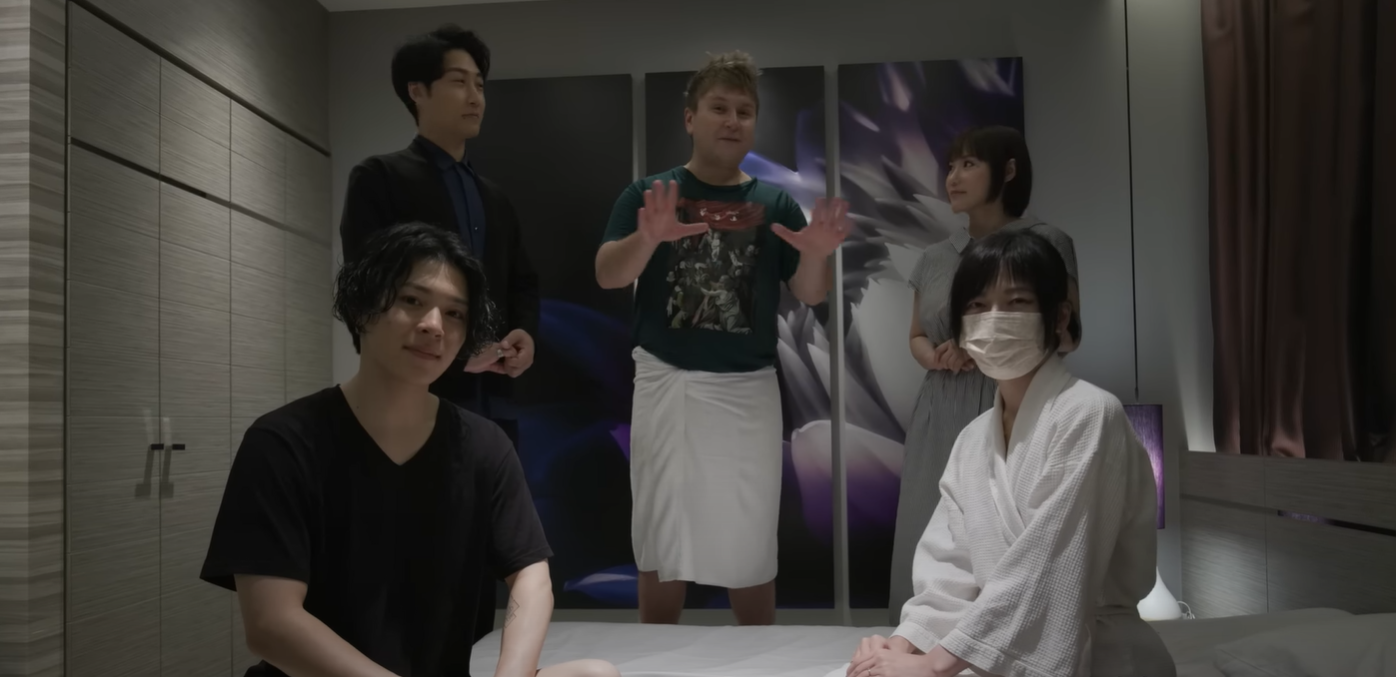 "It might sound silly, but our existence is proof enough that many women aren't finding enough satisfaction from their sex lives at home." CEO Ichijou continues. "Our ultimate goal would be to teach the world sexual pleasures to a point where we wouldn't be needed."
Curious as to what the entire experience looks like in person? Be sure to check out our full video here, including even more intimate interviews with the CEO, therapist, and client!