MARSLAB, formerly Wonder T-shirts Festival (NEO), redesigned their shop and have more awesome t-shirts than ever!  In fact, that's pretty much everything they have: t-shirts upon t-shirts upon t-shirts!
[metaslider id=3366]
Told ya.
So whether you're looking for a t-shirt from your favorite anime, or a souvenir that screams Japan for your friend back home, MARSLAB has you covered.  Let's take a closer look at some of them.
Hilarious T-shirts
[metaslider id=3367]
Do you know Ryutaro Nonomura?  If so you need this first shirt.  If not, you need to watch his press conference where he started crying and throwing a tantrum like a toddler who didn't get their sippy cup right when they wanted it.  Now who said Japanese don't show any emotions!
Next up we have a meme banana who's peel has been opened saying, "Today's kinda cold, huh."  And next to that we have a beautiful kanji t-shirt that reads shibou, or death.
Finally we round it out with two t-shirts that play off of each other.  One reads, "No, I'm not Bob" while the other translates to "I'm not Sato", an equally common name as Bob in Japan.
Those were pretty good, but now let's look at my favorites:
[metaslider id=3355]
What are some things that people outside of Japan will say if you ask them about Japan?  Geisha!  Sumo!  Mt. Fuji!  Ninjas!  Lucky for you, you can catch all those beautiful generalizations in one t-shirt, in the good ole red, white, and blue, so you can showcase just how much you really know about Japan.  The best part?  It's got Japanese people doing traditional apologies on the back by performing ritual suicide!  Now that's cultural awareness.
You can even get a version with just the seppuku/harakiri too, or the more tongue in cheek version that has a short sword on a table that reads "Please use it whenever you like."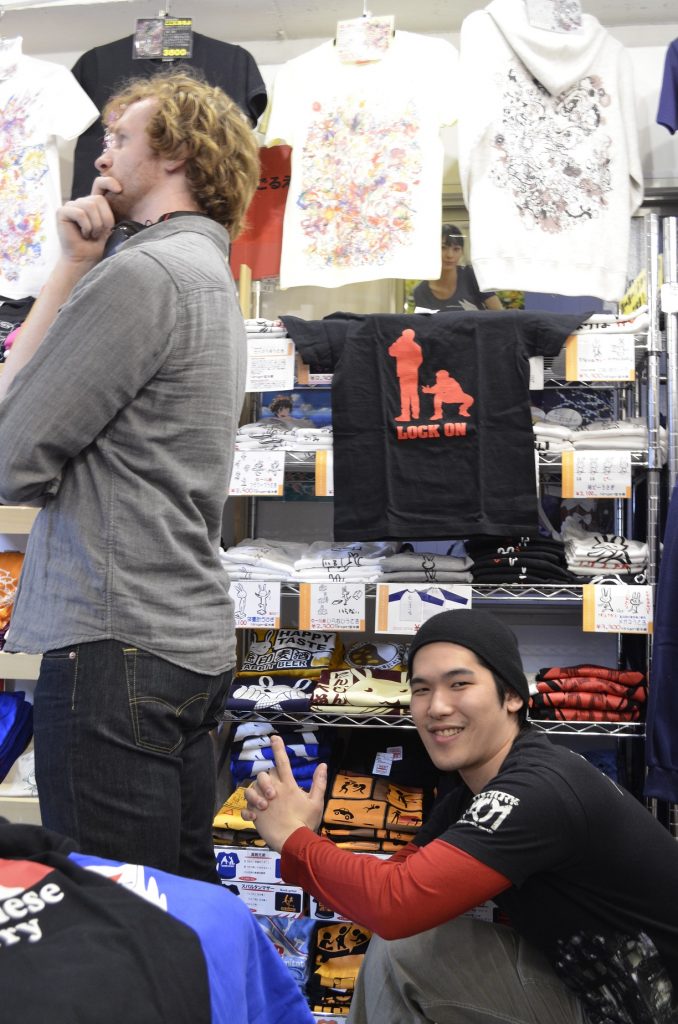 Wide Variety
[metaslider id=3368]
I'm really confident that anyone who likes Japan would be able to find something they love at MARSLAB.  In this group I really like the Ramen Jiro shirt with a man climbing the bowl of ramen like a mountain, the Kantai Collection shirts that feature the actual aircraft carriers instead of the girls, and the Sega Genesis and other system schematic type shirts.  We obviously weren't able to capture all the shirts on camera, but rest assured, whether you're into video games, memes, Japanese culture, or hot anime girls, you'll be set.  Speaking of hot anime girls…
Love Live Corner
[metaslider id=3365]
They have a whole corner dedicated to Love Live!  All of the girls from μ's are here, so show some love for your favorite girl by getting a t-shirt that features her!  Be proud of your fandom!  Own it!
Decor and…
[metaslider id=3369]
The whole atmosphere of MARSLAB is really relaxing and inviting, which matches the owner's personality to a T(-shirt.  Had to do it.).  Rumor has it that there is even a sword of legend that rests here.  Yea, verily even the Hero's Sword from Dragon Quest.  Do you have the might to wield it?
[metaslider id=3370]
[metaslider id=3373]
[cft format=0]