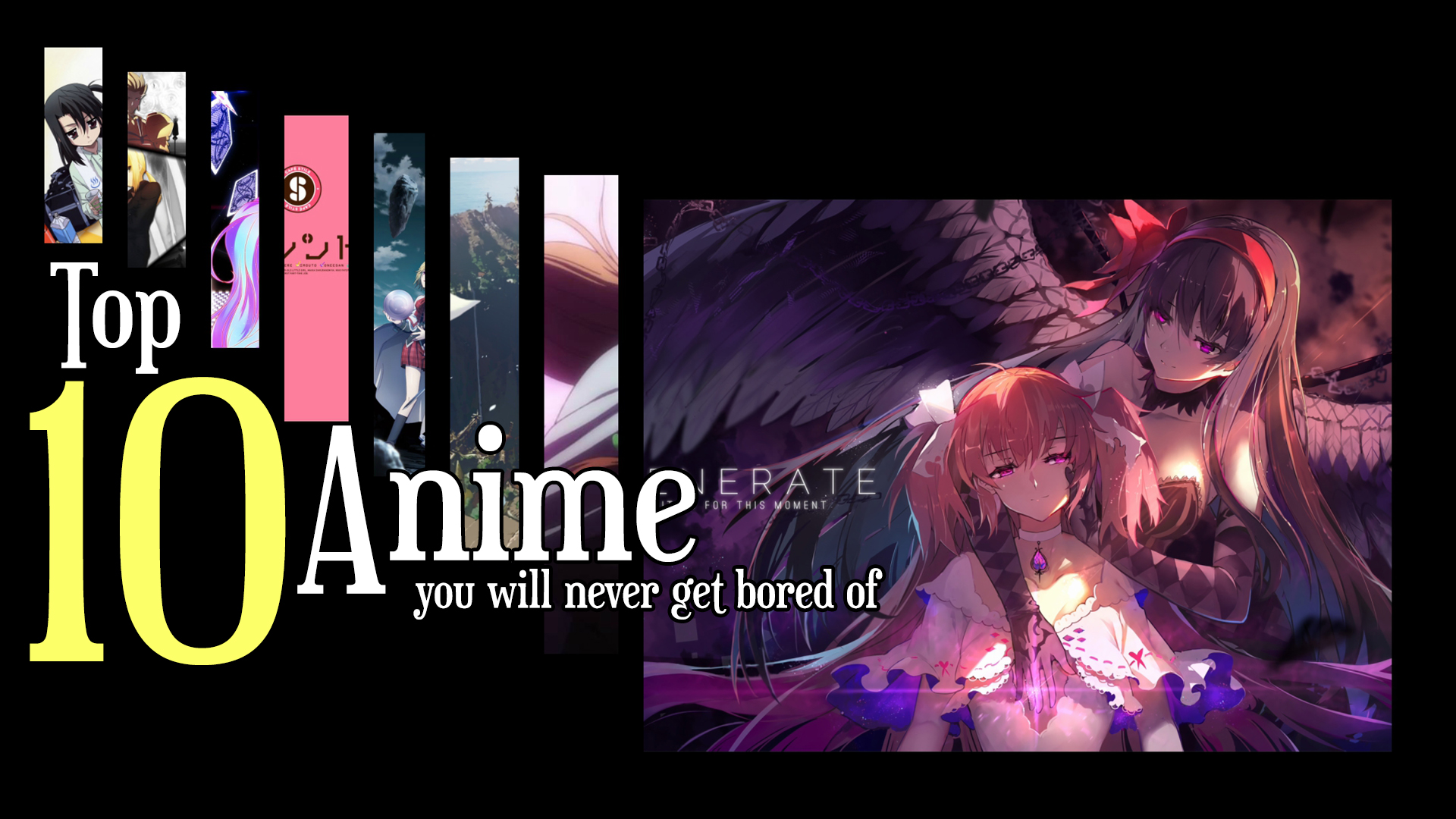 First of all, let me make it clear that it's hard to rank which one is on top of the list. So, no.1 doesn't mean it's the best because every anime has its own beauty and points of interest. Some anime have a really slow pace, making them boring to watch at the beginning though everyone said that it would get interesting as the story progress. Yeah, but before we could even reach that episode, we could lose interest in continuing to watch the series. So let me tell you my Top 10 Anime you would never get bored of watching from start to the end! Made in Abyss made me cry my heart out. Attack on Titan has good cliffhangers making you want to know what's going to happen next. Akatsuki no Yona has a very good character development and Yona has such a cute character! OMG, I'm melting just by her voice. Okay, enough said. So without further ado, here we go!
---
1) Attack on Titan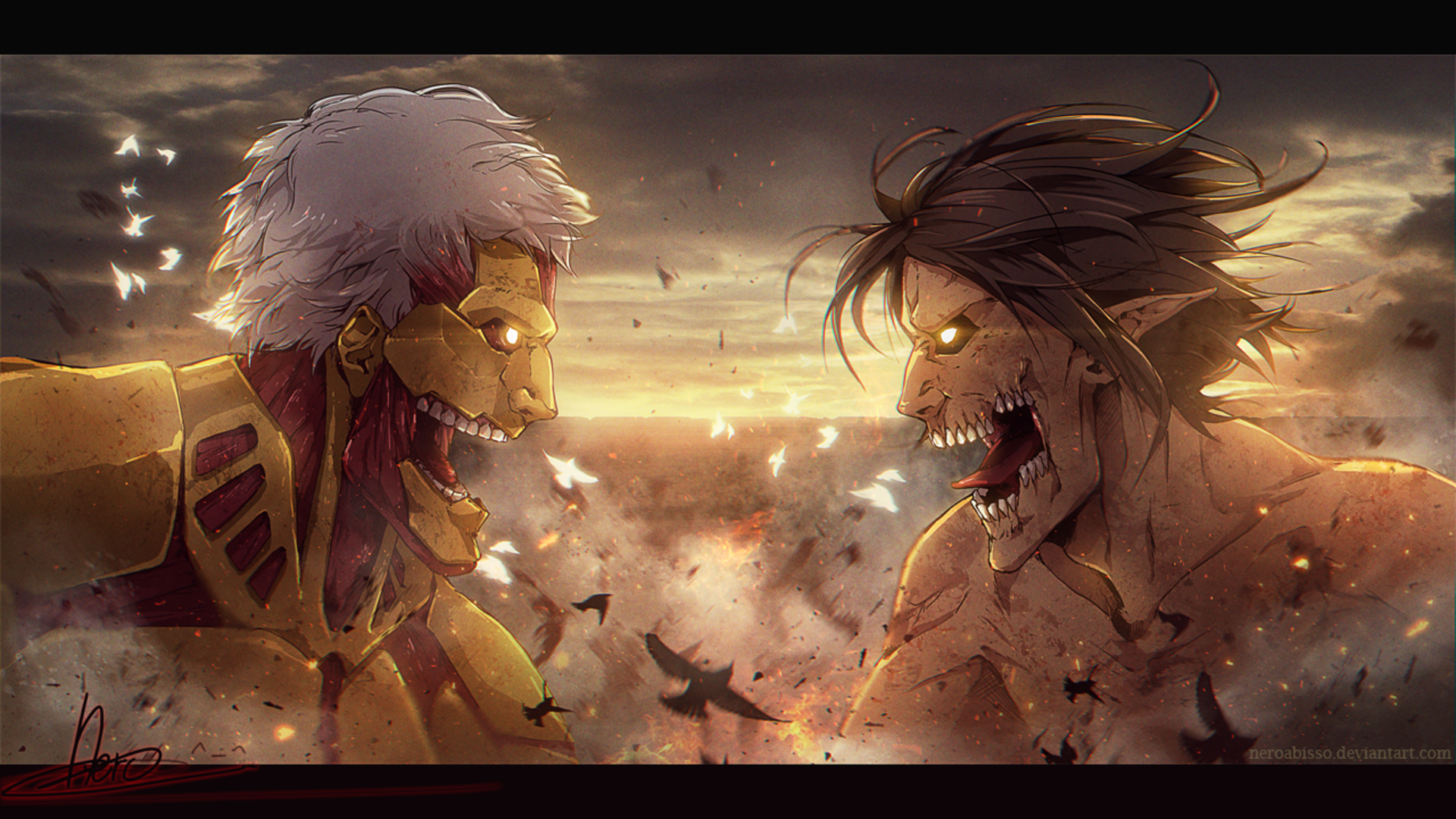 Over 100 years before the beginning of the story on an alternate world, giant humanoid creatures called Titans (巨人 Kyojin) suddenly appeared and nearly wiped out humanity, devouring them without remorse or reason and only targeting them; they completely ignore other wildlife. What remains of humanity now resides within three enormous curtain walls: the outermost is Wall Maria (ウォール・マリア Wōru Maria); the middle wall is Wall Rose (ウォール・ローゼ Wōru Rōze, sometimes pronounced like rosé) and the innermost is Wall Sheena (ウォール・シーナ Wōru Shīna, alt. "Wall Sina"). Inside these walls, humanity has lived in uneasy peace for one hundred years, many people grow up without ever having seen a Titan. This all changes when one day, a giant 60-meter (200 ft)-tall Colossus Titan mysteriously appears after a strike of lightning and breaches the outer wall (which is 50 meters tall) of the Shiganshina district, a town at Wall Maria, allowing the smaller Titans to invade the district. An Armored Titan smashes clean through the gate in Wall Maria, forcing humankind to abandon the land between Wall Maria and Wall Rose, evacuating the remaining population into the inner districts. The sudden influx of population causes turmoil and famine.
---
2) Akatsuki no Yona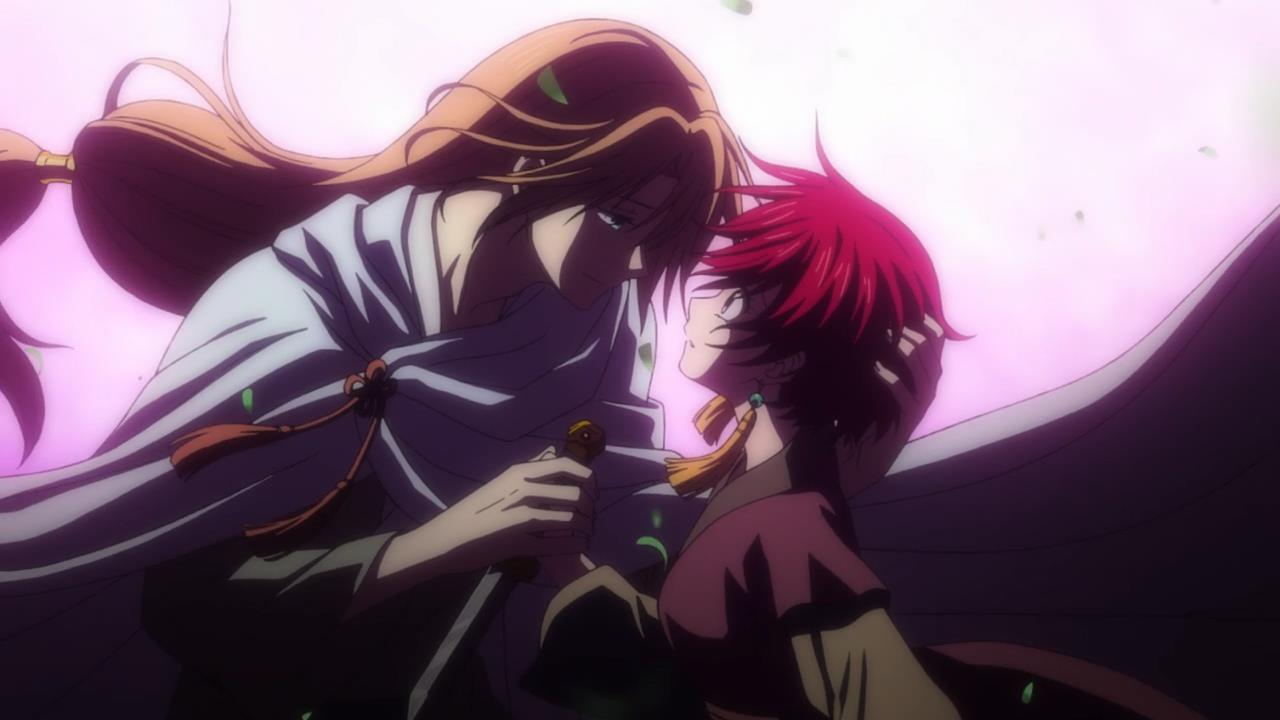 Set in a fictional place that draws inspiration from a mixture of Japanese, Korean and Chinese cultures, the story follows the redemption of Yona, the sole princess to the Kingdom of Kouka. Yona lives the carefree life of a princess in Hiryuu Castle, being sheltered by her pacifistic father, King Il, and protected by her bodyguard and childhood friend Son Hak. During a party being held for her sixteenth birthday, her other childhood friend and love interest Soo-Won comes to pay tribute to her. Intending to tell her father that she cannot forget her love for Soo-Won, she visits King Il's chambers and witnesses him being killed by Soo-Won, who reveals that he will now properly rule Kouka. Hak intervenes and saves Yona, and they escape from the castle to Hak's birthplace, the Village of Wind. Under the suggestion of Hak's grandfather Son Mundok, Yona and Hak search for an oracle named Ik-Soo, who then tells them the legend of the first king of Kouka, Hiryuu, and the Four Dragon Warriors who unified the kingdom. Yona and Hak, joined by Ik-Soo's assistant Yoon, begin a journey to find the descendants of the legendary Four Dragon Warriors in order to survive and save the Kingdom of Kouka.
---
3) Made in Abyss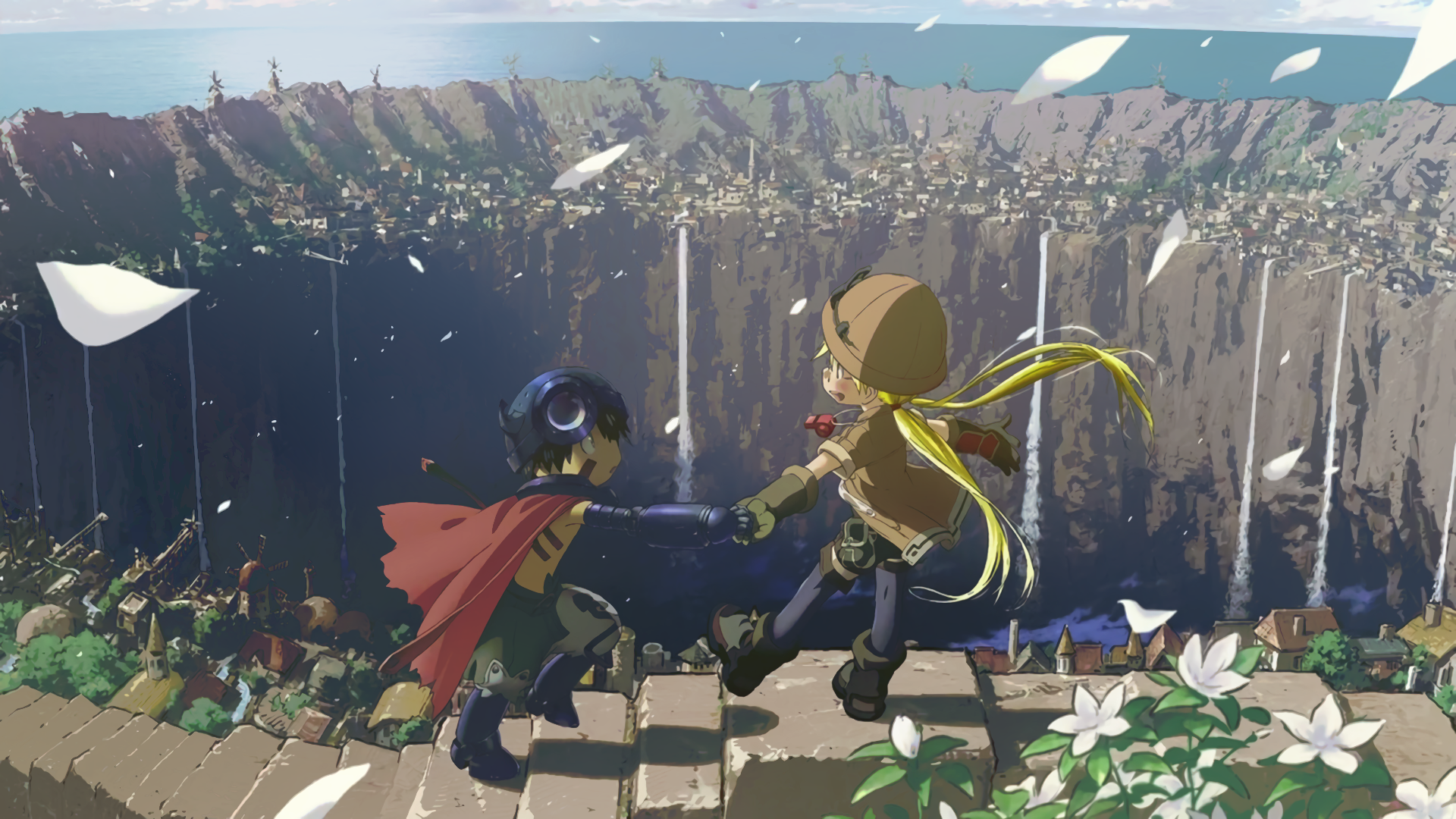 The story is centered around an orphan girl named Riko who lives in the town of Orth on an island in the sea of Beoluska. The city surrounds a strange, giant hole going deep into the earth, which is commonly called the Abyss. The Abyss harbors artifacts and remnants of a civilization long gone, and is therefore the popular hunting spot for so-called Cave Raiders, who undertake arduous and dangerous descents into the mist-filled pit to recover whatever relics they can find. Returning from the Abyss, however, can be dangerous, as "the Curse of the Abyss," a mysterious and potentially fatal malady, manifests upon ascension. The deeper one goes, the more acute the effects of the curse; few who have descended into the lower regions have returned to tell of their experiences. Some legendary Cave Raiders earn the title of White Whistle, one of them being Riko's mother Lyza.
Riko's goal is to follow in her mother's footsteps and solve the mysteries of the Abyss. One day she explores the caves and discovers a robot named Reg who resembles a human boy whom she and her friends befriend. Some time later, Riko is informed that some items sent by Lyza were recovered, including a message to her, telling her to meet in the bottom of the Abyss. Riko then bids farewell to her friends and departs to the Abyss with Reg in search for her mother, despite knowing of the risks and the fact that due to the Curse of the Abyss, she will never be able to return.
---
4) Fate/Zero
The story of Fate/Zero takes place ten years prior to the events of Fate/stay night, detailing the events of the Fourth Holy Grail War in Fuyuki City. The Holy Grail War is a contest, founded by the Einzbern, Matou, and Tōsaka families centuries ago, in which seven mages summon seven Heroic Spirits to compete to obtain the power of the "Holy Grail", which grants a wish to each member of the winning duo. After three inconclusive wars for the elusive Holy Grail, the Fourth War commences.
The Einzbern family is determined to achieve success after three consecutive failures, no matter the cost. As a result, they have elected to bring the hated magus killer, Kiritsugu Emiya, into their ranks, despite his methods and reputation as a skilled mercenary and a hitman who employs whatever he can use to accomplish his goals. Though Kiritsugu had once wanted to become a hero who could save everyone, he has long since abandoned this ideal upon realizing that saving one person comes at the cost of another's life. Thus, this is the source of conflict, which he once sought to eliminate, due to finite resources/abilities. For the sake of humanity, he will ruthlessly destroy anything and anyone who threatens the peace of others.
---
5) Mahou Shoujo Madoka Magica (I recommend you watch the movie trilogies)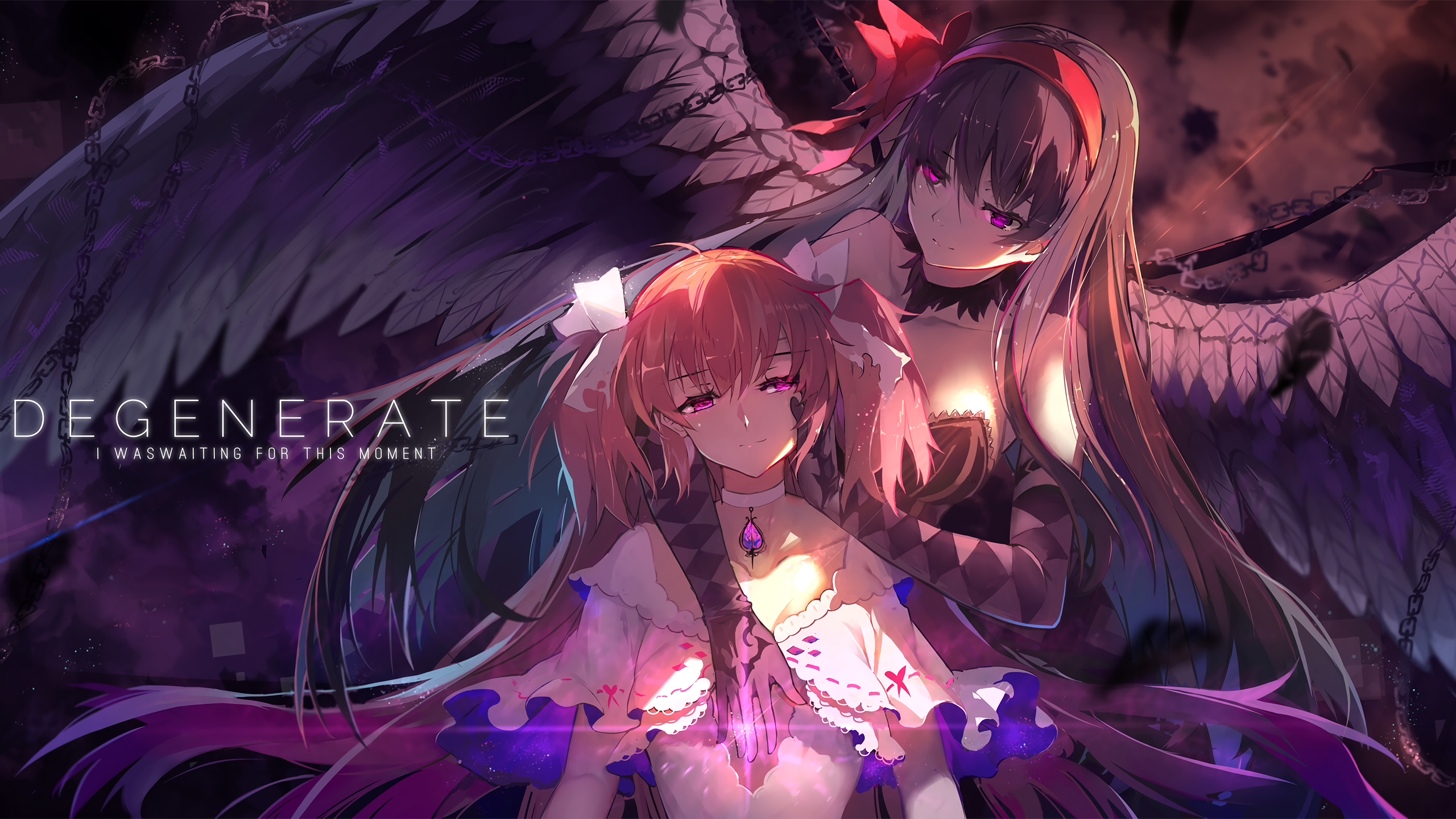 In the fictional city of Mitakihara, Japan, a middle school student named Madoka Kaname and her friend Sayaka Miki encounter a small, cat-like creature named Kyubey. It offers a contract in which a girl may have any wish granted in exchange for obtaining magical powers and being tasked with fighting against witches. Meanwhile, a transfer student and magical girl named Homura Akemi tries to stop Madoka from making the contract with Kyubey at all costs. Madoka and Sayaka then meet Mami Tomoe, an upperclassman at the same school who is also a magical girl and offers to bring them along on her witch hunts so that they may learn of the responsibilities that come with being a magical girl.
As Madoka contemplates accepting the contract with Kyubey, she witnesses the death of Mami at the hands of a witch and realizes that a magical girl's life is filled with danger, anguish, and suffering. This is further enforced by the appearance of Kyoko Sakura, a veteran magical girl whose wish indirectly caused the death of her family. Madoka also discovers that not only do magical girls give up their souls to form their Soul Gems, the source of their magic, but when those Soul Gems become too tainted with despair, they transform into the very witches they fight against. This is exemplified when Sayaka, heavily disillusioned with the current state of the world, falls into an irrecoverable despair that turns her into a witch. It is then revealed that Kyubey's alien race is harvesting the emotions from magical girls to use as energy to counteract the spread of entropy. Madoka also learns that Homura is a magical girl from a different timeline who has repeated the same month countless times in order to try to save Madoka from a grisly fate.
---
6) No Game No Life
Sora and Shiro are two hikikomori step-siblings who are known in the online gaming world as Blank, an undefeated group of gamers. One day, they are challenged to a game of chess by Tet, a god from another reality. The two are victorious and are offered to live in a world that centers around games. They accept, believing it to be a joke, and are summoned to a reality known as Disboard. There, a spell known as the Ten Pledges prevents the citizens of Disboard from inflicting harm on one another, forcing them to resolve their differences by gambling with games whose rules and rewards are magically enforced. In-game, rule enforcement only occurs when the method of cheating is acknowledged and outed by the opponent, allowing players to cheat through discreet methods. Sora and Shiro traverse to Elkia, the nation inhabited by humans, and befriend the duchess Stephanie Dola. Learning about Elkia's decline, the two participate in a tournament to determine the next ruler; after winning the crown, they earn the right to challenge the Disboard's other species as humanity's representative. Their next goal is to conquer all sixteen species in order to challenge Tet to a game; as of the sixth volume, five of the sixteen are under their control.
---
7) Blend S
High school girl Maika Sakuranomiya has trouble finding a part-time job because of how scary she looks when smiling. However, she is scouted one day by an Italian man who is also the manager of Stile, a café where its waitresses are given unique traits such as tsundere and younger sister. Maika is given a sadist trait because of her looks and has to adopt a dominant and cruel persona when servicing customers, particularly masochist ones.
---
8) Shiki (Corpse Demon)
The story takes place in a particularly hot summer in the 1990s, in a small quiet Japanese village called Sotoba. A series of mysterious deaths begin to spread in the village, at the same time when a strange family moves into the long-abandoned Kanemasa mansion. Doctor Toshio Ozaki, director of Sotoba's only hospital, initially suspects an epidemic; however, as investigations continue and the deaths begin to pile up, he learns—and becomes convinced—that they are the work of the "shiki", vampire-like creatures, plaguing the village. A young man named Natsuno Yuuki, who hates living in the village, begins to be pursued and becomes surrounded by death.
---
9) Trinity Seven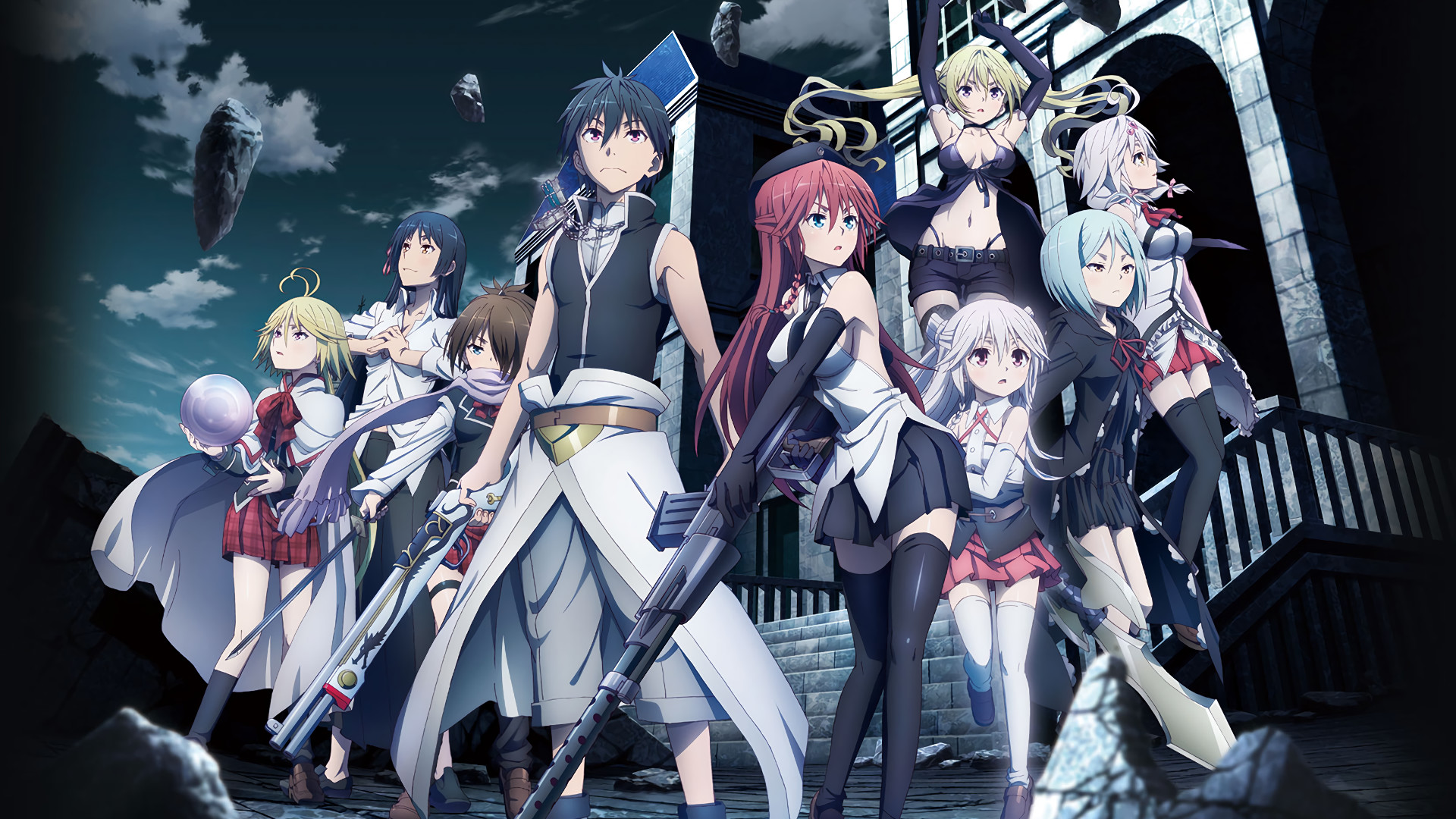 Arata Kasuga lived a normal life together with his cousin and childhood friend Hijiri Kasuga in a small town. However, everything changes on the day of the Black Sun, which caused the Breakdown Phenomenon which destroys the town where he lived and takes Hijiri away. As Hijiri starts disappearing, she hangs a grimoire around his neck, asking it to protect Kasuga. Shattered by losing Hijiri and all of his other friends and family, Arata asks for his world to be good again, which leads to the grimoire artificially reconstructing his normal life and making him forget both the destruction of the city and Hijiri's disappearance. Lilith Asami, a mage, is sent to investigate the ruins, and she finds the powerful spell in their stead. She makes Arata remember the actual events, and consequently, the spell is broken, but not without the grimoire telling him that Hijiri is still alive. Arata decides that his only option is to become a mage himself so he could rescue Hijiri, and so he joins the Royal Biblia Academy, a secret school for mages that deals with magical issues around the world. There he is introduced to the Trinity Seven, seven powerful mages who are at the top of their respective fields (Lilith being one of them) and who will help him in his goal of becoming a powerful magician and learning the truth about Hijiri and the Black Sun. He soon finds out that one of the Trinity Seven, Arin, looks almost exactly like his missing cousin, although she shows a completely different personality.
---
10) School Days
School Days focuses on the life of Makoto Ito, a first-year high school student living with his divorced and "unseen" mother in the fictional city of Haramihama. During his second term, he becomes infatuated with Kotonoha Katsura, a soft-spoken schoolmate who shares train rides with him to and from campus. When his homeroom seating plan is rearranged, he becomes acquaintances with Sekai Saionji, an upbeat girl who takes a special interest in his newfound crush, befriending the two and providing them the grounds to meet. In spite of her triumphant efforts, however, Sekai becomes jealous of the new couple, having developed feelings for Makoto herself.