Today we have an exclusive interview with the grotesque body artist, Hikaru Chō.
While a university student in her daily life, Hikaru spends a lot of time like us, online. You may be deceived by her painting, but she's actually a very cute and sharp girl who gets a charge out of looking at cute girls.
Before reading one, take a look at some of Hikaru's works, if you haven't already. Keep in mind, she wants you to feel grossed out, so don't feel bad if you do. She feels this way because that's a reflex. Rather than have you sit for a moment thinking and tell her it's beautiful, she'd much rather invoke a raw "Oh my gosh!" or "That's disgusting!" from you.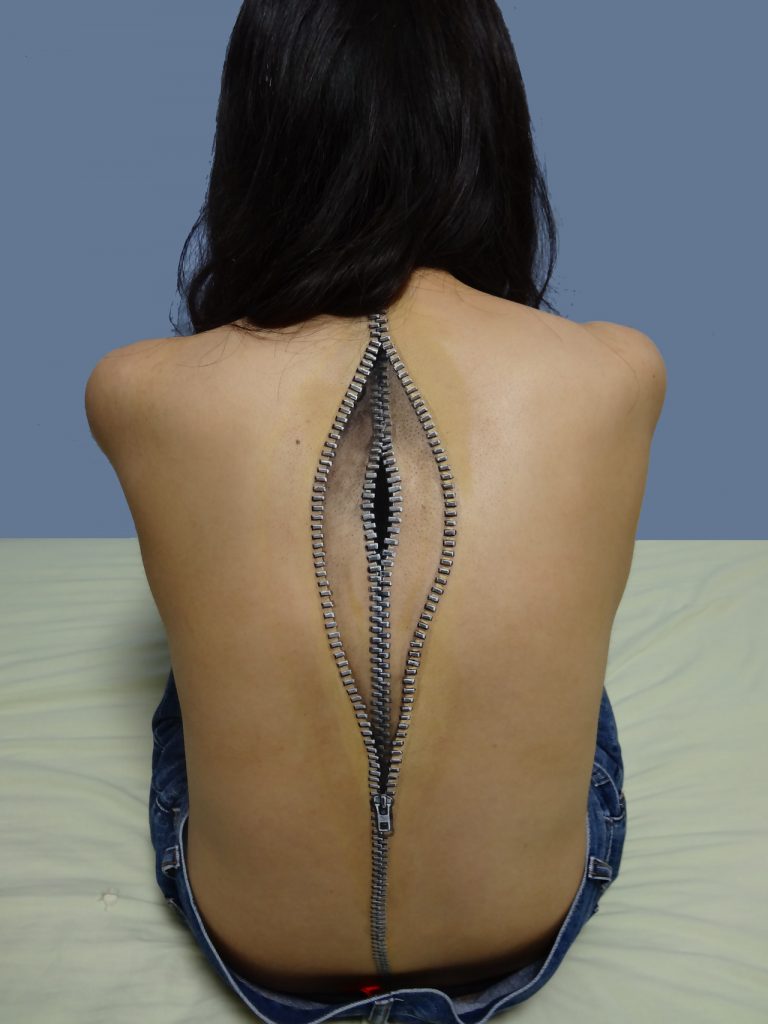 "I'm a netizen."
―Hikaru, what was your childhood like?
I loathed studying. And I'm not one for exercise. The rest of my family all went through Tokyo University, so everyone but me is part of the social elite. I was put through the same curriculum as my sister who's 5 years older than me, but the only thing I really felt I could do was drawing.
I didn't have too many friends and played lots of online games ever since elementary school. Even today I really like being a netizen. I never want to "grow up."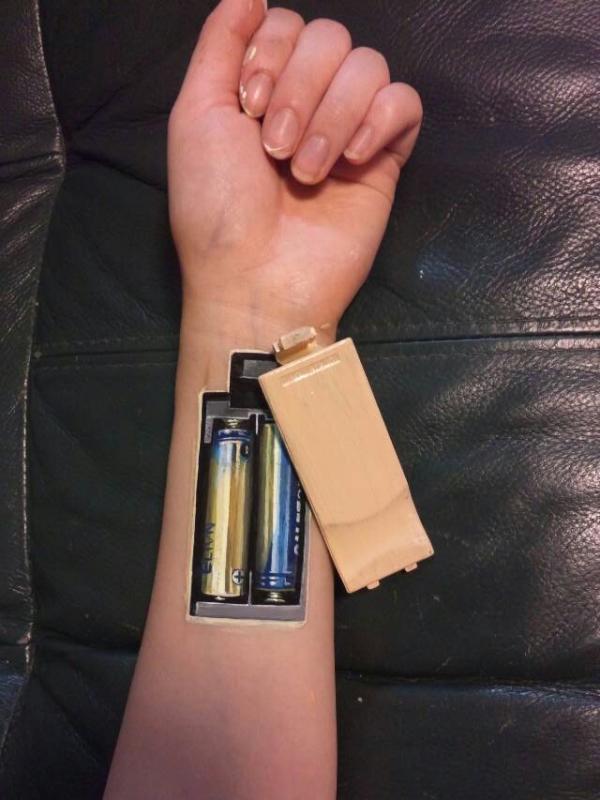 "The charm of girls is mesmerizing!"
―So I heard you like girls, right?
Well it's not that I like them like them, but I love cute girls.
Whenever I'm in a creative rut at night I'll hop on Twitter and check out some of the gravure models I follow to get refreshed.
―What kind of cute do you like?
I like a cute smile. There are a lot of girls like that around Omotesandō and Aoyama. There are even girls that look like professional models around there.
But more than a flawless beauty, I like someone who still lacks a little confidence. I think there's a little pride for me that way, haha.
There's just something special about a girl's charm. I mean, no matter how impressive your drawing is, good luck beating out a girl with a big rack's selfie, haha!
"Bald people make the best canvas."
―What made you want to start drawing body art like this?
When I was trying to get into art school I mostly drew still-lifes, but what I really wanted to draw was people. Since drawing boards were expensive at around 300 yen each, I just drew an eye on my hand.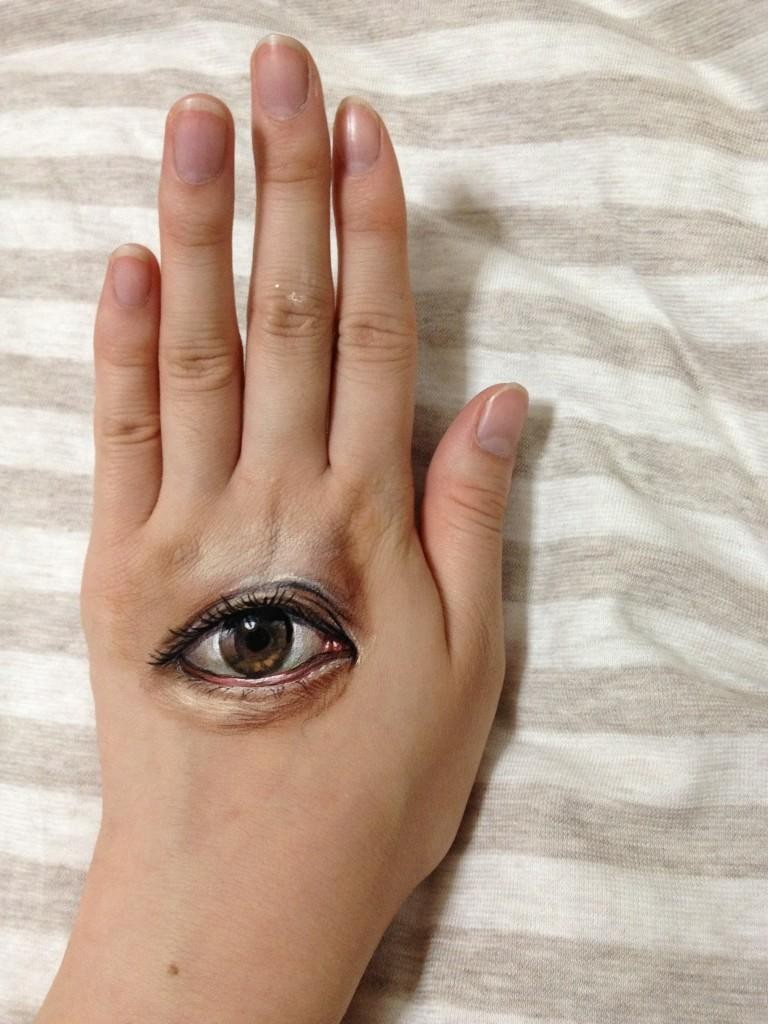 As soon as I finished I thought, "Wow, that's nasty!" so I took a pic and tweeted it out. I got 9000 retweets on it and that pretty much convinced me.
There were lots of different reactions, like people saying, "Don't put this disgusting crap online!" but I like the variety. There's lots of trolling and name-calling too, but I like to save a screenshot of any the comments that catch my eye, even if they're negative.
I just really like when people say, "Ew!" I mean, take the word "beautiful." That's a word that's often used after some internal processing has happened. But "Ew!" comes out on reaction. I like those reflexes―gross, ew, nasty.
Another way to think of it is that if someone is taking a lot of time to process your art, then there's the fear that you didn't reach them with it.
―What kind of people are easy to draw on?
Bald people make really great canvases. Their roots have died leaving a nice smooth surface to draw on. People that aren't too fat or too skinny are easy as well. If they're fat the paint cracks right away, but if they're skinny the bones show through making it harder to draw.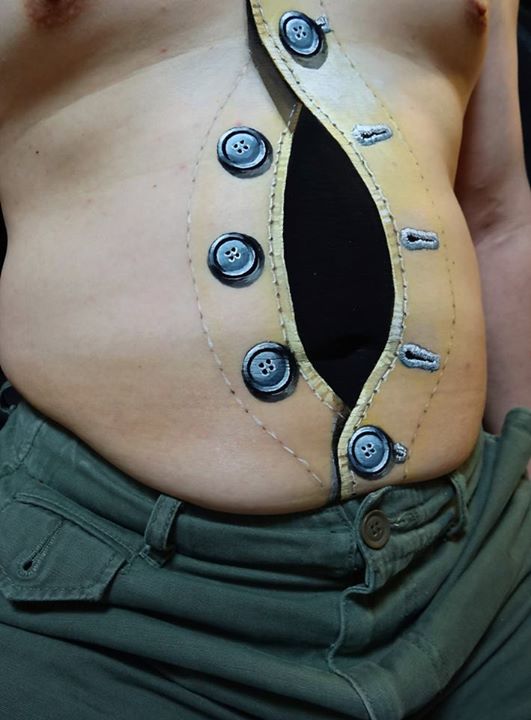 ―Would you draw something on me?
Are you sure? It takes a long time. For example, drawing on someone's back usually takes about 8 hours.
―I think I'll pass…
But being together for such a long time, you really get to see the model's true character and you can have some great discussions. Once you're finished, I feel like we've already been friends for over 10 years. Although, I'll admit, I don't really keep in touch with many past models, haha.
―What're your plans from here?
I'm working towards a publication on my works and myself! I've been putting together a collection of my art and a narrative about myself and aiming for a release at the beginning of spring.
I'm also working on a manga for Commutia. I've been expanding my portfolio so I can be an artist who really stimulates everyone!
Art is a tool for communication that can be appreciated by the whole world. Even if you don't understand each other's words or letters, you can still be deeply impacted by their art.
———————————
We found Hikaru to be a very cute and smart girl. We'll really enjoy seeing her change the world with her art.
Visit her site here to see what she's currently working on!