Are you a cosplayer? Or, maybe you just want to be able to say you went inside a Japanese cosplay shop? Whatever your reason, when you come to Akihabara one of the must-visit cosplay stores in the area is Polka*Polka. It's a shop that buys and sells second-hand cosplay costumes, wigs, props, and more, so you're bound to find something cool.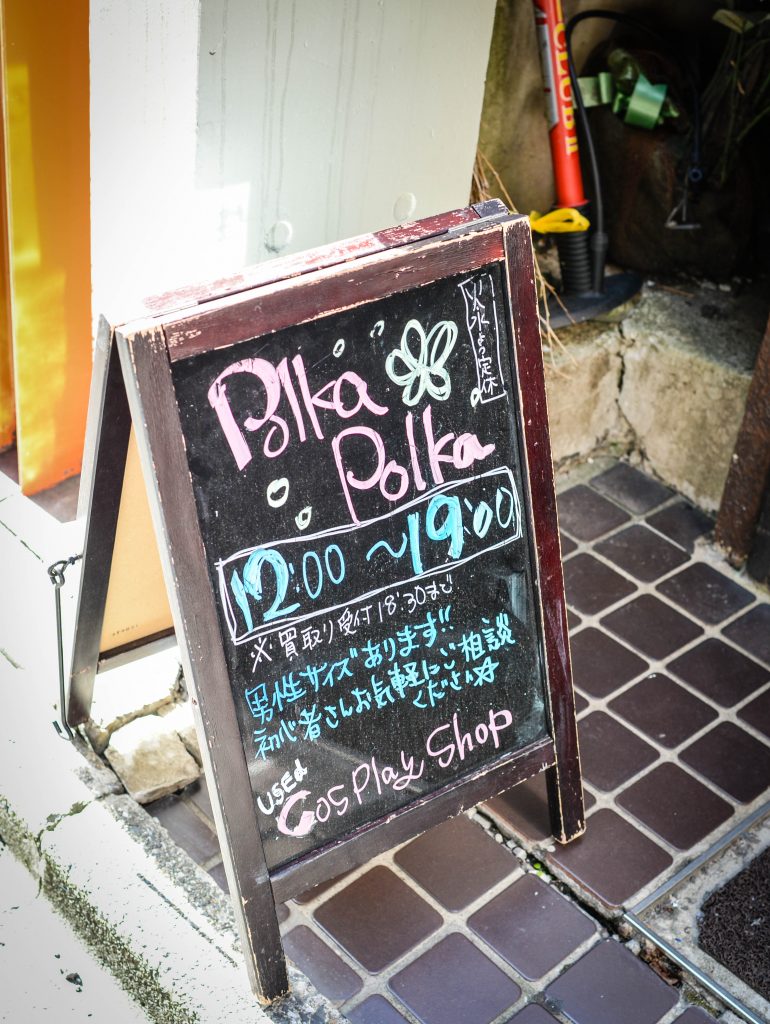 What I like most about this shop is that they have a good variety. Their stock is always different because they are regularly buying costumes from cosplayers.
Of course, they have your basics like wig caps, petticoat underskirts, wig brushes, and wig stands, but because costumes are bought second-hand you never know what you might find.
They have many different kinds of costumes, ranging from cute maids, nurses, and school girls to anime characters from your favorite shows. The costumes from anime are arranged by the title of the show using hiragana, but if you can't read hiragana don't worry. You can ask for help from staff, or just peruse the racks until you find what you're looking for.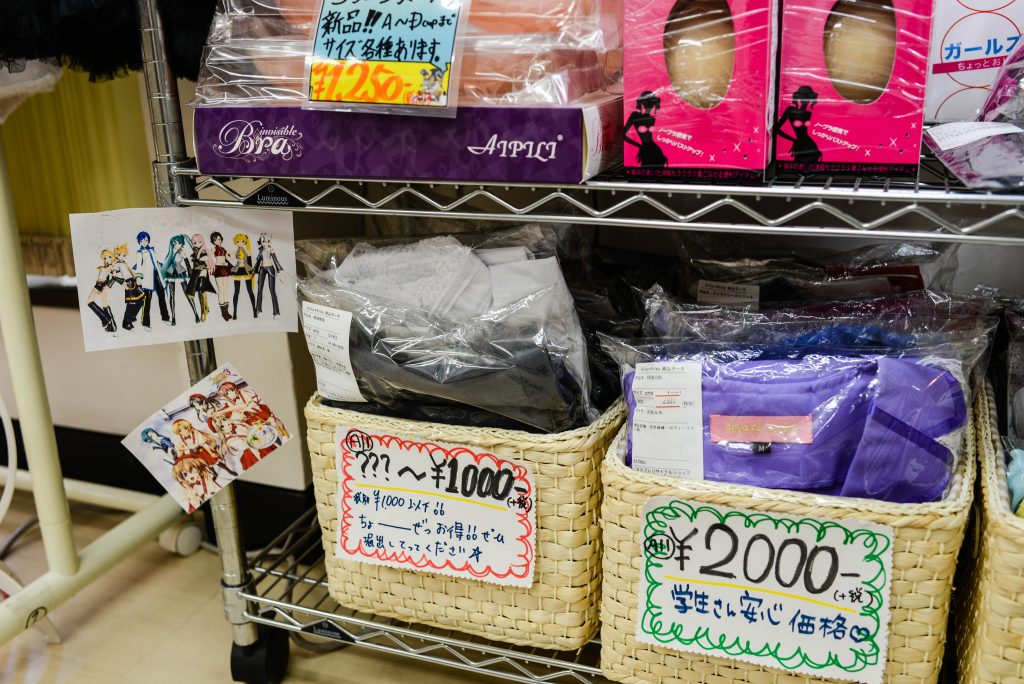 Speaking of browsing, the store's size is average for Japanese stores, but most foreigners would think it's a tad small compared to what they're used to back home. If you have a lot of luggage with you, you might want to see if you can leave it by their front door so you aren't dragging it around or blocking the way for other shoppers.
And since we're on the subject of being foreign, one problem that many foreign cosplayers have is that it's difficult to find cosplay here in Japan that will fit our bodies correctly. Most of us are just naturally taller and/or curvier. That being said, I was quite surprised to learn than Polka*Polka has a section for XL + costumes for both men and women. The last time I visited this store I don't remember there being a plus size section, so I'm excited to see how they're working hard to accommodate cosplayers of all shapes and sizes.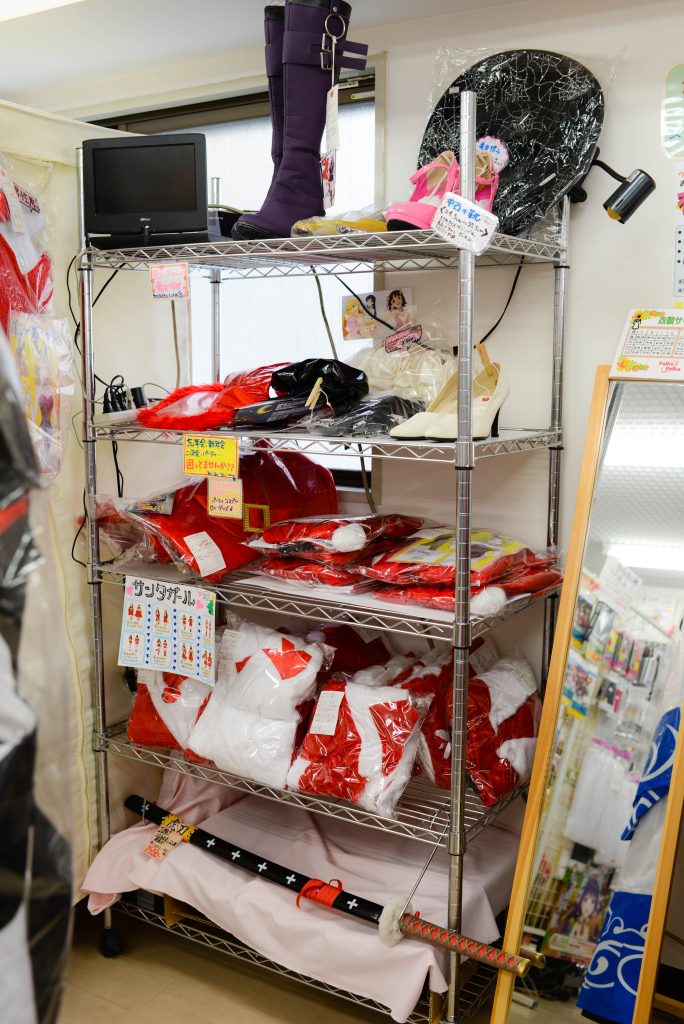 Another service that sets this store apart from others I have visited is that you can try on wigs, which is something I have never seen a shop allow before. Usually wigs are one of those "hands off" items that you just have to buy and hope it works out when you get it home, but Polka*Polka encourages you to try wigs on before you buy them and they offer a small vanity area where you can check out how it looks in the mirror.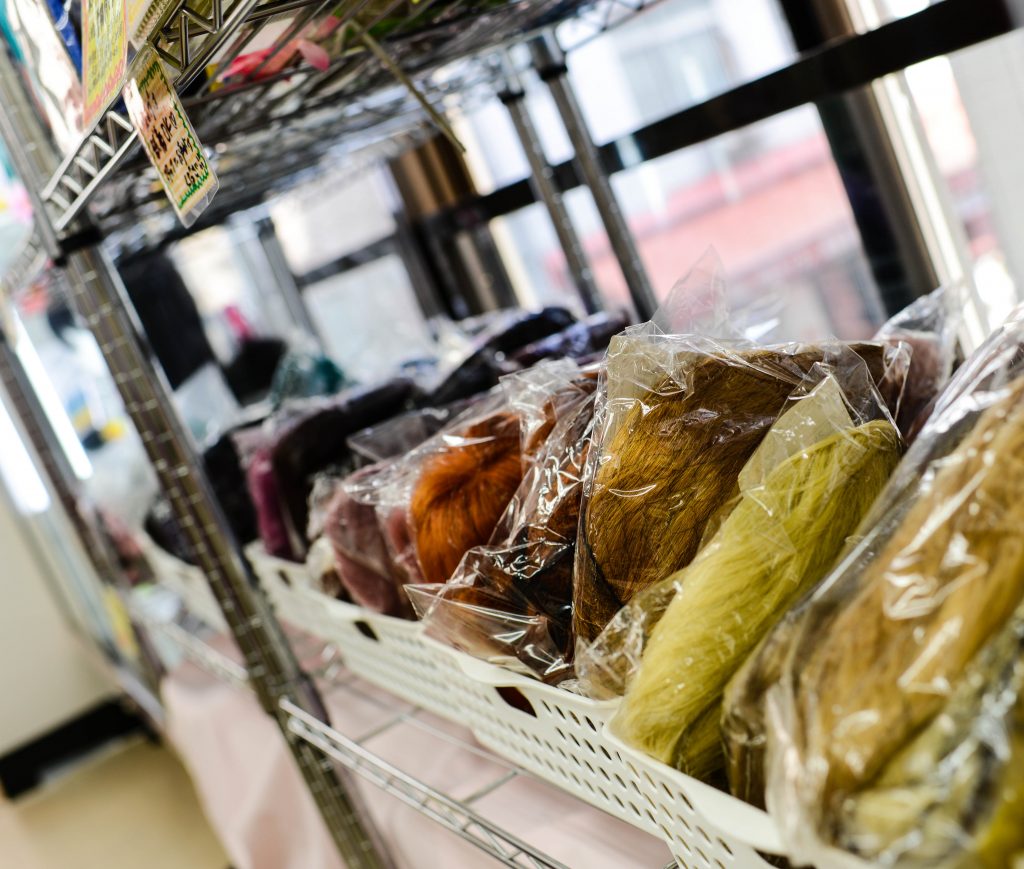 In addition to costumes I was also found a few larger props (swords and guns), some false eyelashes and nail décor, little odds and ends like cute ink pens, cute food keychains and phone charms, and some anime DVDs.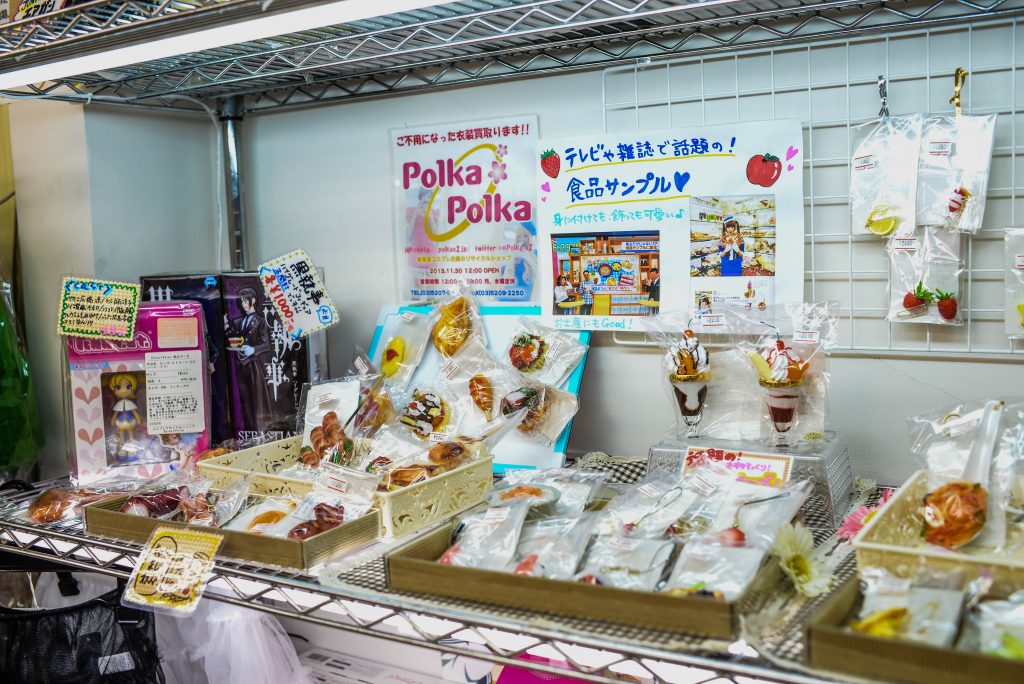 Polka*Polka's Services:
Several signs are in English. The staff can speak some English, but they told me that they often work with foreign customers by using Google translate and other apps on customers' smart phones. Even with the language barrier, the staff members are friendly and eager to help you.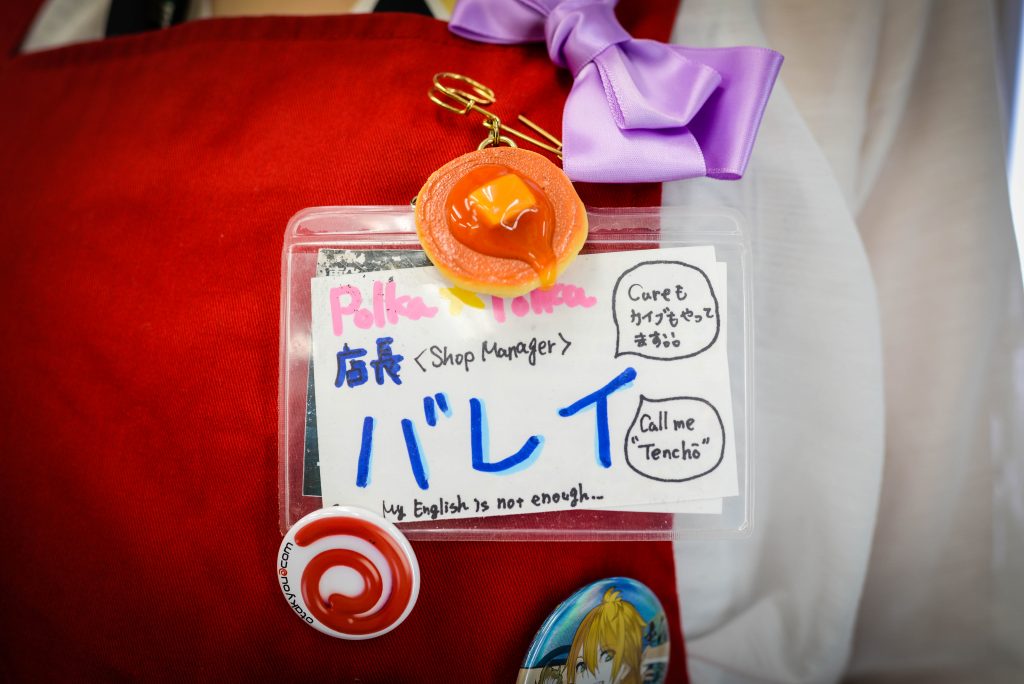 Polka*Polka offers a wig de-tangeling service.
They buy used cosplay, so if you need to offload a costume you can go get it appraised there.
There are several Akihabara maps and informational pamphlets in English in on their front door, so be sure to check those you before you leave!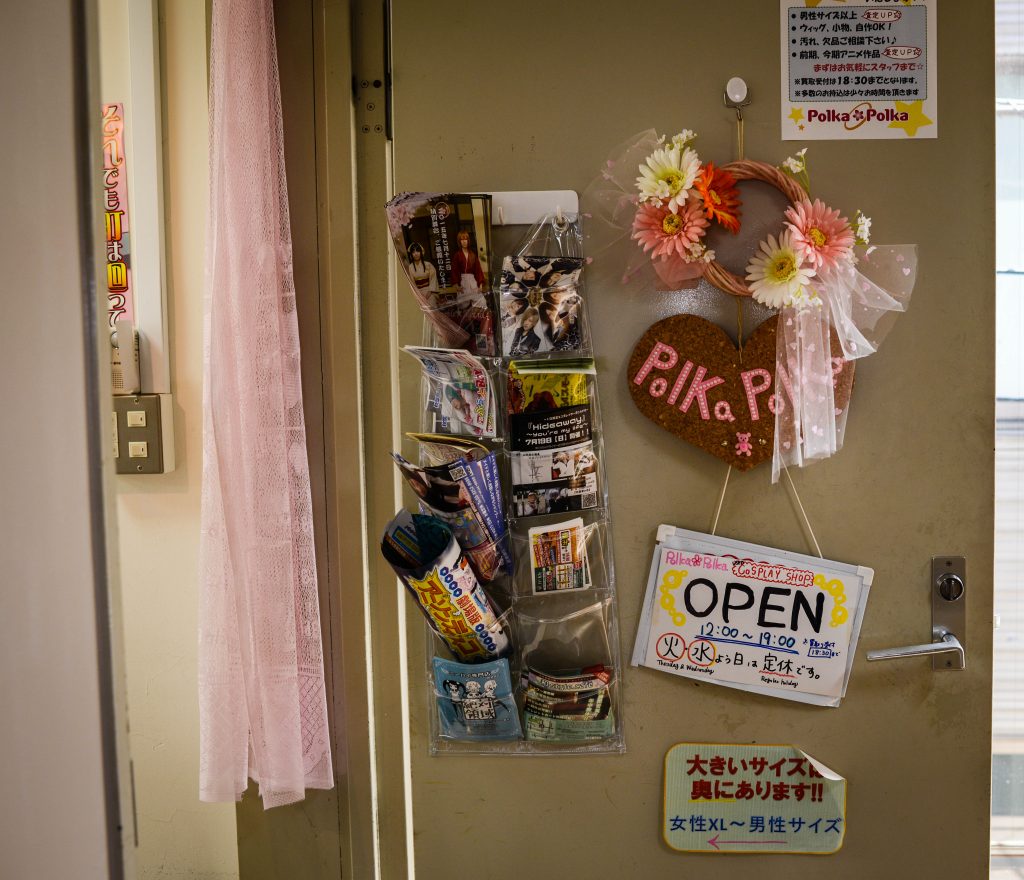 They have a convenient size conversion chart at the cash register that should apply to the majority of their stock, Men and Women's sizes S-XL, but remember they have that Plus size section in the back of the store, too.
They accept all major credit cards, and yen.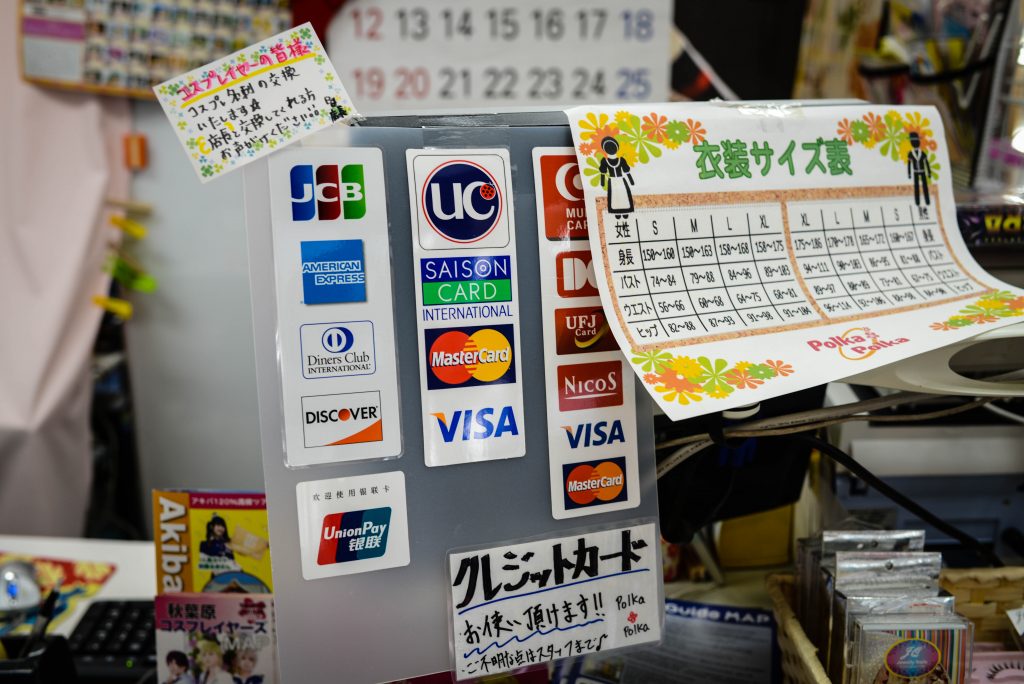 I felt that this shop is very foreigner-friendly and that they try their best to make it very easy for otakus everywhere to enjoy the world of cosplay. When you're in Akihabara, please be sure to drop by and check it out, and make sure there's room in your luggage for a few of the treasures you'll find at Polka*Polka!
[cft format=0]