The world of Super Mario comes to Kyoto, with a newly unveiled mural project! With the newest installment of the Super Mario Bros. games, Super Mario Bros. Wonder, releasing on October 20th, Nintendo has a special surprise in store for visitors in its hometown, Kyoto.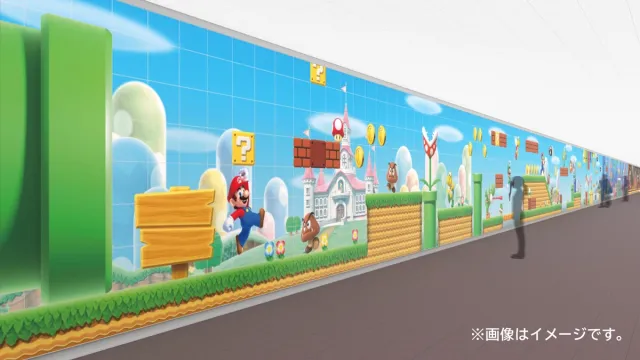 The location is set to be Shijo-dori Underpass, an underground pedestrian passageway that links the Shijo subway station with the Kyoto-kawaramachi train station, nestled in the heart of Kyoto. Since 2017, this underground corridor has served as a canvas for captivating art displays, and the next installment promises to be nothing short of incredible, with a massively colossal Super Mario mural stretching an impressive 100 meters (656 feet) from end to end!
While the mural isn't specific to Super Mario Bros. Wonder, the preview image teases iconic elements from the franchise. Princess Peach's castle, Goombas, Piranha Plants, Koopas, Yoshi, Bullet Bills, and an array of question mark blocks, pipes, and power-ups are all present across the massive installation. The side-view perspective also makes it so fans feel like they've been transported into a real-world Super Mario level!

While the photos so far are generated and simply teasers for the project, the mural officially goes up on October 1st for the public. The art will grace the passageway between exits 10 and 11, aligning with Shijo Teramachi-dori and Shijo Fuyacho-dori streets above. So far an end date has yet to be announced, so fans will want to pay the mural a visit before it's gone!