Cowboy Bebop, the iconic 1998 anime series, is renowned for its mesmerizing visual style and captivating music. In celebration of its 25th anniversary, Cowboy Bebop is engaging another one of your senses with a new line of eau de parfum and aroma diffusers. Produced by Fairy Tail, Tokyo's anime-inspired fragrance specialists, this olfactory experience allows fans to immerse themselves in the world of Spike, Faye, and Julia.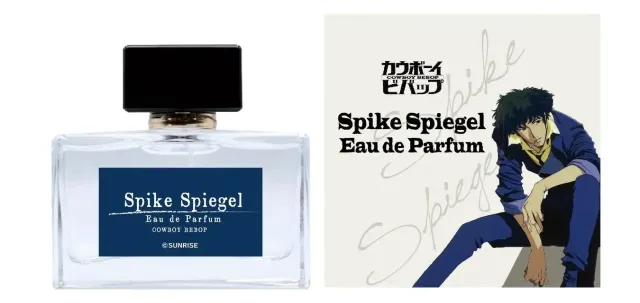 This isn't the first time Fairy Tail has created a fragrance for Cowboy Bebop's enigmatic protagonist, Spike Spiegel. However, to mark the series' 25th birthday, Spike receives a fresh eau de parfum meticulously designed to reflect his personality and history. The fragrance emphasizes Spike's individualistic instincts and physical prowess. It boasts top notes of invigorating orange and bergamot citrus, leading to a blend of vanilla accord, zesty lemon, and spicy, woody tonka beans. Reflecting the shadows of Spike's past, the base notes feature cedar, sandalwood, and amber.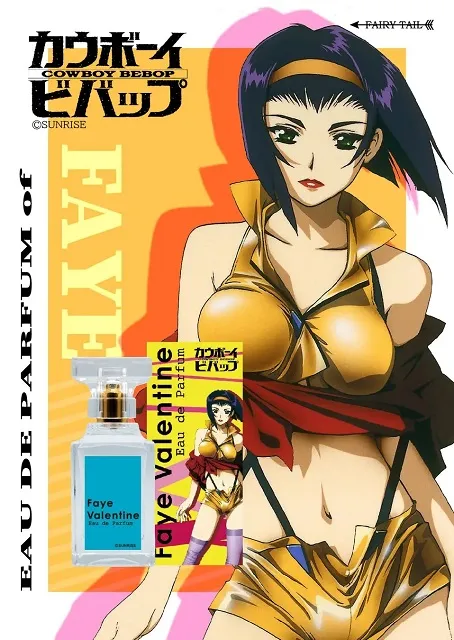 Faye Valentine, the audacious character, is celebrated with a fragrance designed to convey her hedonistic personality. Her scent combines fresh and spicy elements, with top notes of raspberry, blackcurrant, bergamot, and cedar. The middle notes introduce a fruity floral mix of rose, pear, iris, freesia, and cyclamen, representing the complex dynamics of Faye's relationships. The base notes reveal sandalwood, dry amber, and white musk, symbolizing the bonds she forms while trying to unravel her enigmatic past.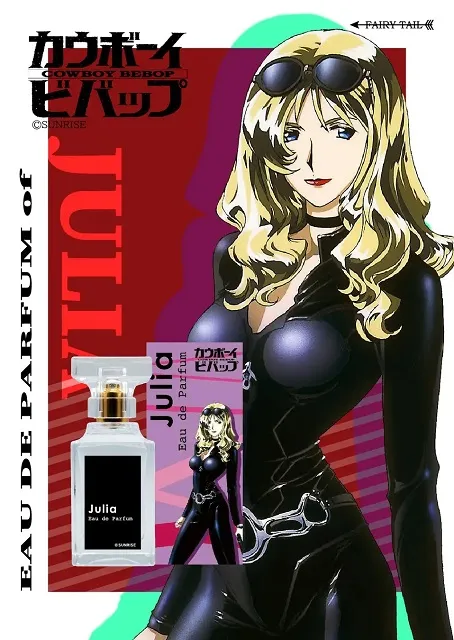 Julia, Spike's mysterious old flame, receives a fragrance that exudes classical feminine elegance. The top notes consist of peony, lychee, and freesia, while the middle notes introduce rose and rosewood. The fragrance concludes with base notes of magnolia, lily of the valley, dry amber, and sandalwood, embodying the duality of her character as described by Faye—a devilish angel or an angelic devil.
To complement these character fragrances, Cowboy Bebop presents two aroma diffusers, each symbolizing the past and future. The "Past" diffuser, featuring artwork from the anime's ending credits, evokes memories of Spike and Julia's romance with a sweet rose scent. It transports fans to a time when Spike eagerly awaited Julia at their rendezvous spot, unaware of the complexities ahead.
The "Future" diffuser encapsulates Spike's adventurous days as he embarks on new journeys with partners Jet, Faye, and Ed. It combines invigorating notes of pepper, oakmoss, coffee, and musk.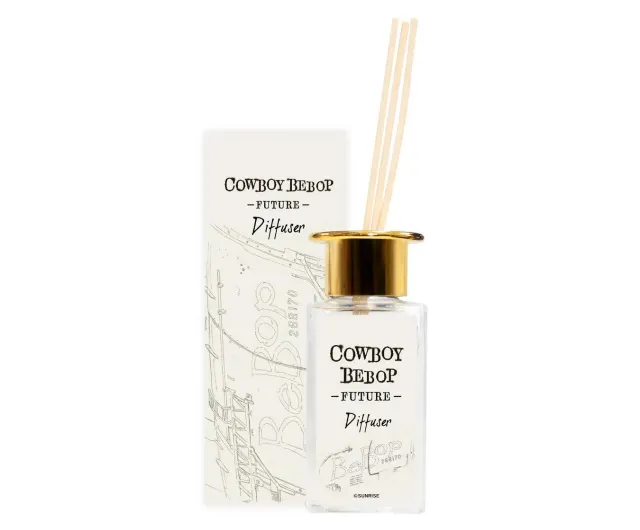 These exclusive items are currently offered for advance sale at the Cowboy Bebop 25th-anniversary exhibition held at the Seibu Shibuya Movida Building in Tokyo. Fans can also find them at Fairy Tail's physical store inside the Nakano Broadway shopping center. Fans of the classic series won't want to miss getting their hands on these one-of-a-kind homages to the series!