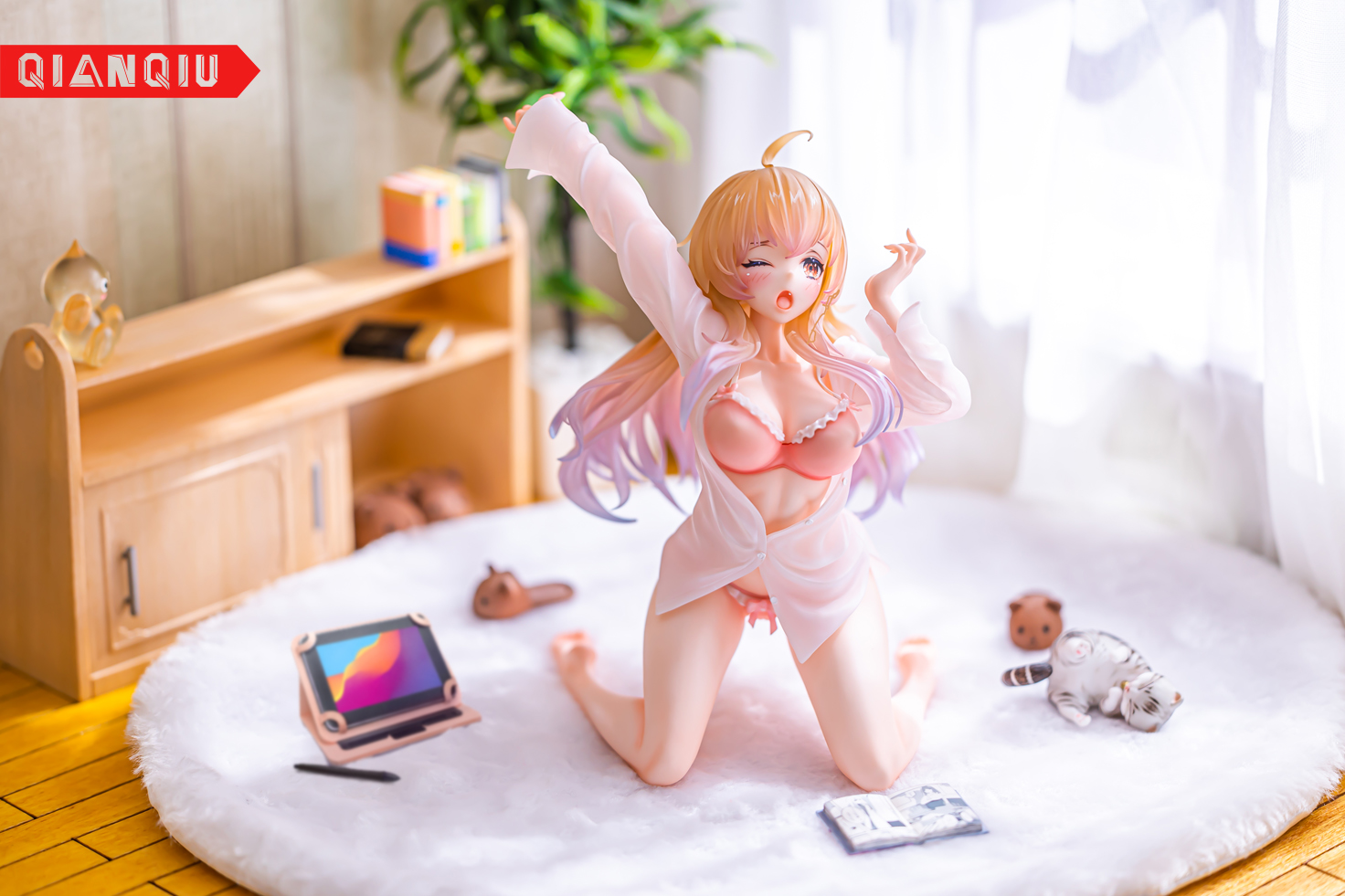 Welcome to another exciting figure review! From Chinese figure company QIANQIU comes an original figure in the Otaku Girls series, Stretch Girl!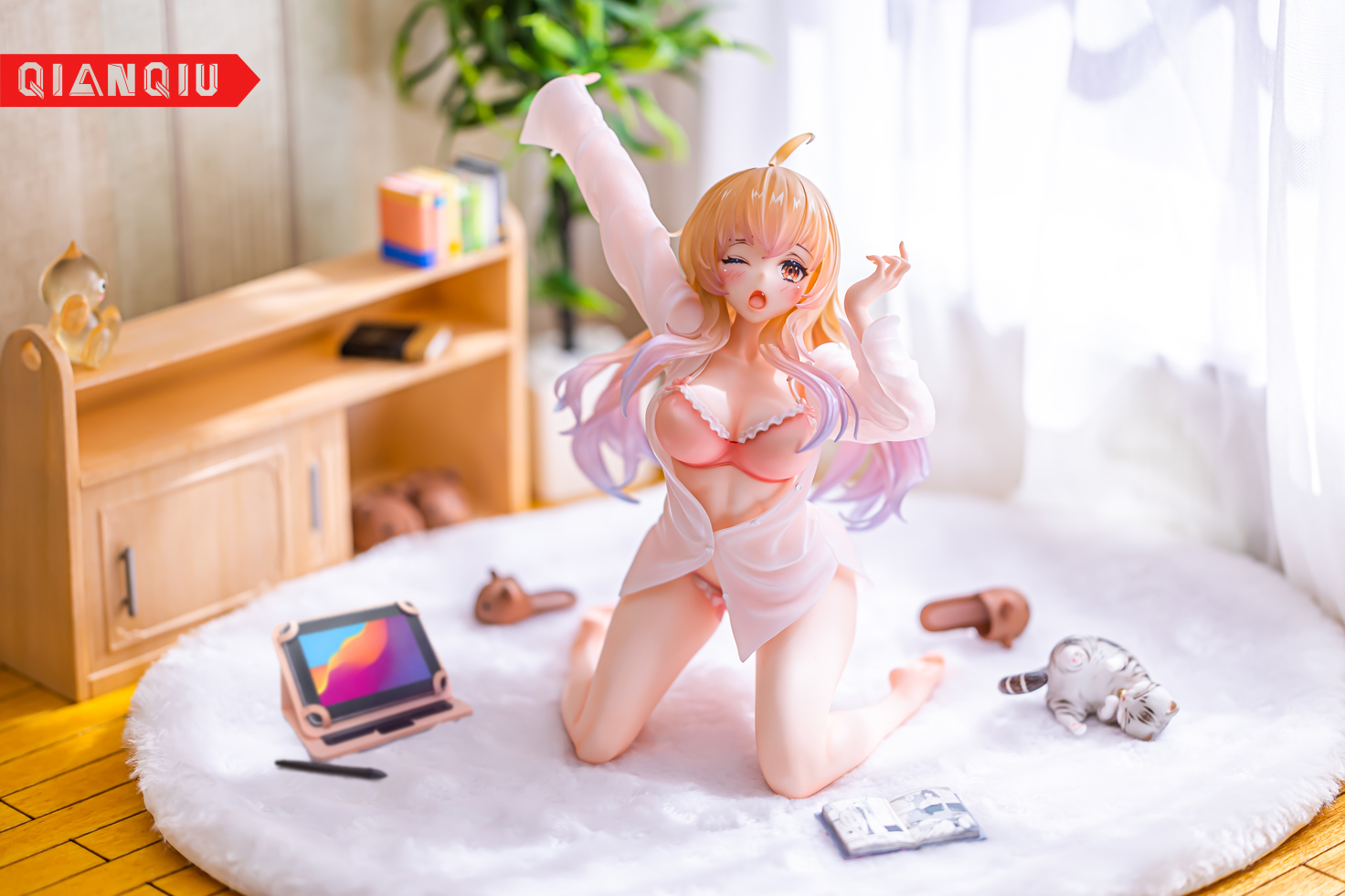 Spend a day in the life of a cute otaku girl, sleepy and comfortable! Her dynamic pose shows her taking a big stretch while yawning.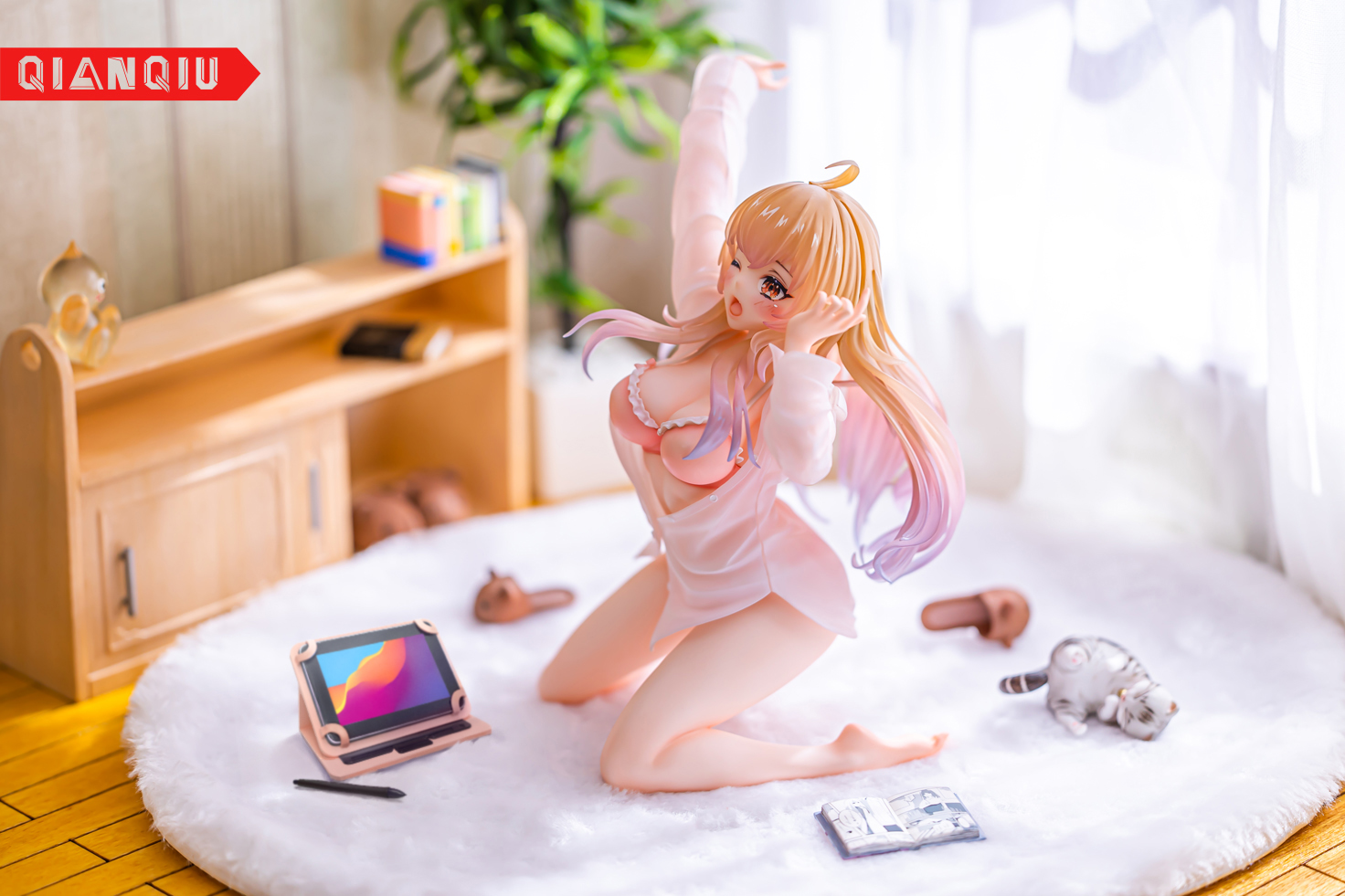 An original character, Stretch Girl comes in at 1/7 scale, the perfect size to recreate the room of a sleepy anime loving girl.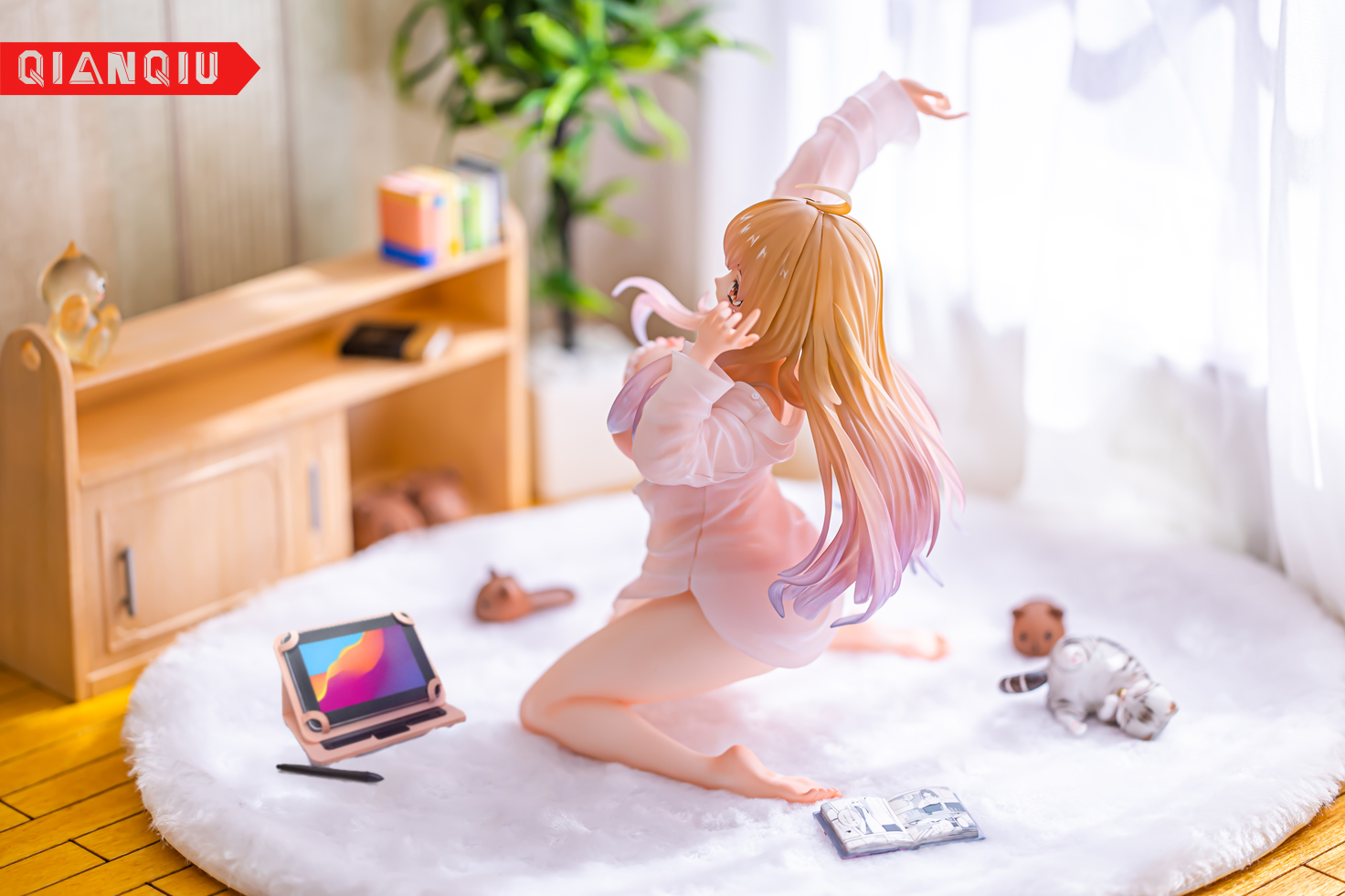 Incredibly detailed, you can see every little fold in her oversized sleep shirt as if it's falling while she's stretching.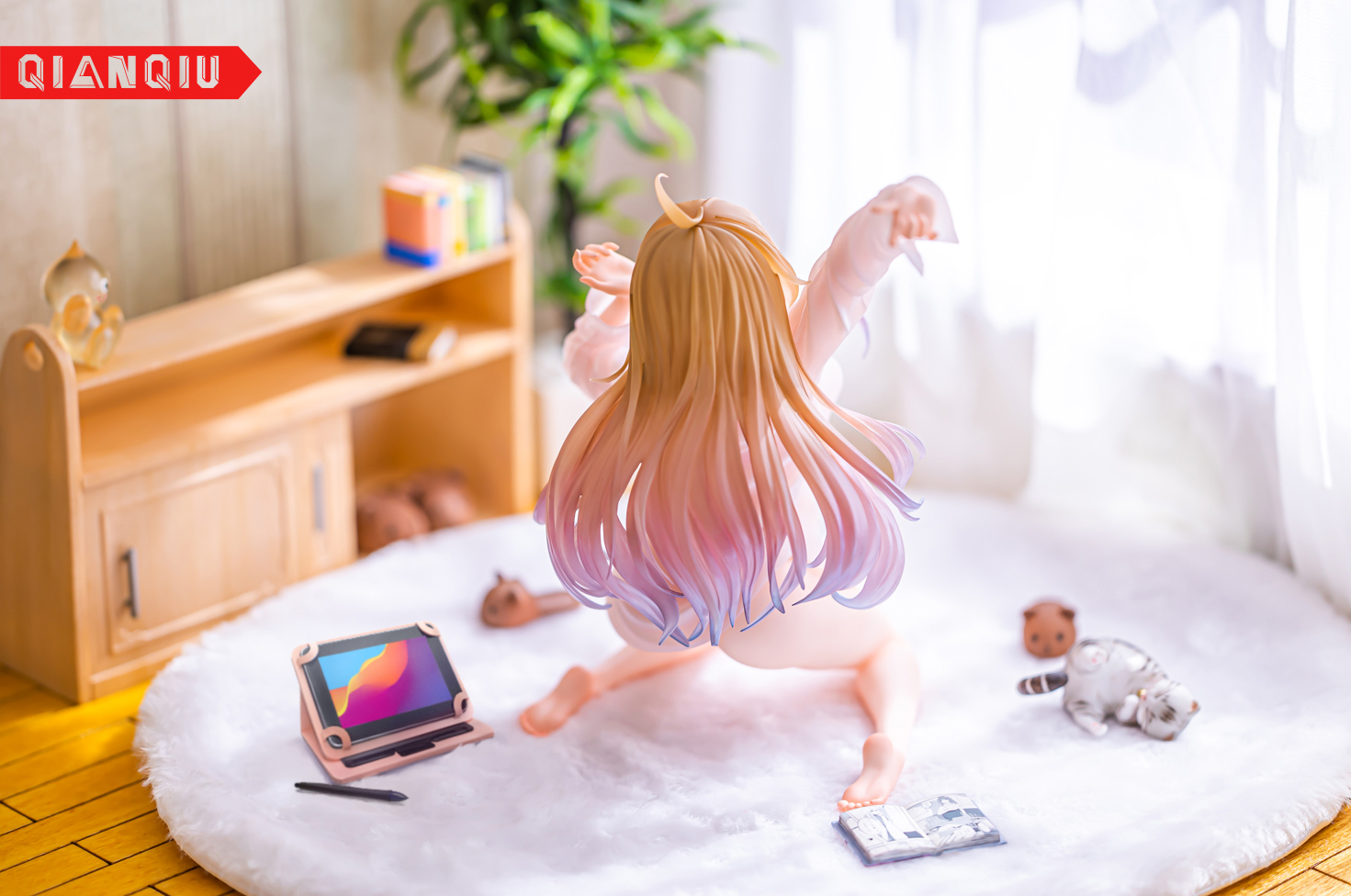 Her hair flows gracefully and moves freely, like she's just woken up from a nap. You can even see the detailed sculpting in her arms and feet.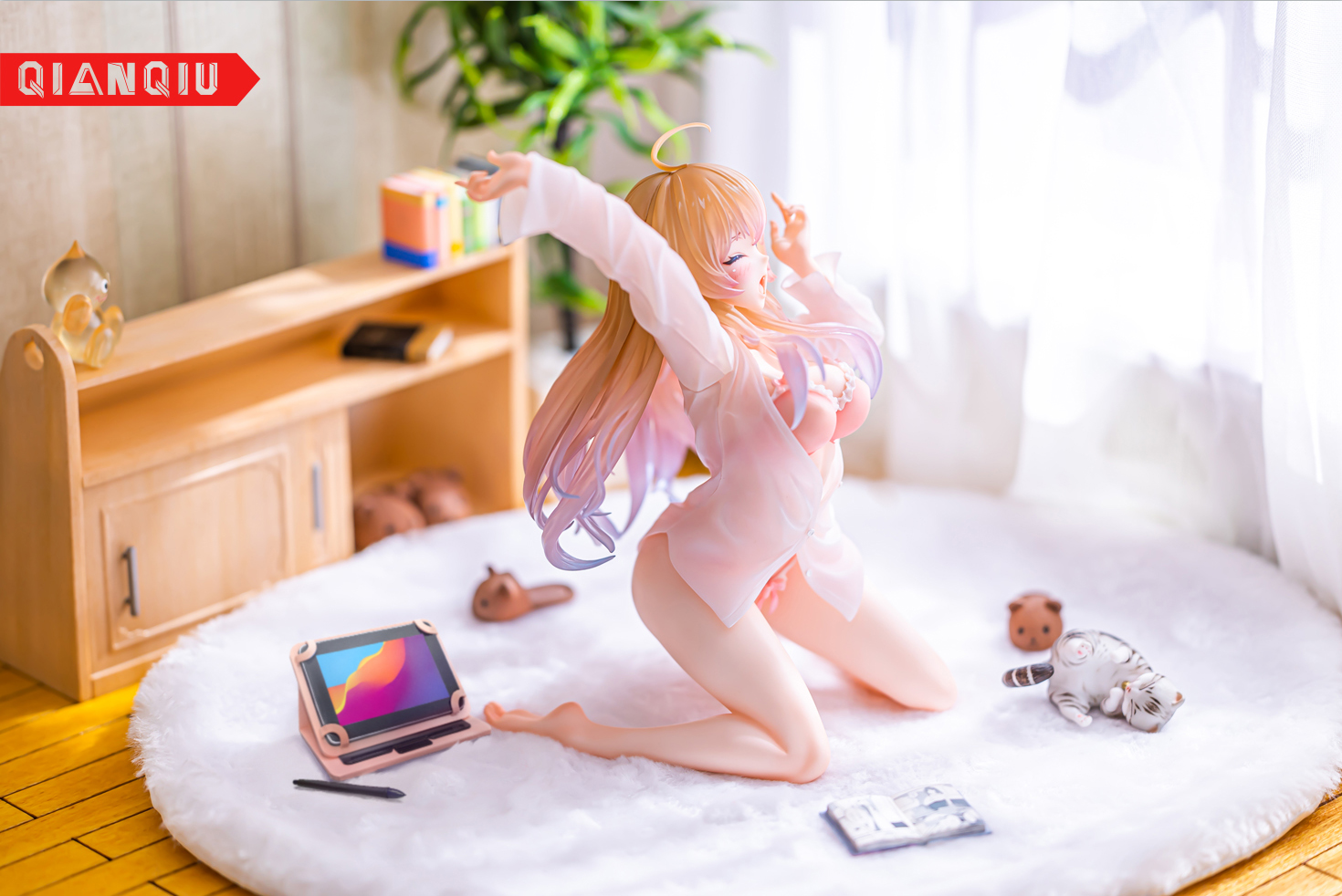 Since she's comfortable and sitting around at home, all she's wearing is her sleep shirt–with her eye-catching underwear showing brightly.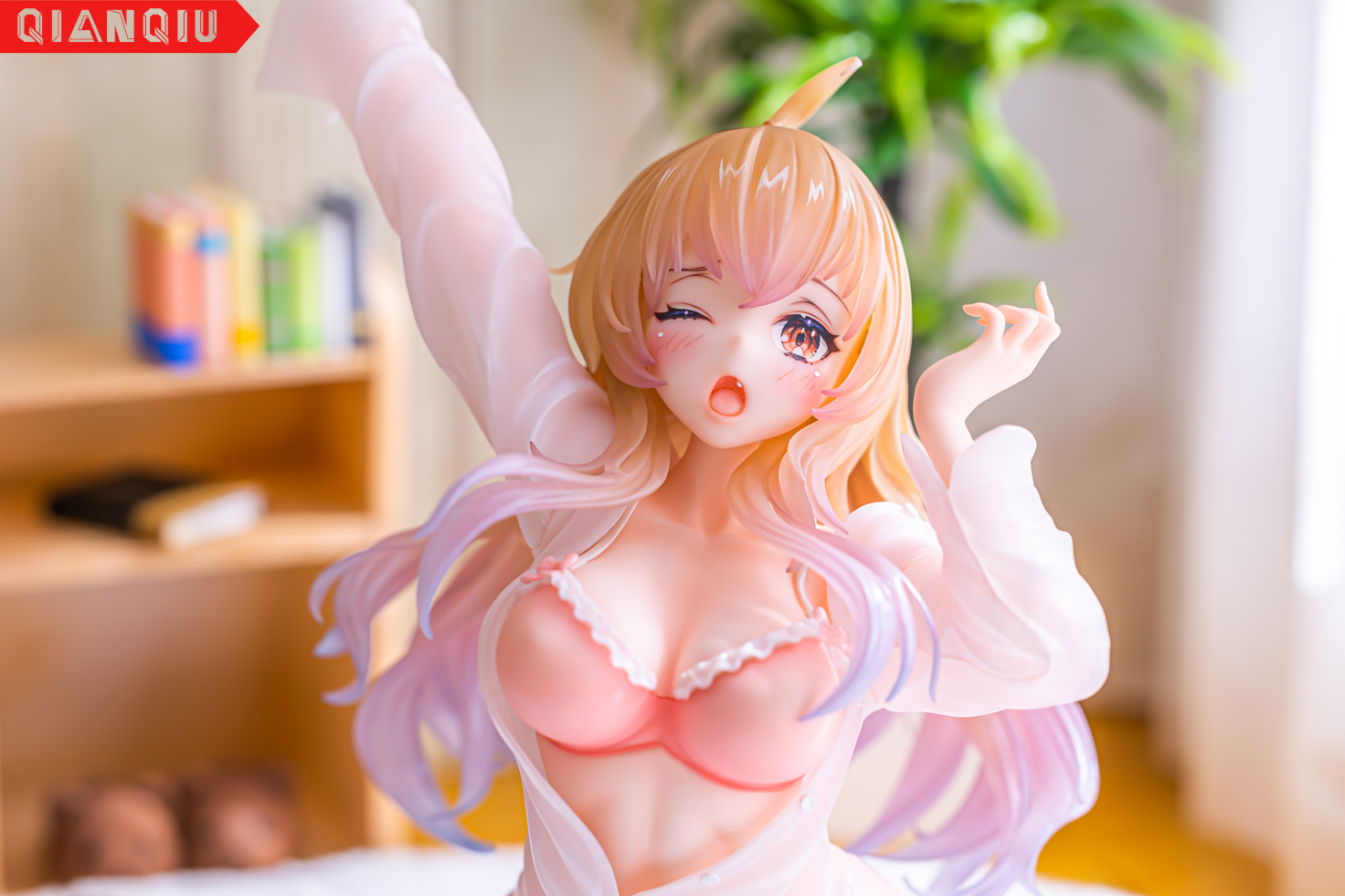 Her gorgeous multicolored hair blends together perfectly, with the shine and sparkles detailing both her hair and eyes.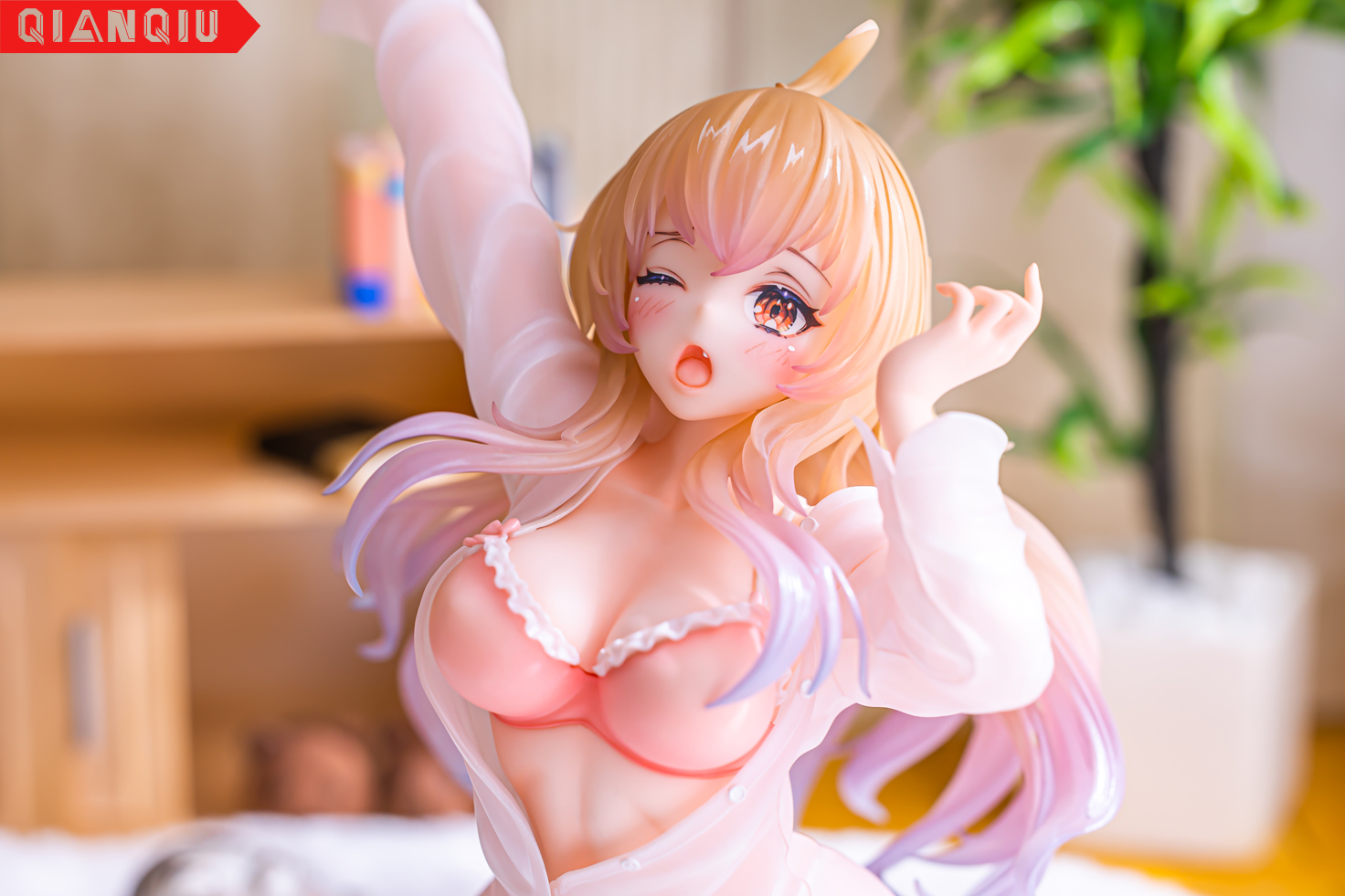 With her messy hair sticking up at the top and her adorable blush as she yawns with an open mouth, anybody would feel their heart beating faster.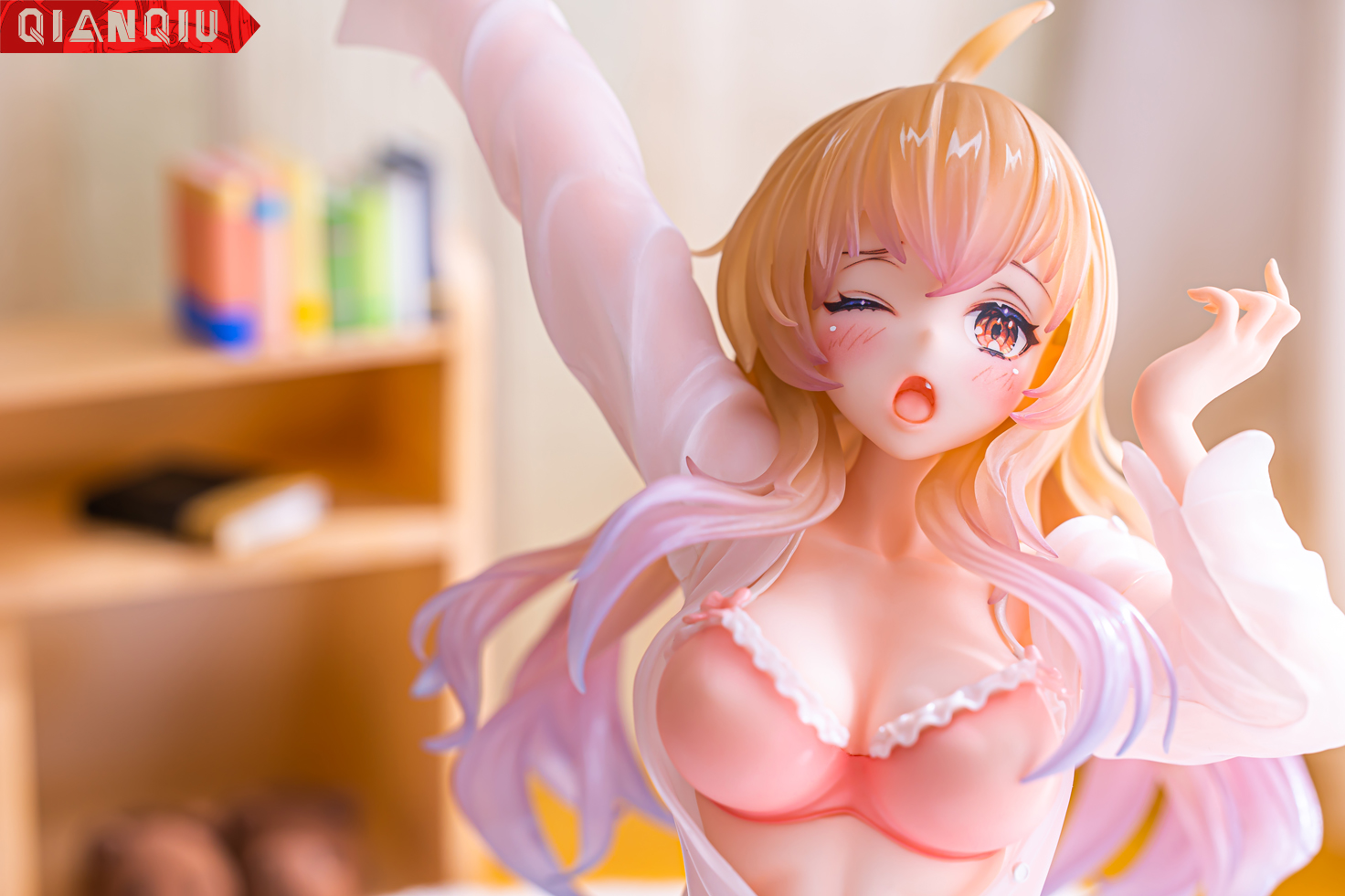 With her breasts bursting forth from her open sleep shirt, the detail on the frills of her bra are incredibly delicate. Even her body is toned and shaped carefully.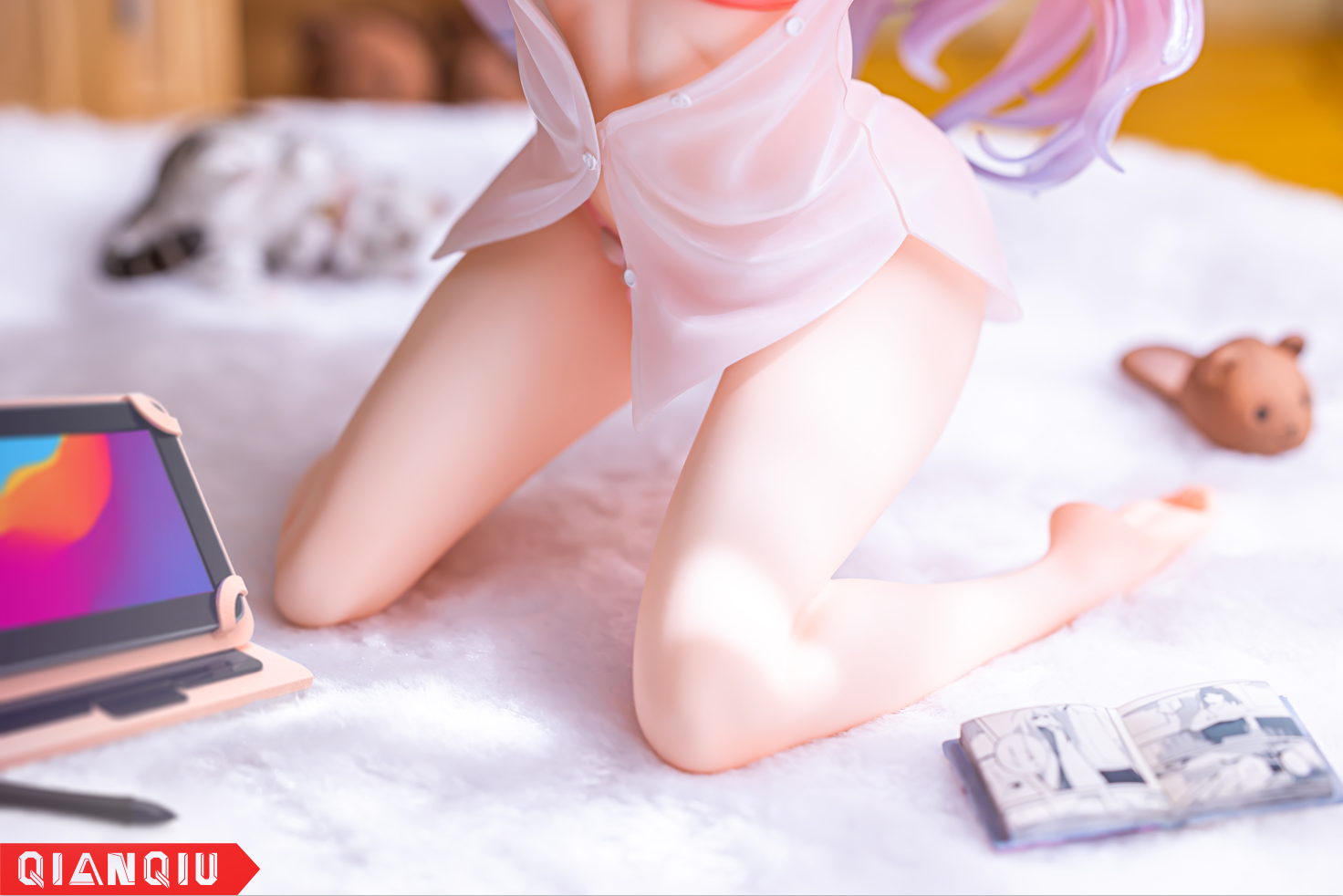 Her long legs are folded down in a comfortable sitting position, with only a single spot on her shirt buttoned. The flow of her clothes reveal beautiful curves throughout her entire body.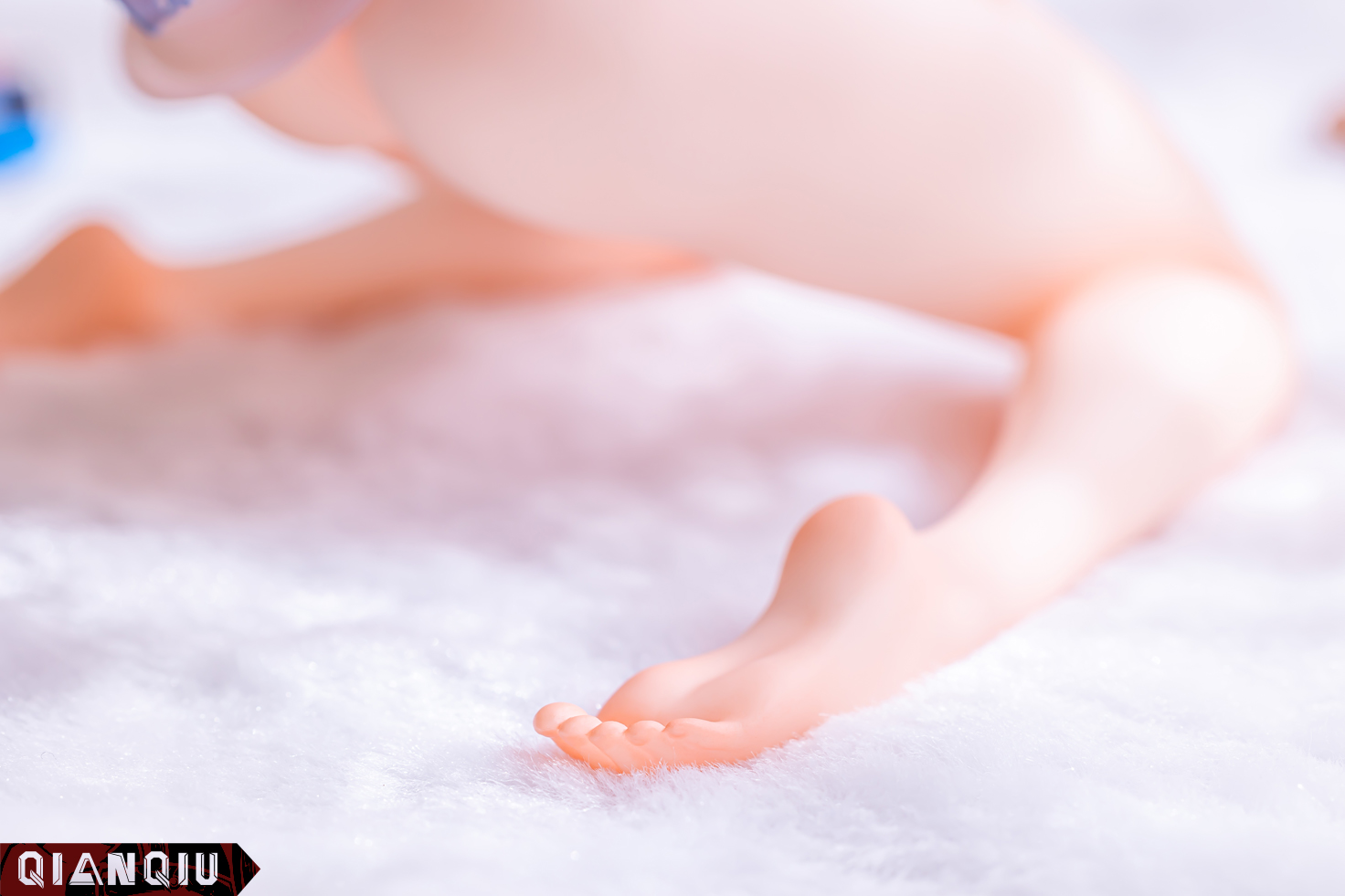 The attention to detail and stunning paint job extended even to her bottom and toes, each one carefully sculpted.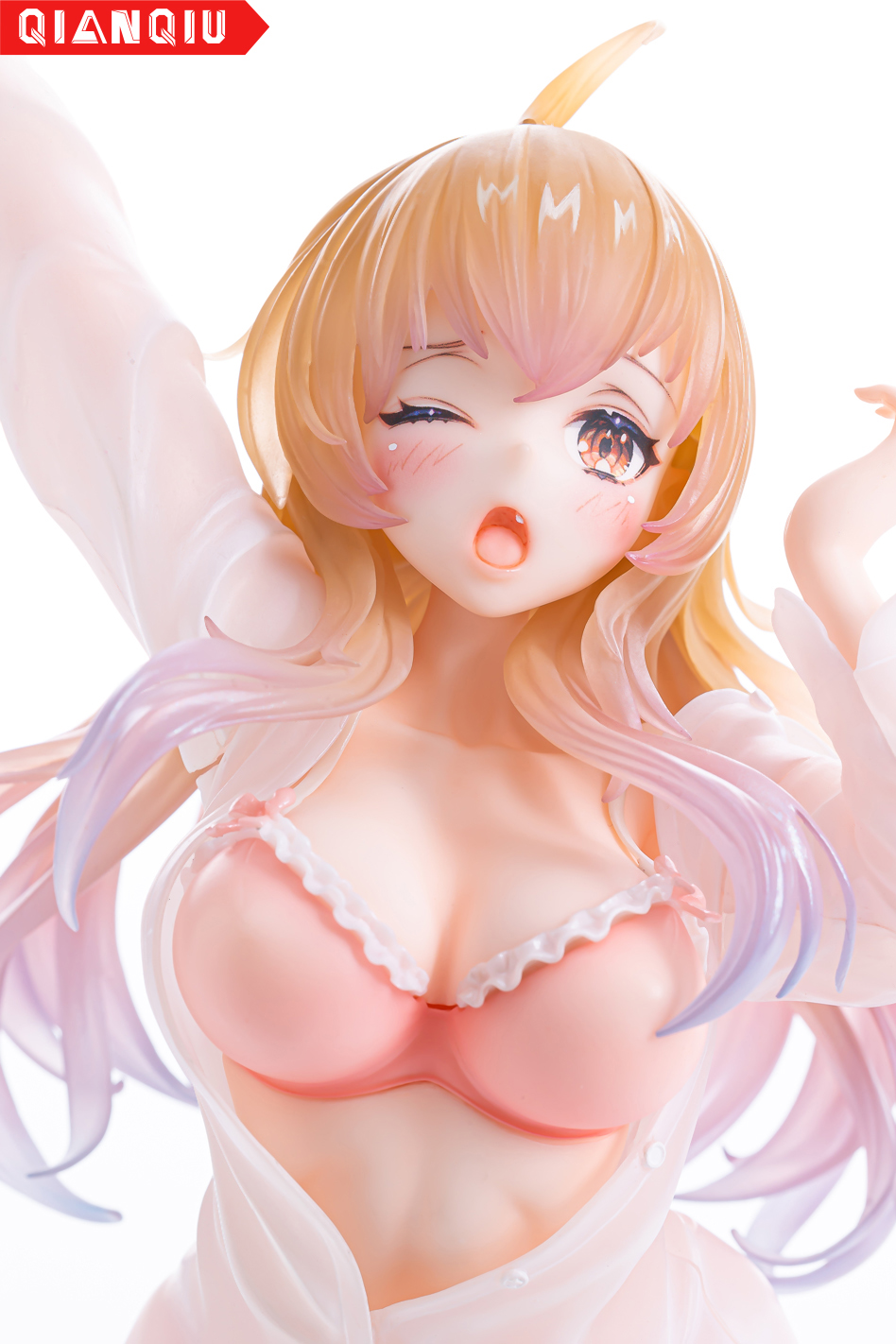 With a single fang poking out of her mouth and gorgeous large eyes packed with shimmers, everything from her body to her hair and face will catch anybody's attention.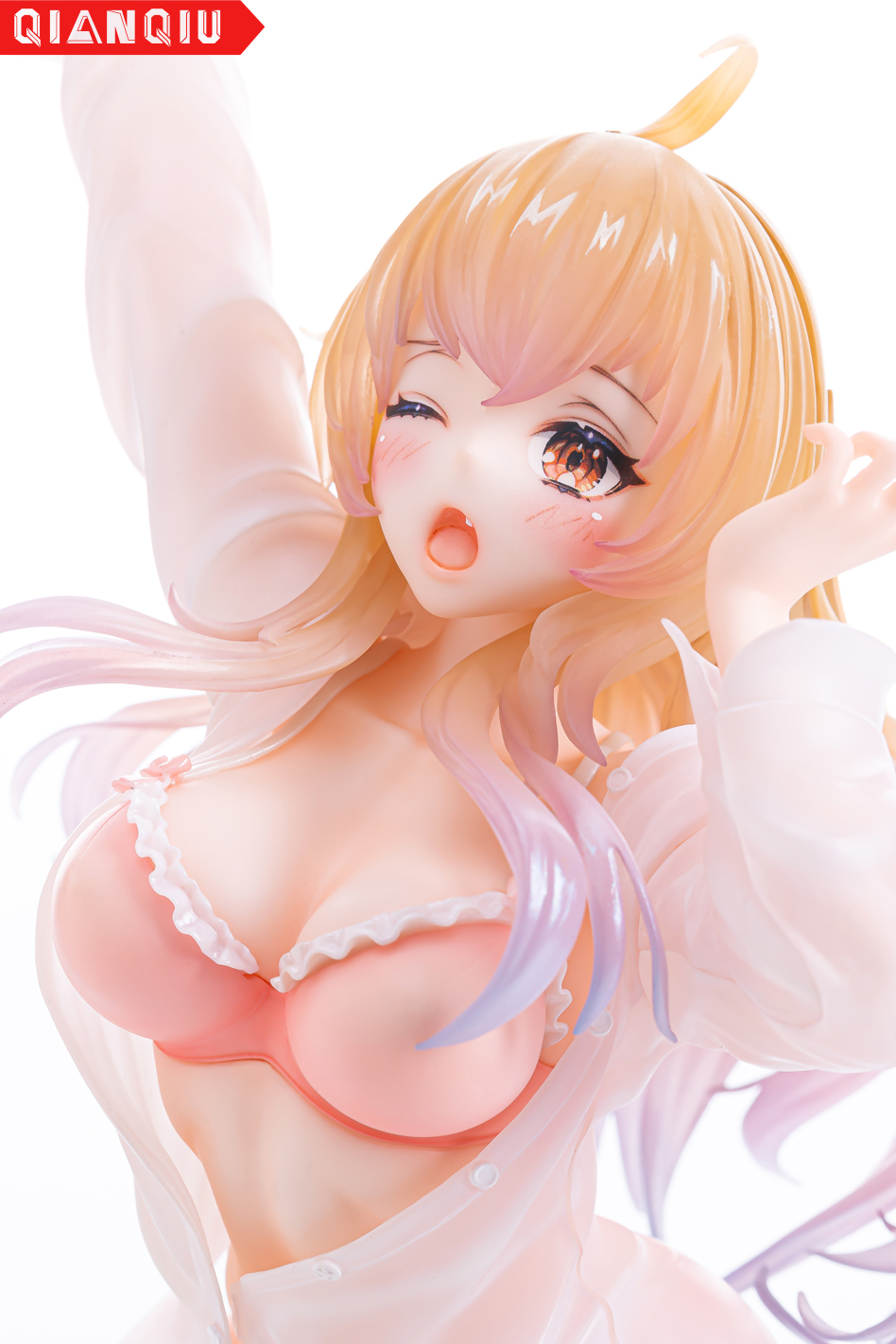 Her long hair flows down her and wraps around her chest. With her stomach exposed, you can even see the way she's stretching her entire body.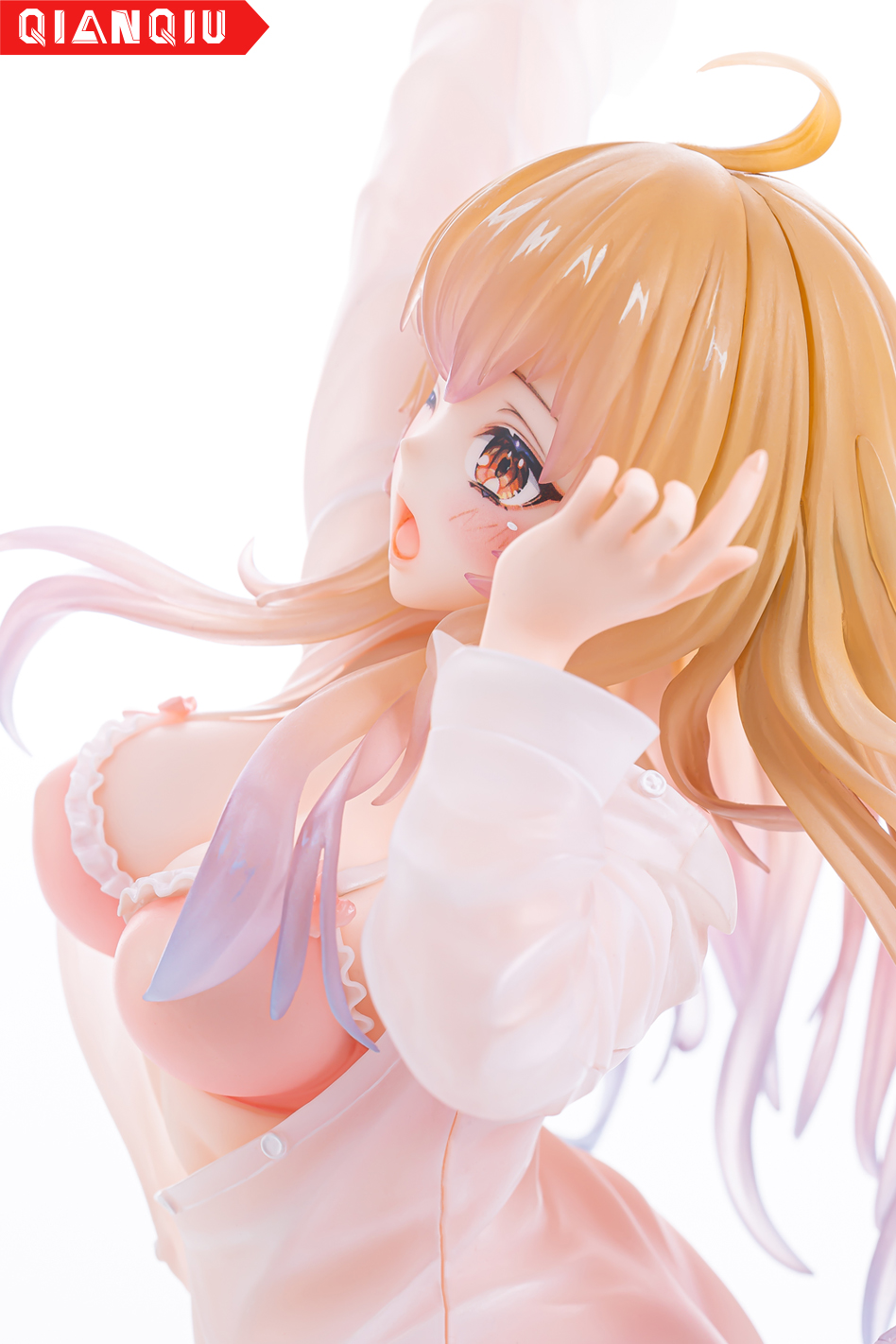 The way her body curves can be seen even more from the side, with depth shown with her nose and mouth and even the way the hair is layered.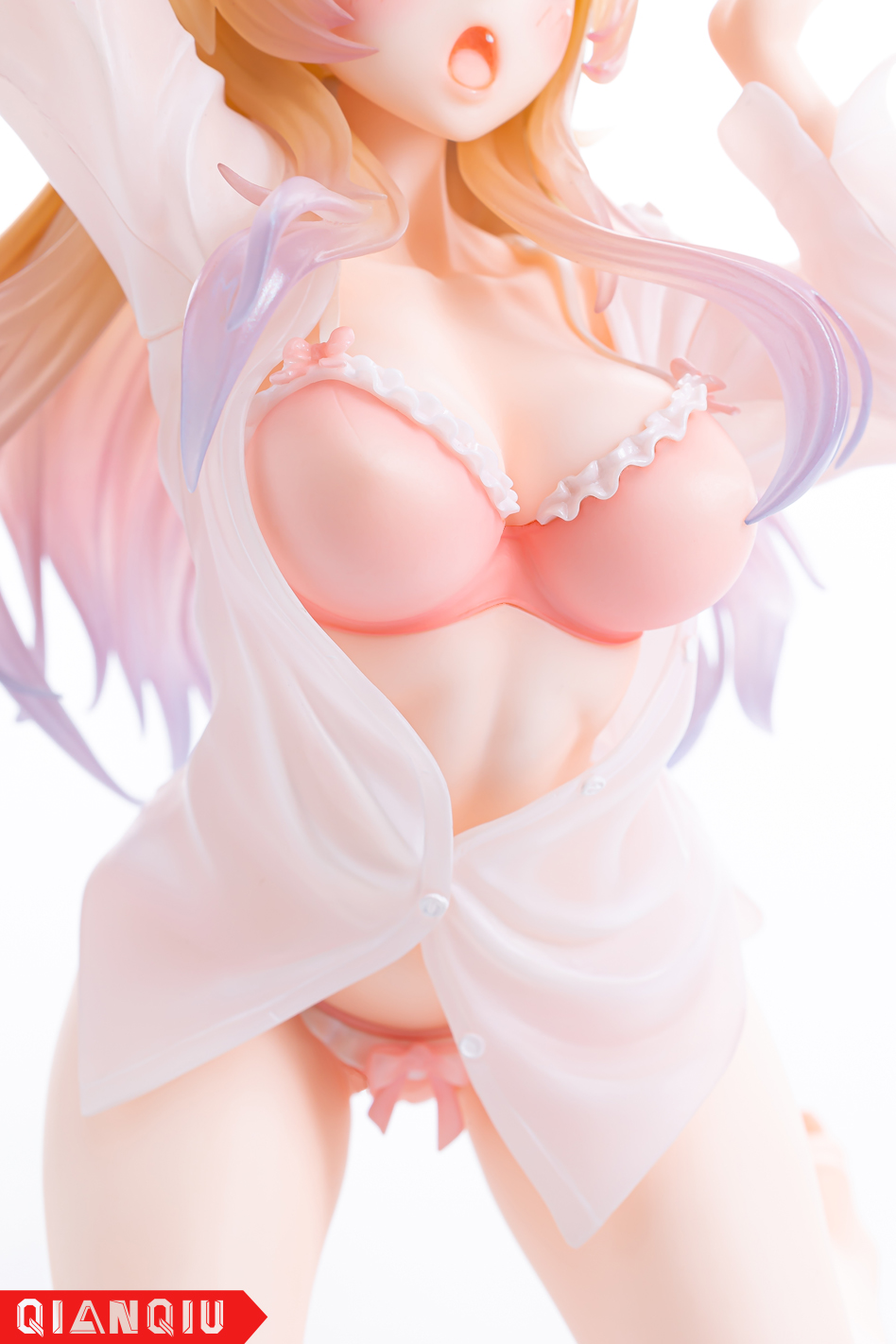 The amazing detail extends to the cute bow showing on her panties, to the subtle grooves on her chest and neck. Her cute underwear set even matches!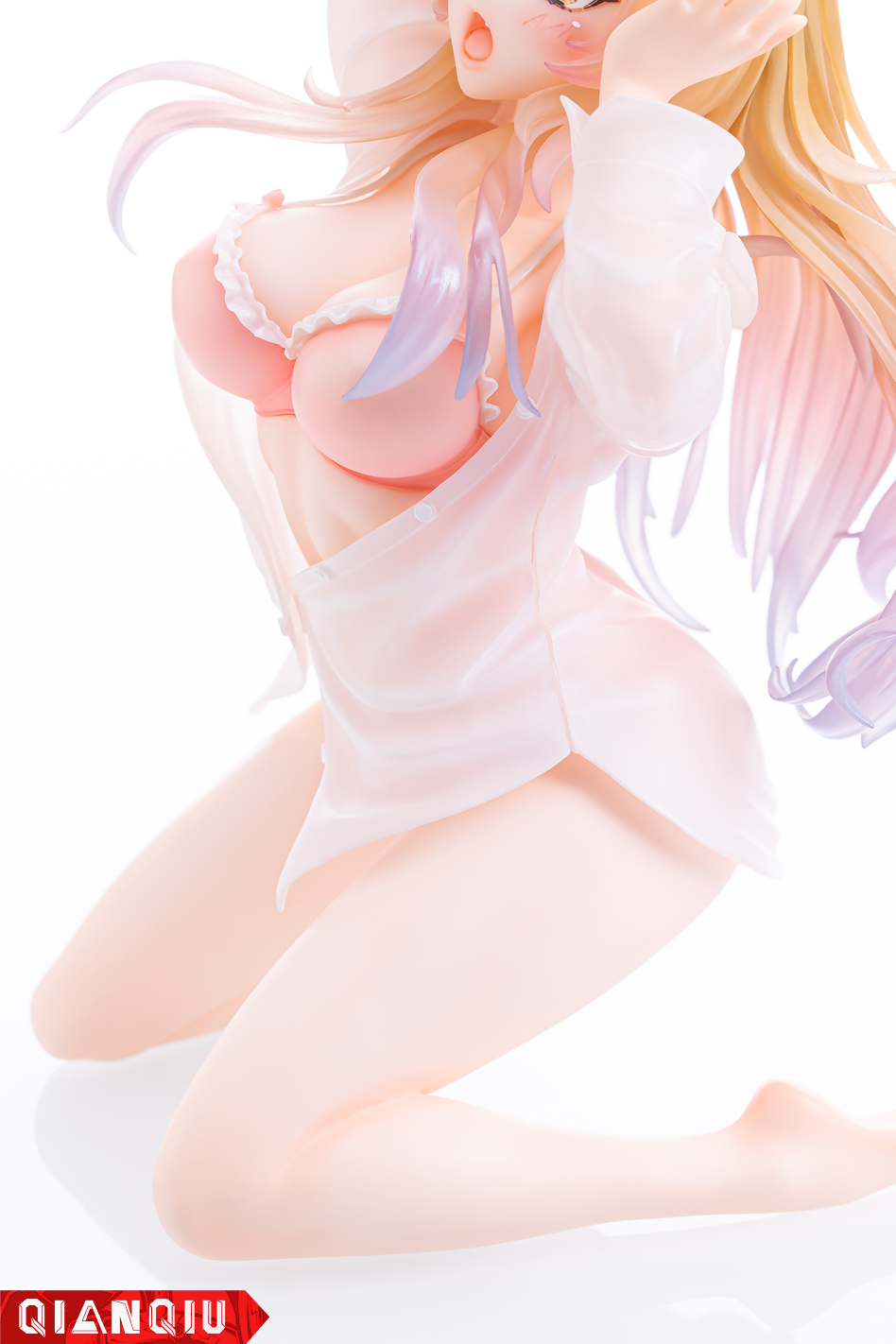 Her long, curved legs are fully exposed without any clothing to cover them, and the figure's side profile also emphasizes the size of her chest.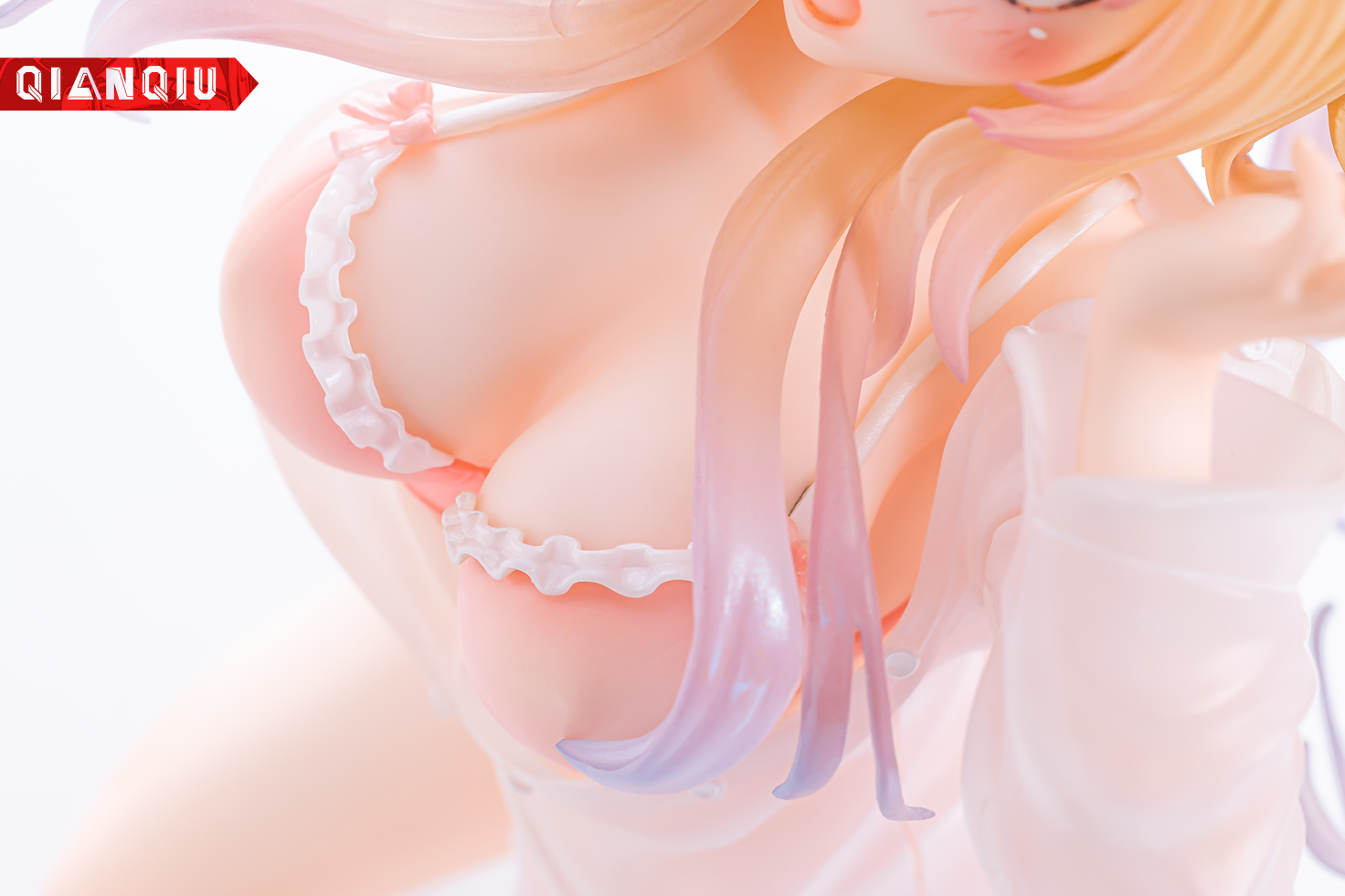 From above, the size and detail of the figure is even more pronounced.
The ribbon on her panties seems to be hanging freely, and her skin wraps tightly around the cloth.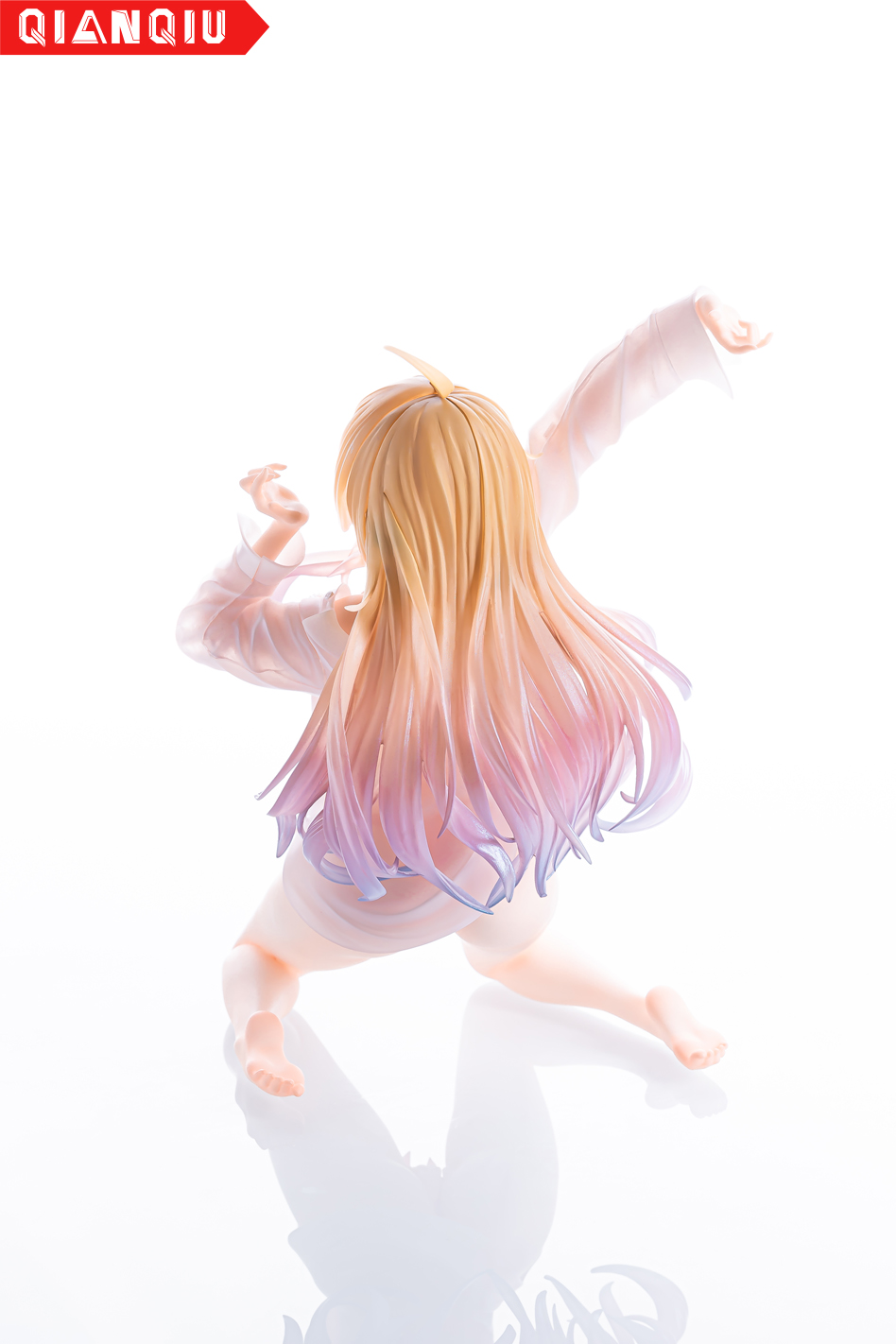 Another look at the figure from behind shows how effortlessly the two colors of her hair blend together. It almost looks like a captivating rainbow.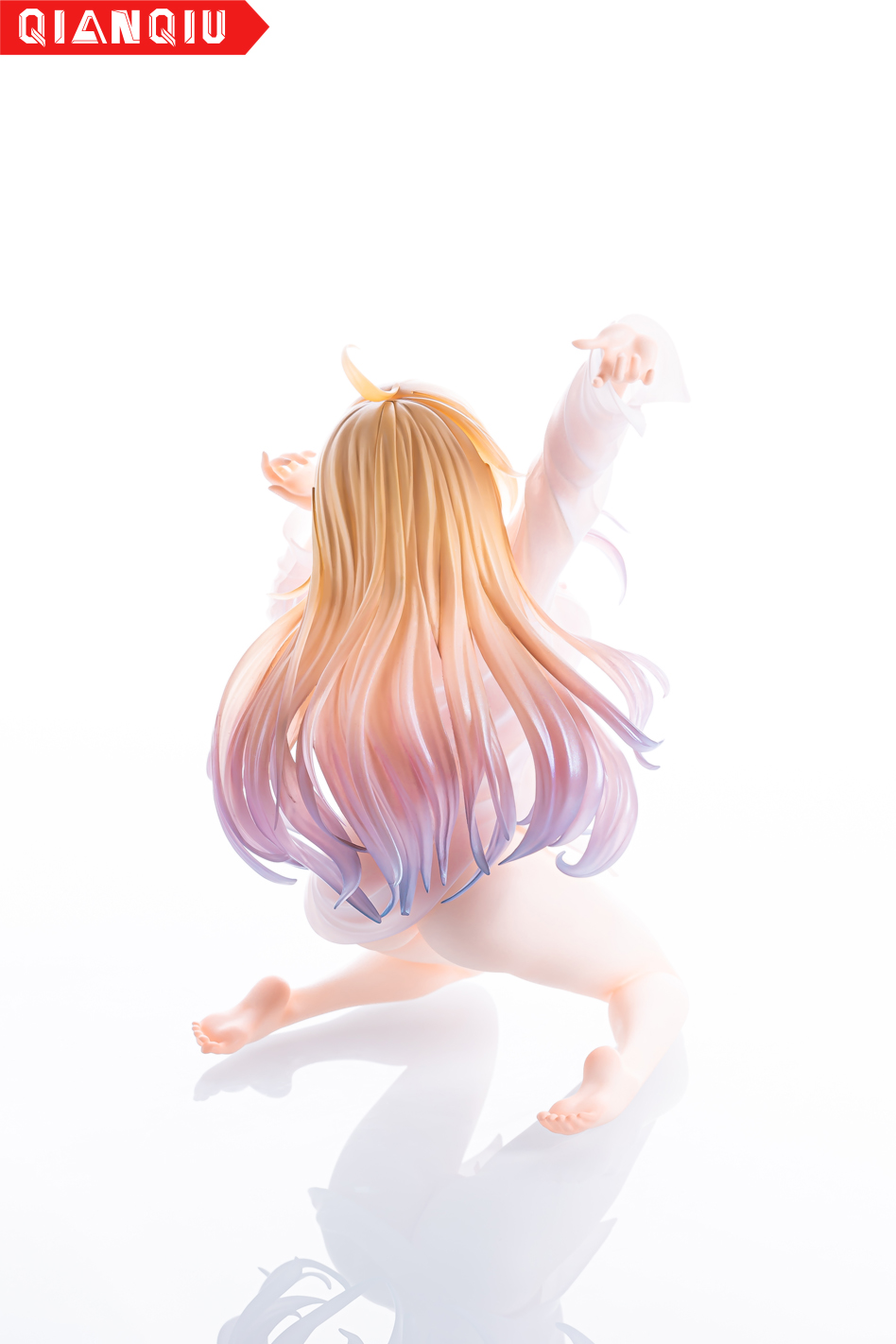 With her hand stretched up high, it almost makes you want to reach up and take a big stretch yourself!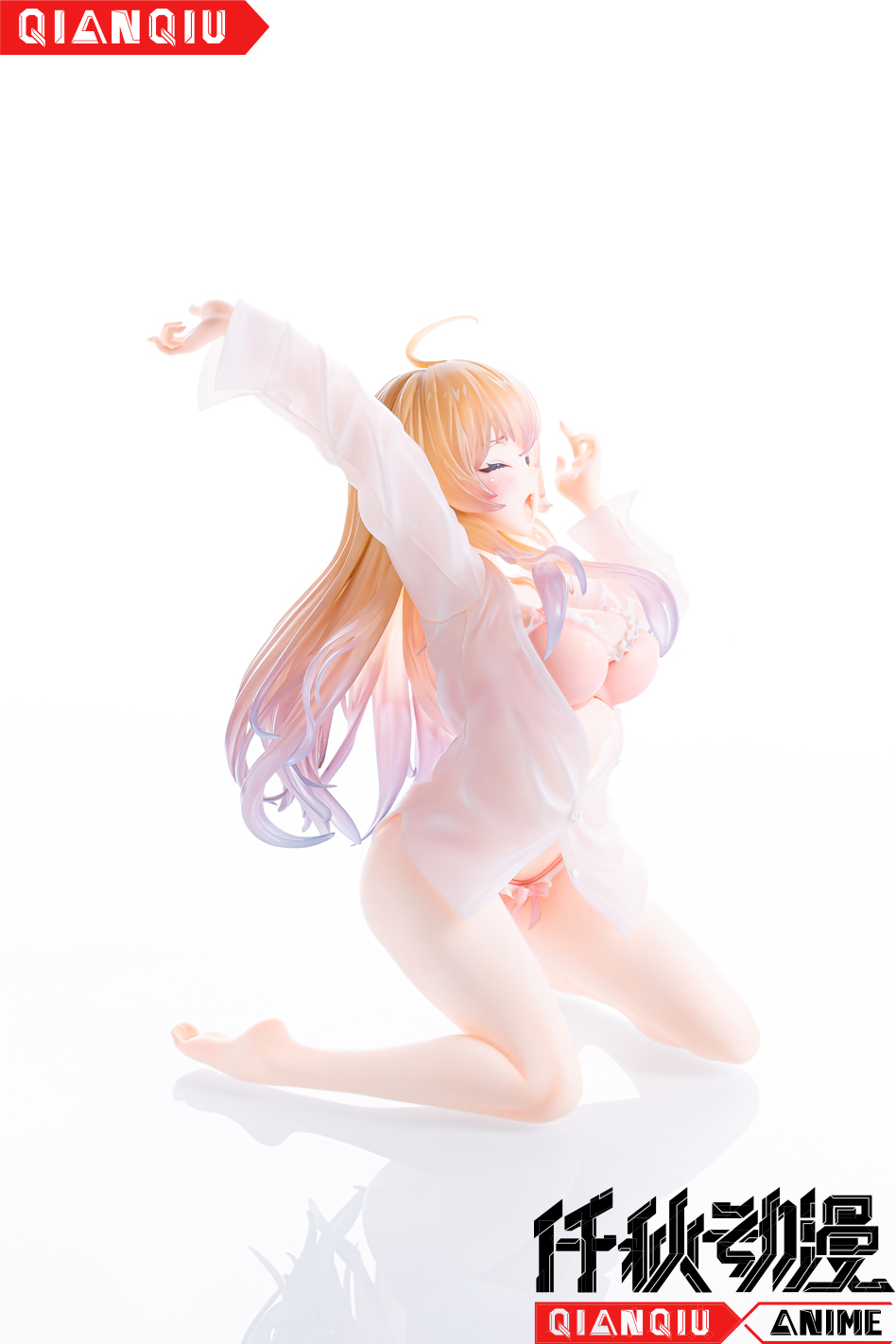 Her light shirt is almost translucent on its own as well, ever so subtly giving you a look as to what she's hiding underneath.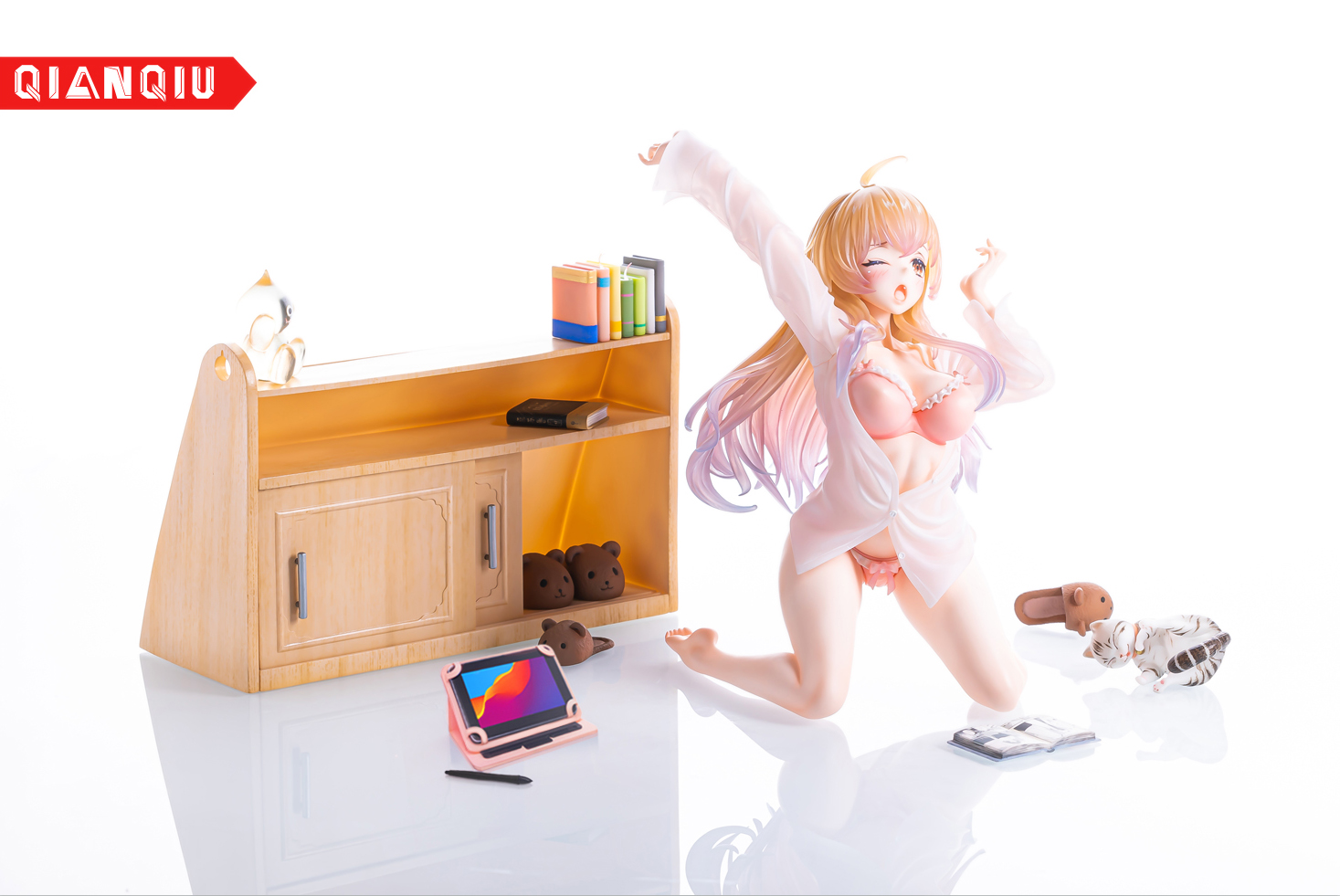 Stretch Girl also comes with a wide variety of accessories to really highlight her otaku lifestyle. A tablet, manga, organization shelf, and slippers are all part of her daily life and come bundled with the figure.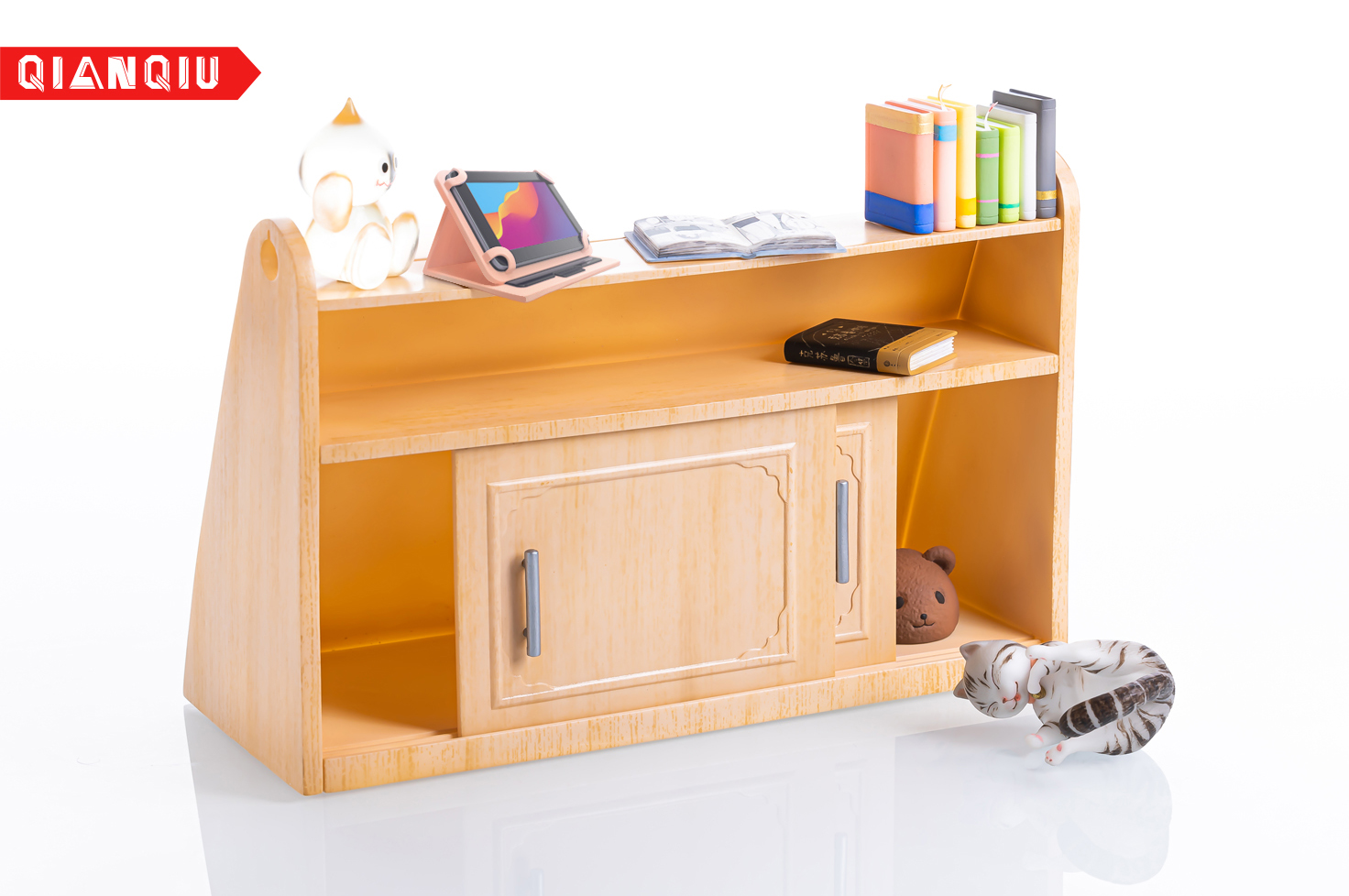 You can arrange her items however you like. She even comes with a cat to keep her company!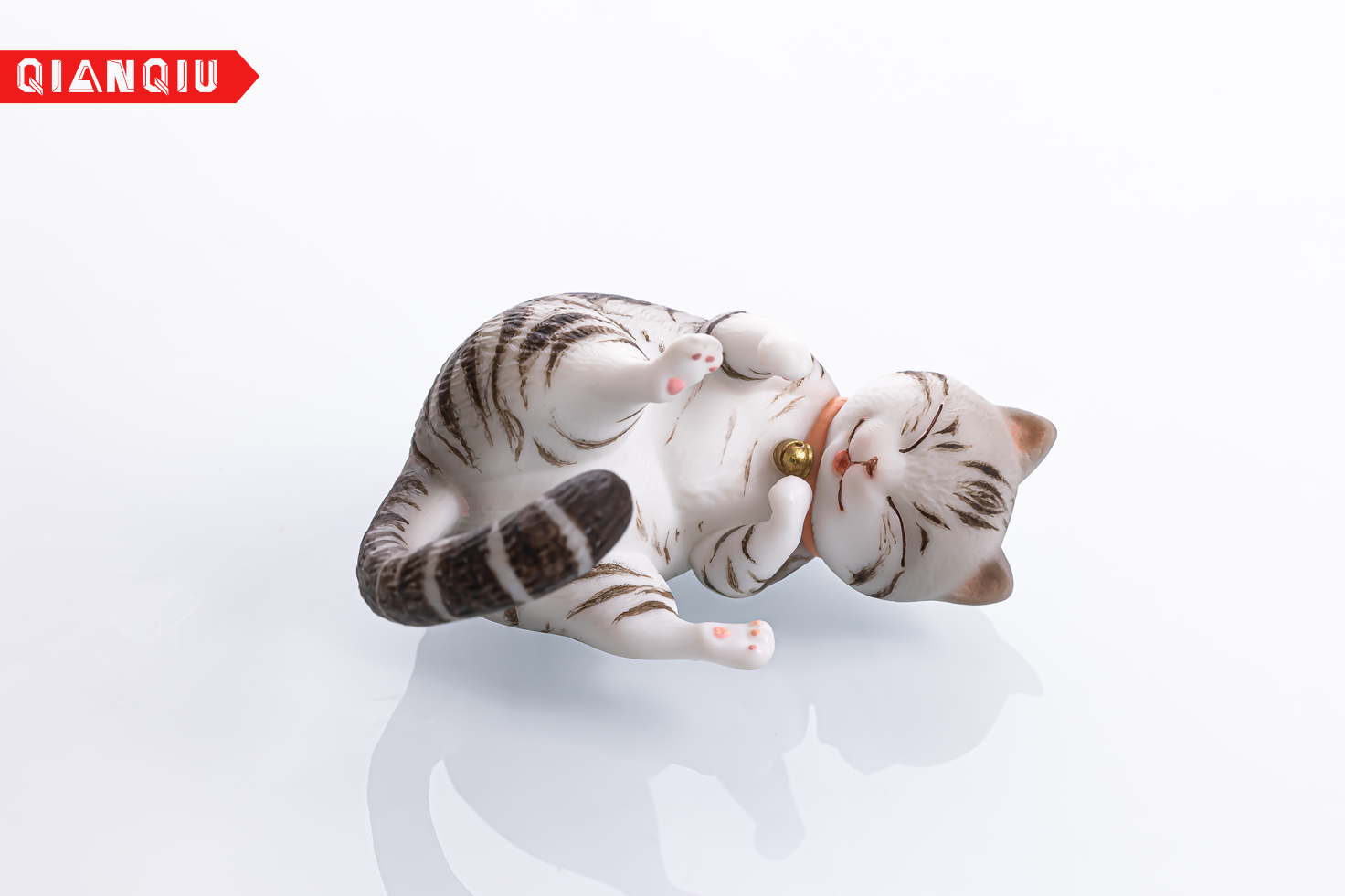 The breathtaking detail can even be seen here, with the cats stripes resembling a real cat's and even a small metallic bell collar.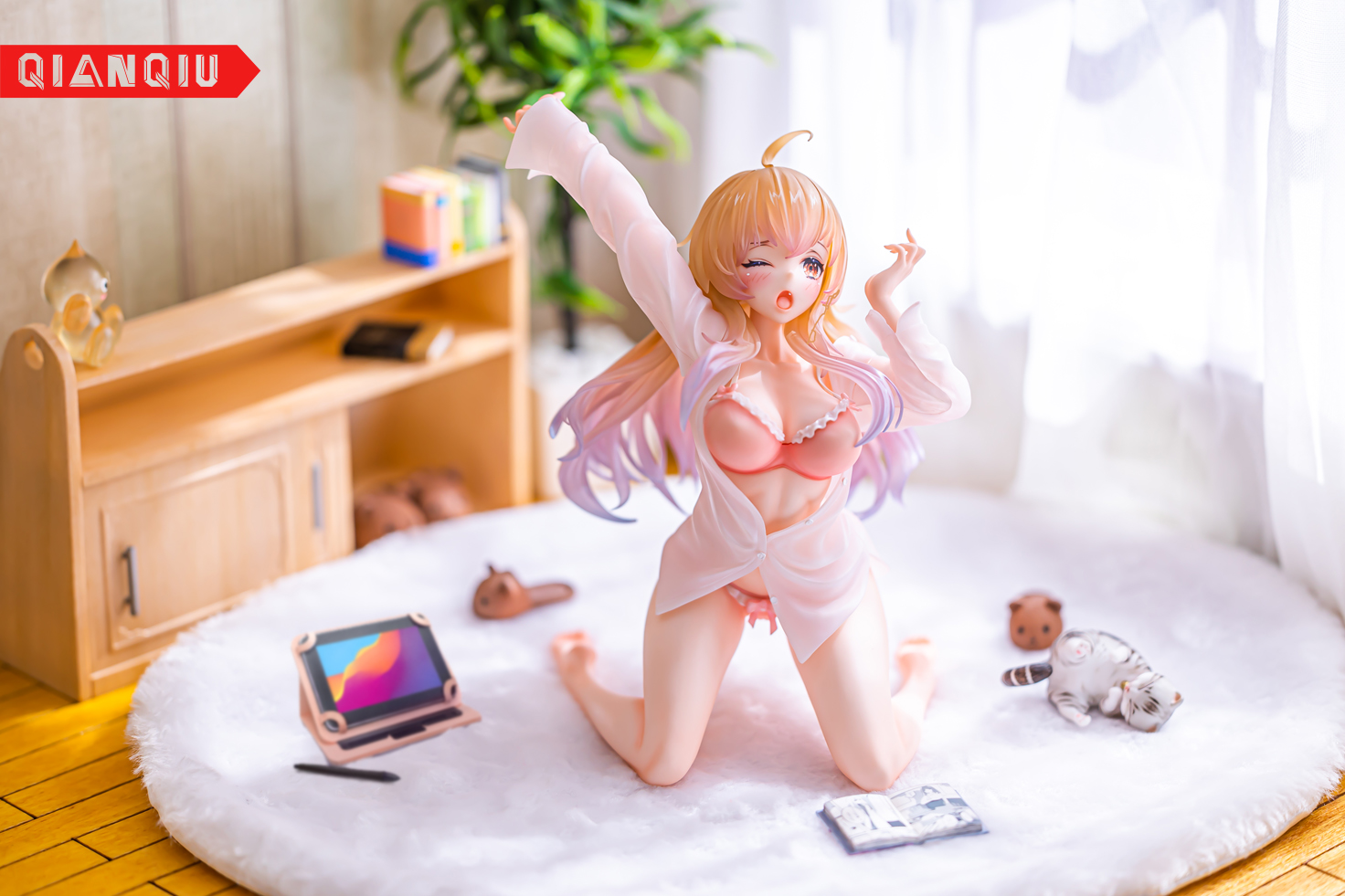 QIANQIU's original Stretch Girl figure is available for pre-order now until April 27th, 2022. Release date is scheduled for October 2022. This figure is also limited-production and made to order, so pre-order now!
Import and sales handled by Daikikougyou.