Massive annual summer festival, ROCK IN JAPAN FESTIVAL 2019 just announced their third wave of artists for this year's lineup!
ROCK IN JAPAN is a festival held in Hitachi Seaside Park in Ibaraki prefecture by Rockin'On Japan magazine and is the largest rock festival in Japan in terms of attendance. The normally three-day festival is coming back this year split between a whole five days on August 3rd, 4th, 10th, 11th and 12th.
The third wave includes a whopping 42 additional artists below:
Golden Bomber
KOTORI
Satou Chiaki
Special Others
SEKAI NO OWARI
SOIL&"PIMP"SESSIONS
Necrytalkie
Angerme
Uchuu Mao
HY
Aimer
SAKANAMON
SIX LOUNGE
Takehara Pistol
Track's
Backdrop Cinderella
Perfume
Haruka Mirai
NAMBA69
Miyamoto Hiroji (THE ELEPHANT KASHIMASHI)
Mucc
Morning Musume '19
lynch.
Enuma Fumiya
go!go!vanillas
BIGMAMA
Fischer's
Bentham
THE BAWDIES
Mioyamagi
Leo Ieiri
Uso to Cameleon
GOING UNDER GROUND
Sukima Switch
Suzuki Airi
Czecho no Republic
the telephones
TOTALFAT
NakamuraEmi
Hirai Dai
Fujiwara Sakura
Friends
With the new additions, the current lineup is as follows: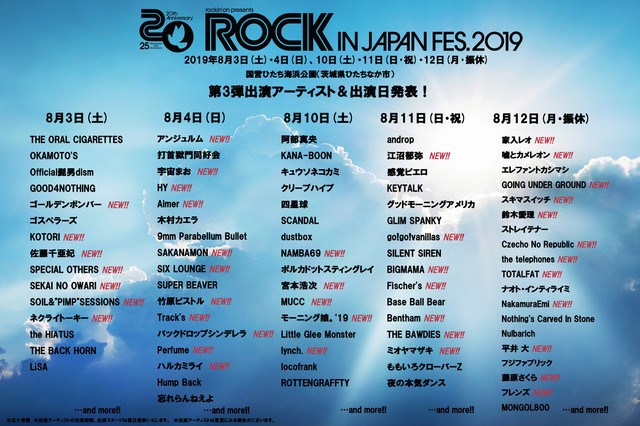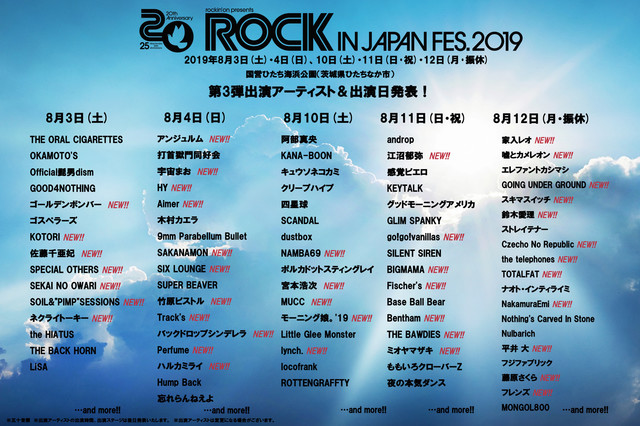 The fourth block of advance ticket lottery is available until May 13th at 7:00pm JST.
ROCK IN JAPAN FESTIVAL is one of the most anticipated rock festivals in Japan (Along with Fuji Rock) so if you are a rock or alternative music fan, you don't want to miss it! For more information, visit the official website.
Let us know which artists you want to see!
Original Source: Natalie.mu