Need to take a break after your busy day of exploring? The 3rd floor of the Liberty 5 building hosts a cozy cafe getaway hidden just off the main street in Akiba, just behind a gachapon (capsule toy) store. You'll find Vault Coffee to be starkly different from the bright lights, loud noises, and droves of people that are part of what makes Akihabara the must-see mecca that it is. In fact, the space is so quiet that you might have you might have a hard time believing you're still in Akiba!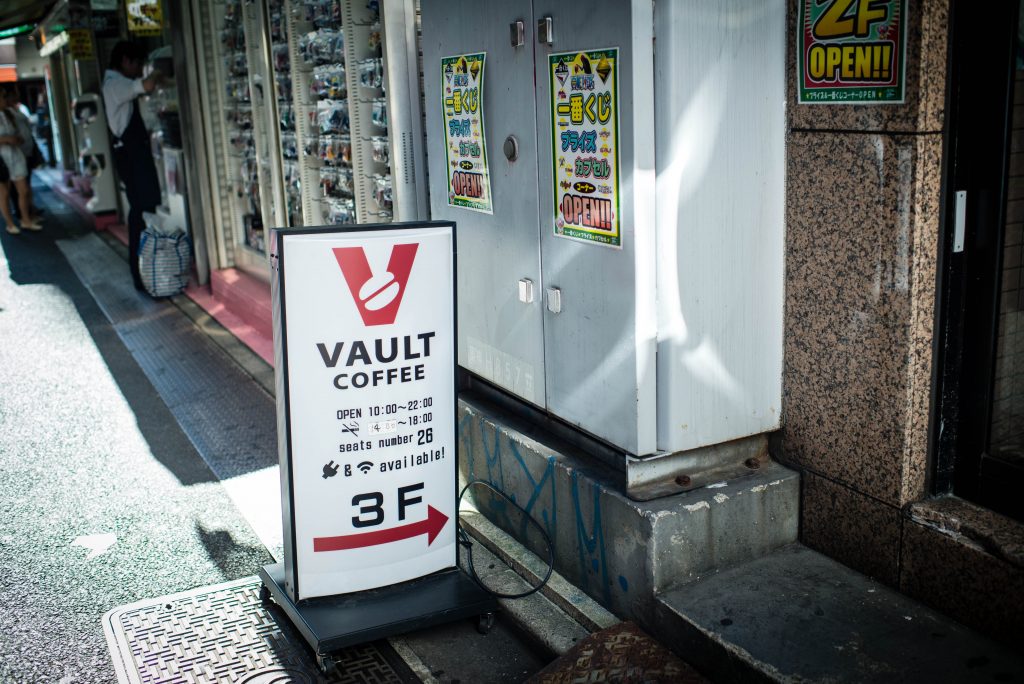 I've been to my fair share of Akiba cafes, but none quite like this. What made this cafe so special for me is that it isn't like the other cafes in Akihabara, except for the fact that they provide manga that you can flip through and have one anime poster in their shop.
There are no maids to greet you or play games with, no kawaii menu items, and no entertainment to speak of, but that's what makes it so great. This isn't a mega-chain coffee establishment like you might be used to seeing, either. Sometimes we all just need to get away from the hustle and bustle of modern life. You can count on Vault Coffee to deliver an escape with a cool vintage vibe.
So, if this cafe isn't your typical Akiba cafe, why should you be interested? Vault Coffee has several services that are convenient for foreigners:
Quiet area to relax and kick back after a long day of searching all the local shops for your favorite otaku goods
Free electronics charging station
Comfortable lounge/couch style seating in the back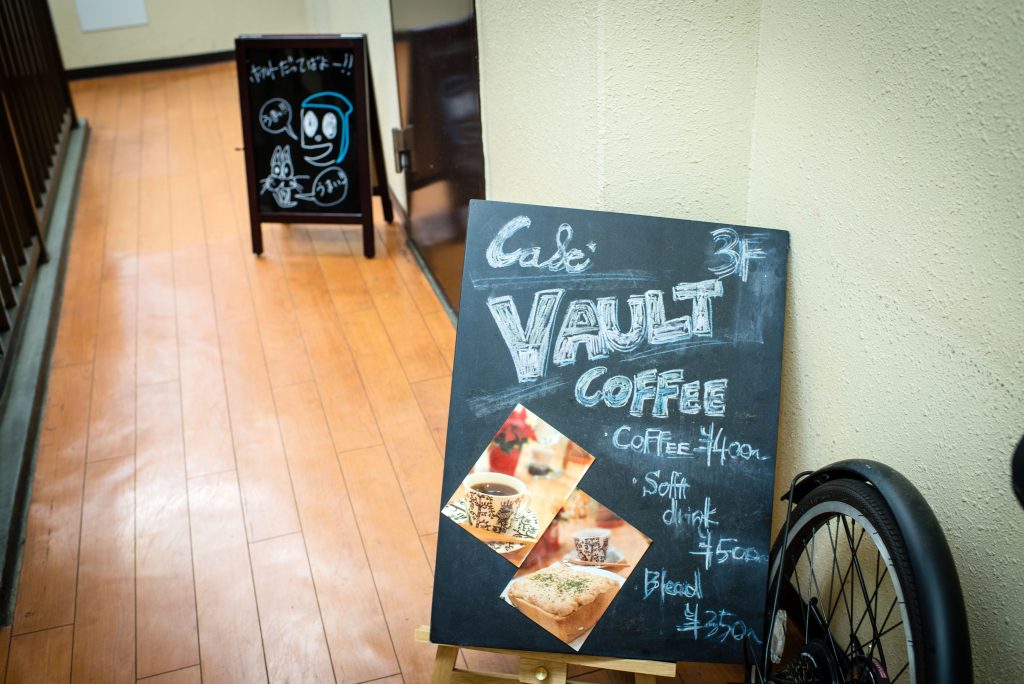 The shop is a stylish and quiet space that seats 26. A massive natural wood bar offers several bar stool seats to choose from, or you can go get even more comfortable in lounge style seating section at the back of the cafe.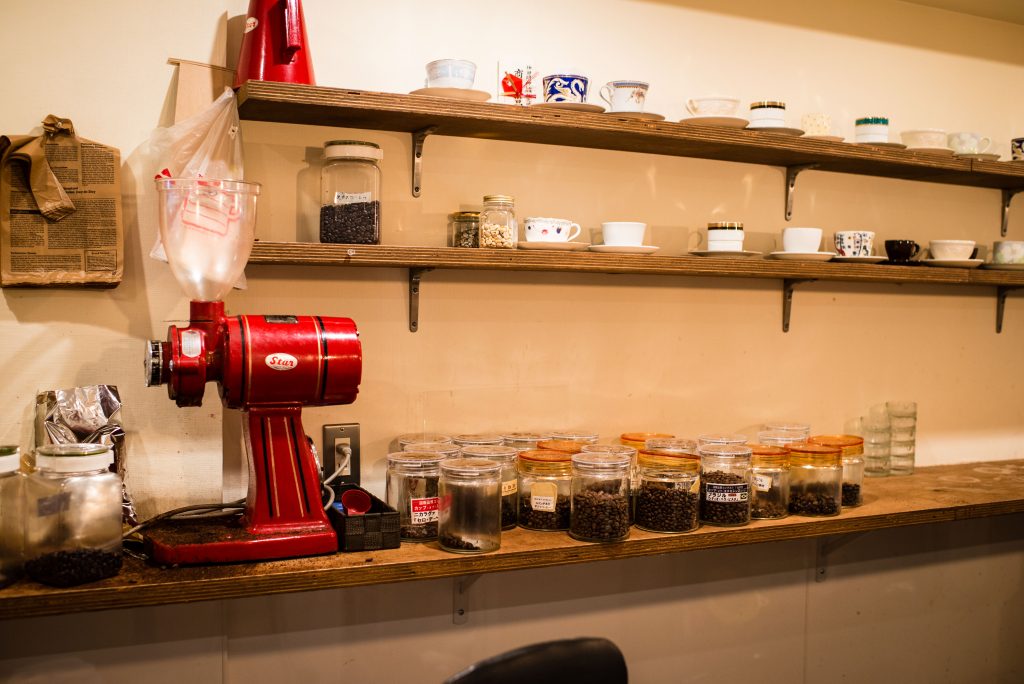 You'll find that they have a nice selection of reasonably priced food and drinks, including lunch sets. Vault Coffee offers gourmet toast dishes and other bread items, as well as a variety of hot and cold coffee, tea, and soda. I'd never heard of gourmet toast before, so I wasn't sure what I would think about it, but after I saw how thick another customer's toast was I quickly ordered the standard toast set and an iced almond coffee.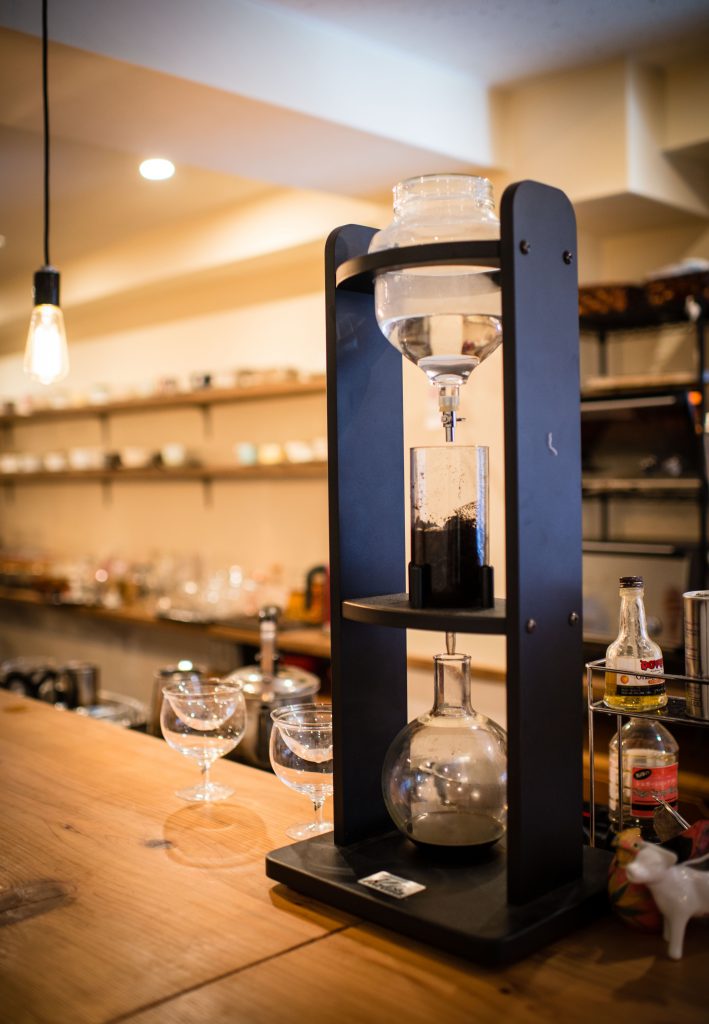 While I waited for my order, I started thinking about the concept of the cafe. Of course, their main concept is to serve amazing coffee, but I felt like they also want to encourage customers to slow down and unwind to escape their busy big-city lives. So, that's what I did. I drank my water, listened to the pleasant WWII era music that played softly in the background, and drifted off into my own thoughts for a little while. It was really quite nice to relax both my body and my mind.
When my lunch set arrived, I was surprised at how big the really toast was. When I saw the other customer's order, I thought it was two or three slices stuck together. Nope. It was one huge slice.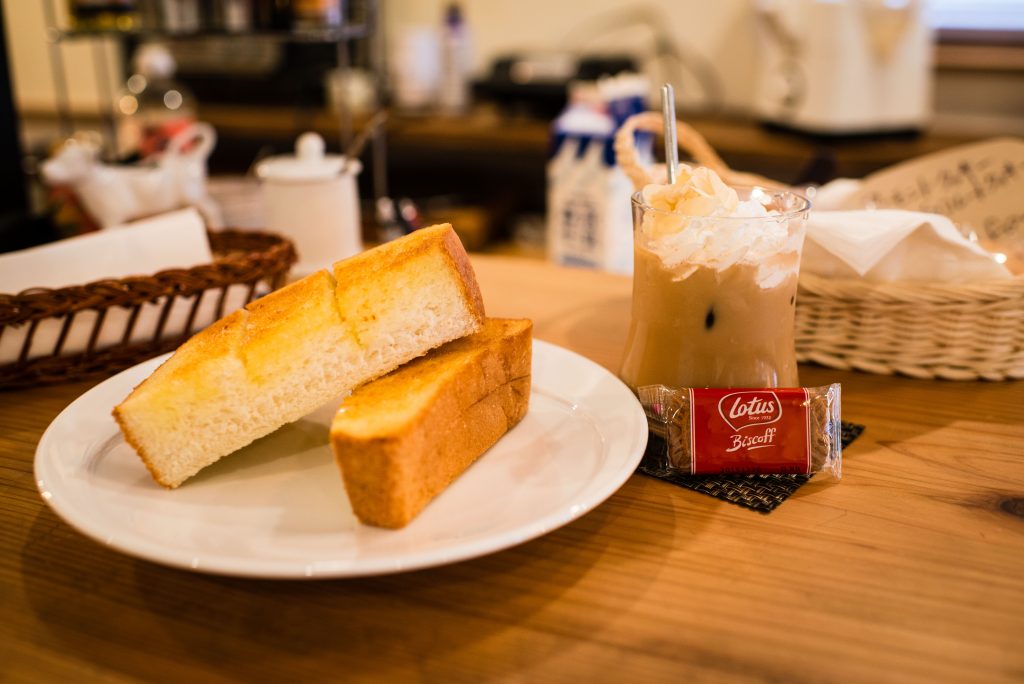 My lunch set was delicious, and not too heavy. I tried the toast plain, but the set also came with strawberry and blueberry jam packets, so I also tried those. The toast was light, fluffy, buttery, and delicious.
Their iced almond coffee was perfect for my tastes, too- not too strong, and not too sweet, with no lingering acidic aftertaste. It was very smooth, and refreshing. It was such a hot summer day that I couldn't imagine having hot coffee, but now I wish I had! I'll have to go back and try their specialty drip coffee.
Overall, I had a very pleasant experience. I enjoyed my time there, and I wish I had known about this place a long time ago. Next time you're in the area and you need to recharge- physically, emotionally, and electronically- stop by Vault Coffee and recharge!
[cft format=0]