New Anime Vladlove premieres on Valentine's Day

Since December the new Anime Vladlove created by Mamoru Oshii has been announced on social media. It is a 12-episode series and premiers, fitting to it's name, on Valentine's Day 2021. Based on Oshii's Graphic Novel App Chimamire Mai Love, the story follows runaway vampire Mai Vlad Transilvania on her quest for blood. Unlike in the app though, the main protagonist in this new Anime is female. Highschool girl-with-a-single-parent-who-lives-overseas Mitsugu Bamba encounters Mai in a blood donation truck. Naturally Mitsugu's fascination for blood awakend her interest in Mai. She is immediately is smitten by the beautiful vampire girl.  Through (un)fortunate circumstances Mai ends up living with Mitsugu.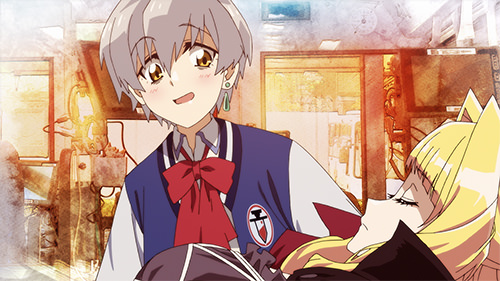 Unfortunately the storytelling reminds of the standard "girl-accidentally-has-to-live-with-guy" dynamic enhanced by kinky visuals and voice acting. Though it still feels targeted at a male demographic, the girl's love aspect seems to play a more important role than just teasing. Especially since at the end of episode one Mitsugu says she will make Mai her girlfriend. While the animation is very fluid and beautiful, the art style of the backgrounds deserves a special mention. It gives the whole episode a graphic novel feel.
The team behind the new Vladlove Anime
Veterans Mamoru Oishii and Junji Nishimura are responsible for directing the series. Both have worked together in the past on series like Urusei Yatsura or Windy Tales. Surprisingly the responsible studio, Ichigo Animation, is among the youngest Anime studios on the market. They're a brand new branch of the Ichigo real estate company, which wanted to expand their audience.
Main characters Mai and Mitsugu are voiced by Rina Hidaka (Tiger and Bunny, SAO) and Ayane Sakura (My Hero Academia, Your lie in April). Additionally you might recognize Romi Park (Edward Elric, Toushirou Hitsugaya, Tao Ren), who voices edgy and sexy school nurse Chihiro Chimatsuri.
Vladlove Pop Up Store in Akiba
Ichigo Animation's official store CulZone is located on the 4th floor of Akiba Cultures Zone in Tokyo. From December 2020 to April 2121 there's also a Pop Up Store on the second floor of DiverCity Tokyo Plaza. Character goods include for example acrylic stands, pillows and souvenir jackets.
Vladlove Anime Episode 1: Vampire Girl, Bloody excited
Ichigo Animation released a special version of the first episode of the anime on Youtube on December 18th. For now it is a first look at what the series is about. Why it is special we don't know yet. We will find out on Valentine's day.
Sources: AnimeNewsNetwork, Akiba CulZone, Vladlove official website