With fans waiting patiently for the upcoming season of Spy x Family this October, eager viewers might be looking for a way to help ease their wait. But thankfully, series' star Anya Forger has you covered!
/

新宿に飛び出す
アーニャが出現⁉️

\

本日9月26日(月)より
JR新宿駅東口の大型街頭ビジョンに
アーニャが顔をのぞかせます🎉

▼放映期間
10月9日(日)まで
※毎時10分、40分すぎ頃に登場予定
※スケジュールは一部変更の可能性があります

ぜひご覧ください🙏✨#SPY_FAMILY#スパイファミリー pic.twitter.com/AFciaWvqu0

— 『SPY×FAMILY(スパイファミリー)』アニメ公式 (@spyfamily_anime) September 26, 2022
Shinjuku City in Tokyo is already one of Japan's trendiest neighborhoods, but it's also known for its flashy lights and entertainment. Just outside of Shinjuku's own Shinjuku Station, one of many central travel hubs in Tokyo, is the famous Cross Shinjuku Vision billboard an electronic billboard that wraps itself around the side of the building.
新宿のアーニャ見てきた💓
10分くらいと40分くらいに流れるやつ、初めの部分だけ違うのかな?
これは40分くらいに流れたやつ!#SPY_FAMILY #スパイファミリー pic.twitter.com/qZ1Wz4ll5y

— 鬱子 🌾10/27変身🌾 (@Fashionnessutsu) September 26, 2022
This eccentric advertisement space, with it's carefully selected design, is famous for creating near 3D video ads and announcements that make it look like the contents are coming out of the building. Many different series have had memorable ads placed on this Shinjuku landmark, and now Spy x Family gets a turn!
The full-size video, which appears twice an hour at the :10 and :40 minute marks, features Anya Forger "leaning" over the side of the building, encouraging passerby's not to miss the upcoming season.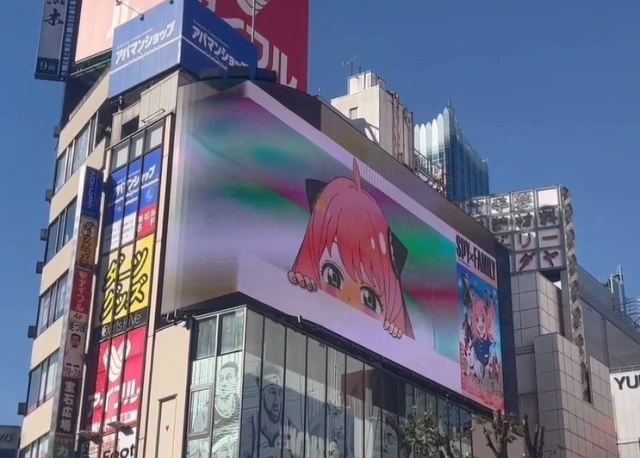 Following Anya's announcement, a teaser trailer for the new season, slated to begin October 1st, begins to play. Another Spy x Family advertisement also plays on nearby Alta Vision billboard, but without the iconic 3D effect that Cross Shinjuku Vision is known for.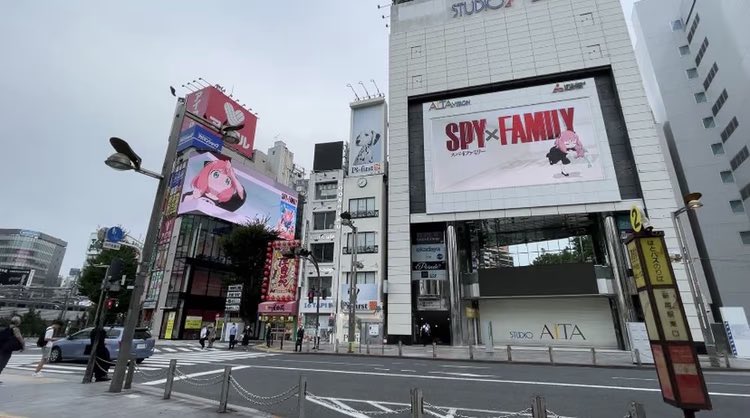 The advertisement will run until October 9th, so be sure to make a stop in Shinjuku to see the Spy x Family star up close!