Find Japanese Talents with Japan Creator Bank

Japan's overseas reputation has been immensely influenced by popular culture ever since reinventing the countries image throughout the second half of the 20th century. The drive to promote the land of the rising sun and it's culture through popular media is still prevalent in today's entertainment industry. This is especially true when it comes to appealing to overseas audiences. However, foreign companies looking to enrich their creative projects with Japanese talents and creators might struggle with the perceived exclusivity of the creative market.
This is where Japan Creator Bank comes in. As a database featuring talent in different categories, this service aims to connect Japanese people with foreign companies and content creators. And all that free of charge.
The Organization behind Japan Creator Bank
Japan Creator Bank is a project by VIPO (Visual Industry Promotion Organization), a non-profit corporation looking to promote Japan and its culture worldwide. The company's chairman announced the release of the database for October 2019. Ever since it has accumulated 727 creatives from different fields in the industry.
It's main goal is to connect Japanese creators with "content-related companies in Japan and overseas". Companies are able to access the best Japanese developers of the entertainment industry willing to work on international projects. Furthermore, it is part of the JACC (Japan Content Catalogue), a database to lookup more details about the work of registered JCB users. The database will continue to be expanded, including information like booking details.

The Japan Creator Bank website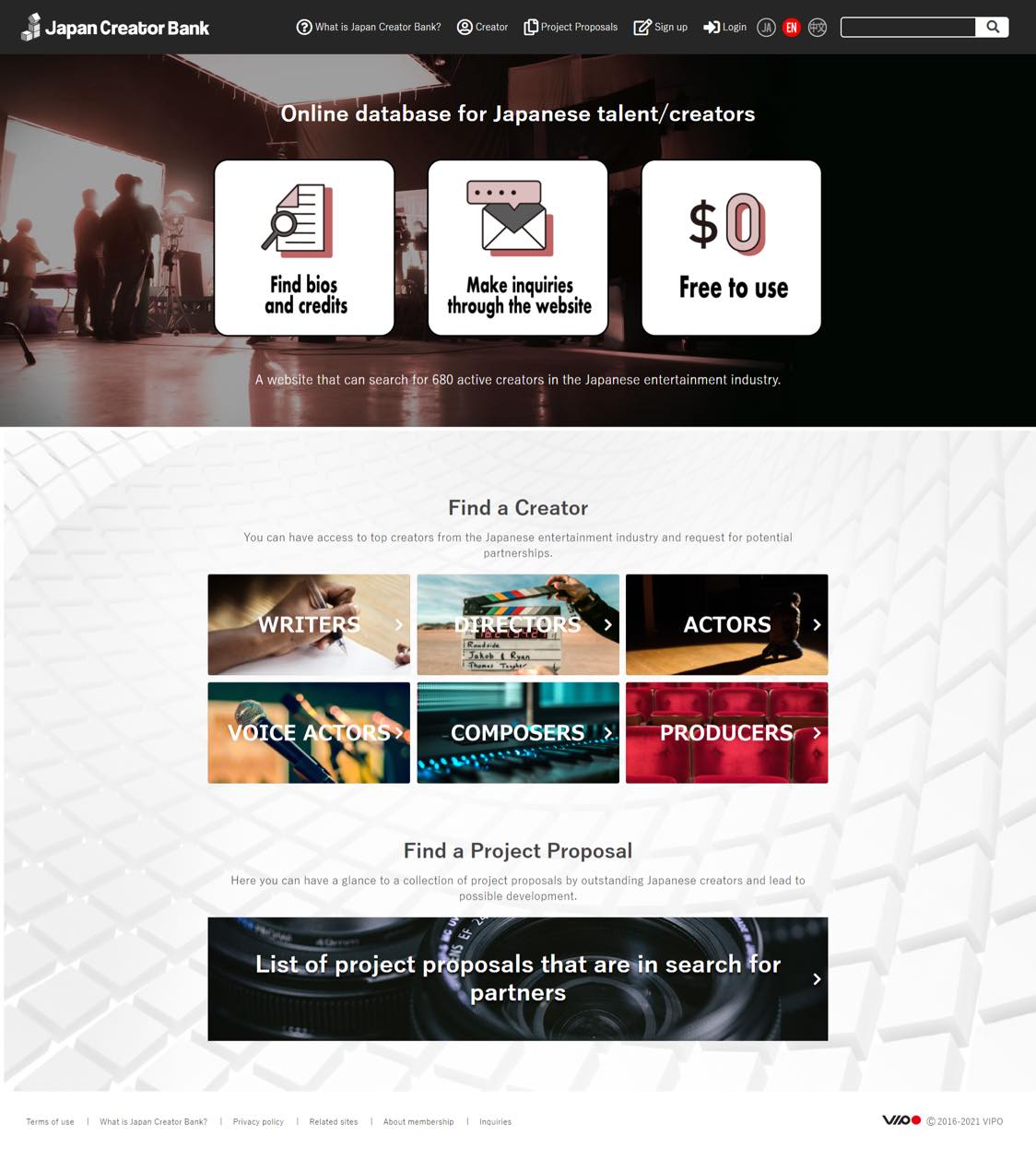 The website itself is easy to navigate in either English, Japanese, or Chinese. You can browse through the different fields of creatives without making an account and look at their profiles and the projects they have done. However, in order to make inquiries, it is necessary to register. This process is completely free and takes but a few minutes. As soon as you log in you can send inquiries to individual talents via their profile. If you're unsure or want to have an overview of available options, you can also add creators to a list of favorites, which is accessible over your own profile. The inquiries themselves are free as well.
The Talent
There are six different fields with available talents on Japan Creator Bank. Depending on the project, creators might fit into more than one field. All of the registered creators are professionals with a successful track record. They are still active in movies and TV Dramas. Here is a brief overview.

This category includes screenwriters. You may send an inquiry for screenplays (including overseas production or co-production) and appearances at public events.

Inquiries to directors may include video production of movies and dramas, as well as appearances and speaking at public events.

Actors may be sent inquiries about appearances in and auditioning for movies, dramas, TV shows, etc. as well as appearances and speaking at public events.

Possible inquiries for voice actors include voice appearances and dubbing into foreign languages in animation and games. Additionally, you may request appearances and speaking at events.

Inquiries for composers would be about providing music for overseas content, and of course speaking and appearing at public events.

Producers may be sent inquiries concerning the production of movies, dramas, TV-shows, animation, and games. They too can appear or speak at public events.
All in all the service that Japan Creator Bank offers the possibility to connect Japanese creators with the world and open new opportunities for foreign organizations that are looking to work with Japanese talents but do not have the expertise to reach out in Japanese, as well as for Japanese talents that are looking to enter a foreign market.
Sources: Japan Creator Bank