Chainsaw Man, the Japanese manga about devils and devil hunters is gaining popularity around the globe. With it's wild characters and gruesome fight scenes, the art style of Chainsaw Man is something that really stands out. And this month at Tower Records in Shinjuku a Chainsaw Man exhibition is being held until early July.
The event features many types of art pieces such as framed manga panels, a mock set of Denji's room, a photo op with Kobeni's car, LP jacket style wall art, and a life-size statue of Chainsaw Man himself.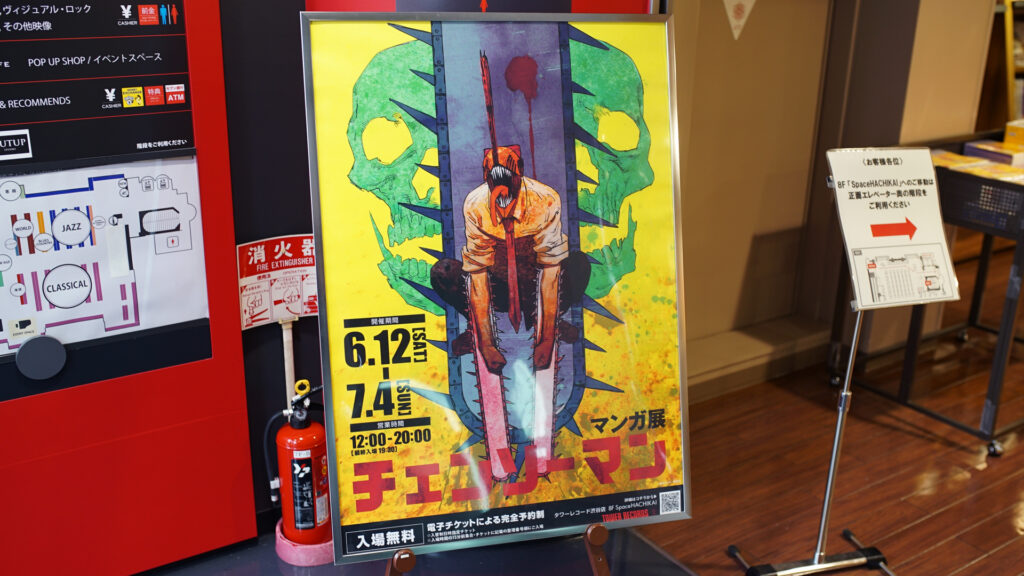 Let's Check it Out
Making my way up the stairs to the 7th floor of Tower Records I can start to see the yellow Tower Records posters decorating the walls. Then I notice that the posters are splashed with red intestines and Pochita in different cute poses. Handing over my reserved timeslot ticket I make my way into the hall and check out the framed pictures lining the walls on both sides. They are blown up manga pages taken directly from some of the best parts of the manga. Many of them are also new colored versions.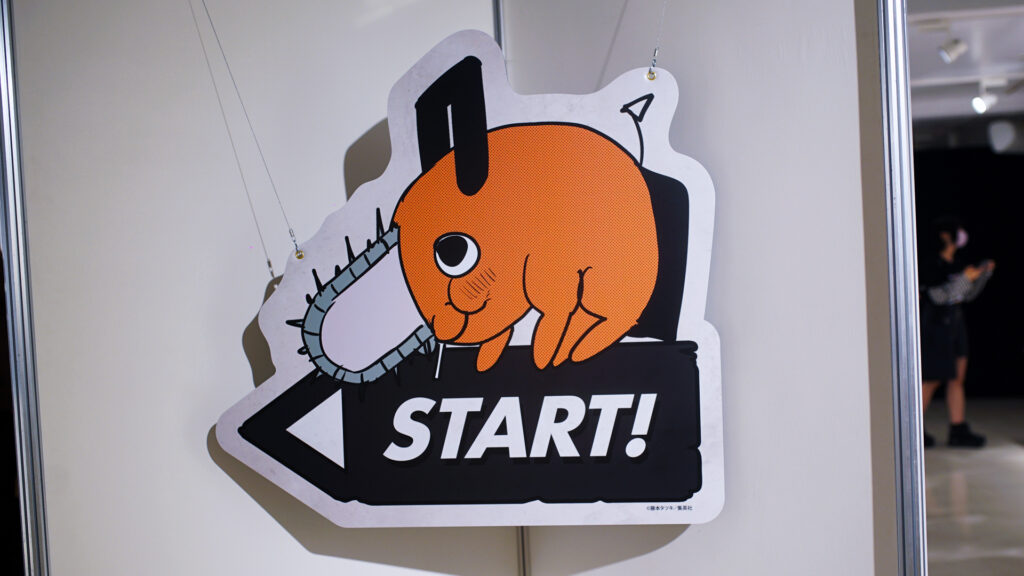 Pochita signs guide me to the next set piece with Kobeni's car. I can step behind it and take a photo so that it looks like I'm inside the infamous machine.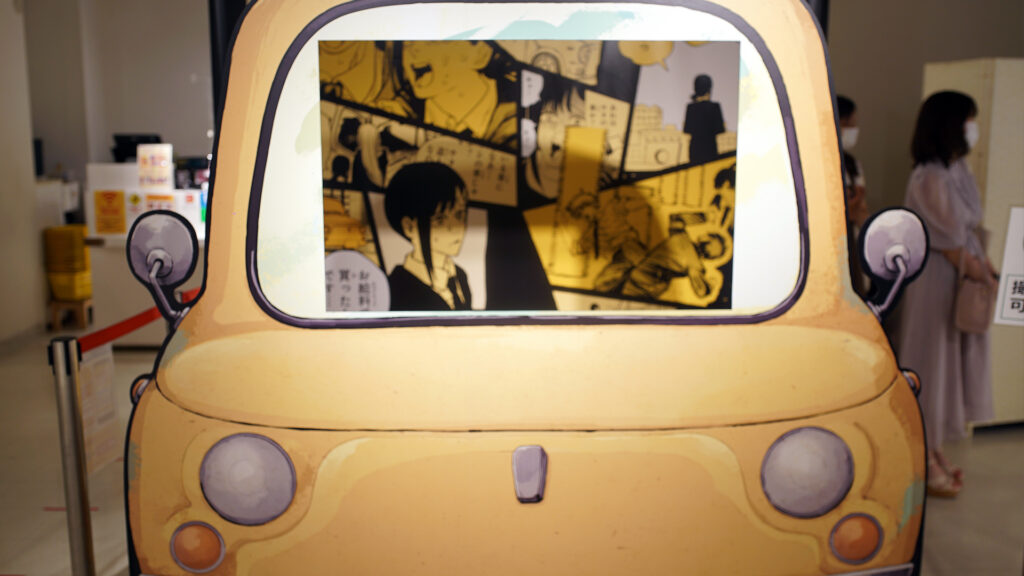 Towards the back of the hall is a projector showing an animated montage of manga art set to music that shouts, "Chainsaw Man! Chainsaw Man! Chainsaw Man!" over and over again.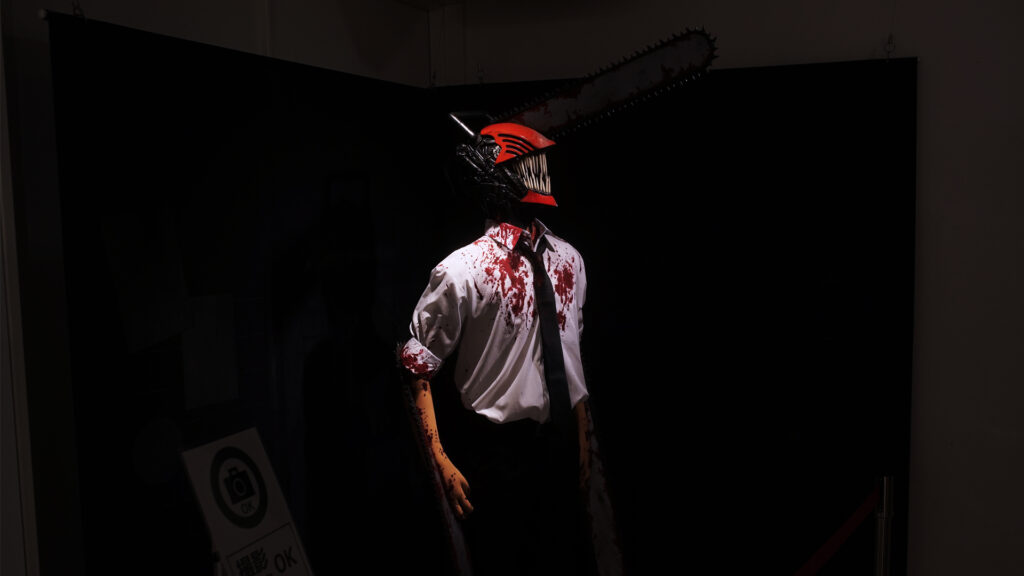 And next to this is a life-size bloodstained replica of Chainsaw Man with two blades protruding from his arms and one coming straight out of his head. The design of the head is quite realistic!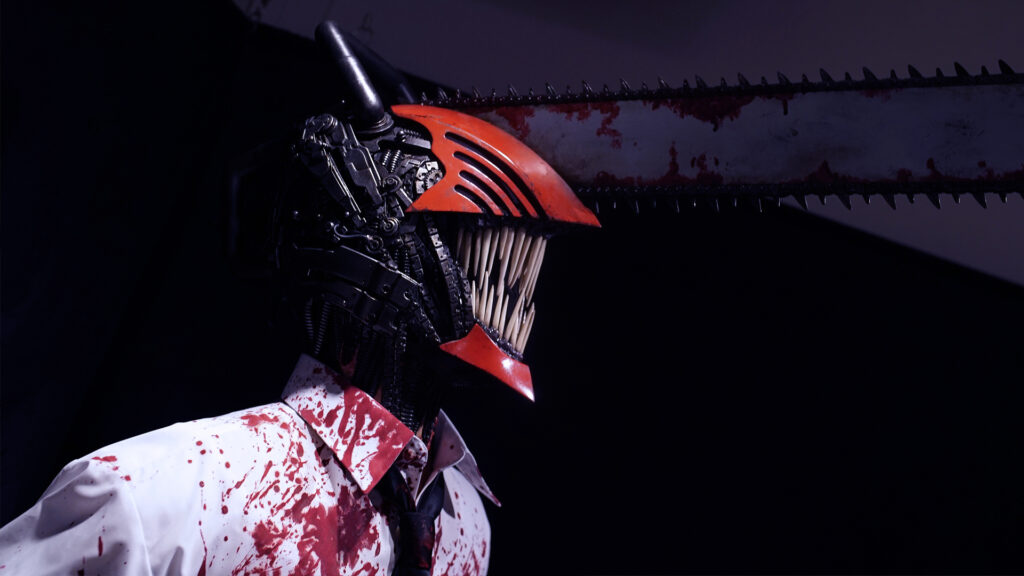 Set up in the corner of the hall is a space made to look like Denji's room. Not that impressive as it's just an ordinary Japanese apartment but still interesting to walk past.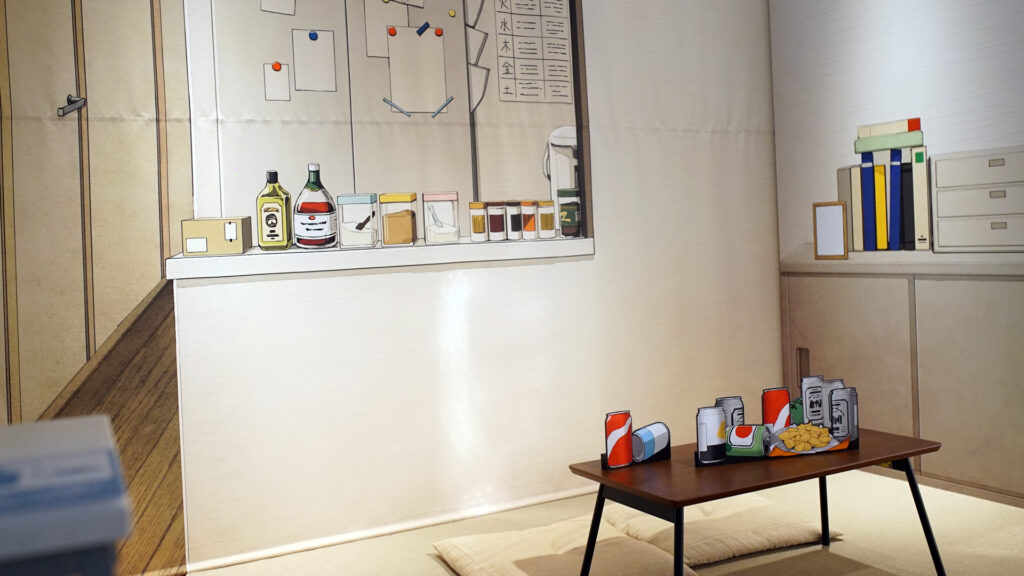 More big posters cover the walls and tables in other parts of the hall. There is also a big wall scroll that people can write messages on to other Chainsaw Man fans or perhaps to the creator Tatsuki Fujimoto.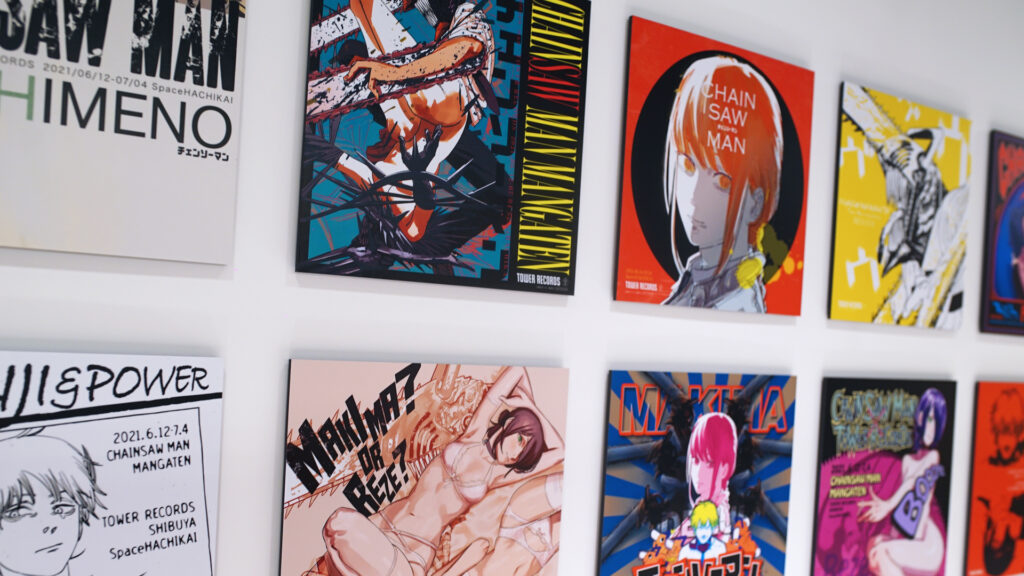 Chainsaw Man Record Label Art
My favorite art pieces are the square record-jacket-style ones. Designed to look like LP covers they feature a lot of cool art of various Chainsaw Man characters. They are also going to be given away by lottery to those that spend a certain amount of money at the gift shop!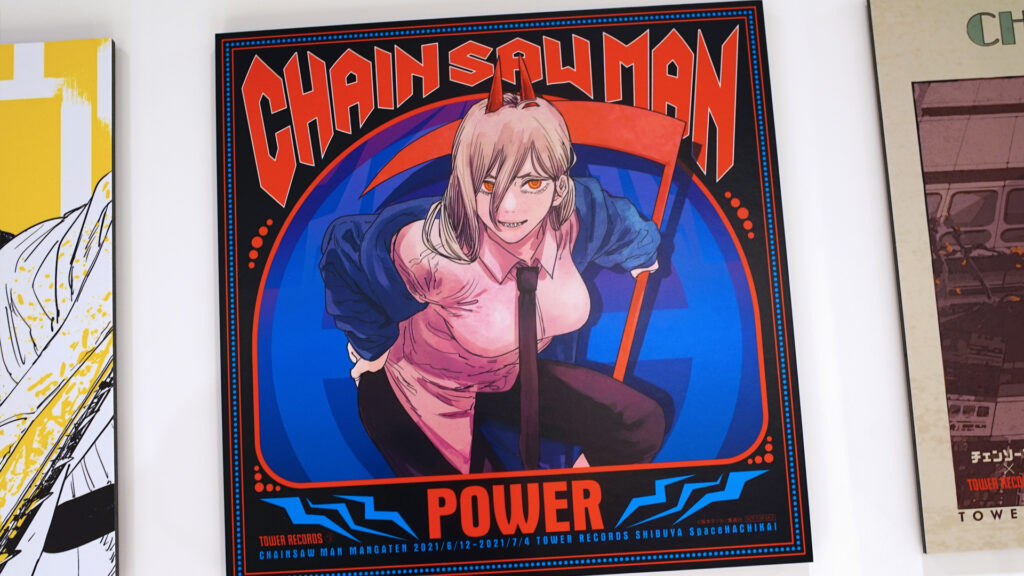 The giftshop features wooden art panels, pin badges, sports towels, key chains, wall scrolls, plushies, T-shirts and other goodies featuring the various characters from Chainsaw Man.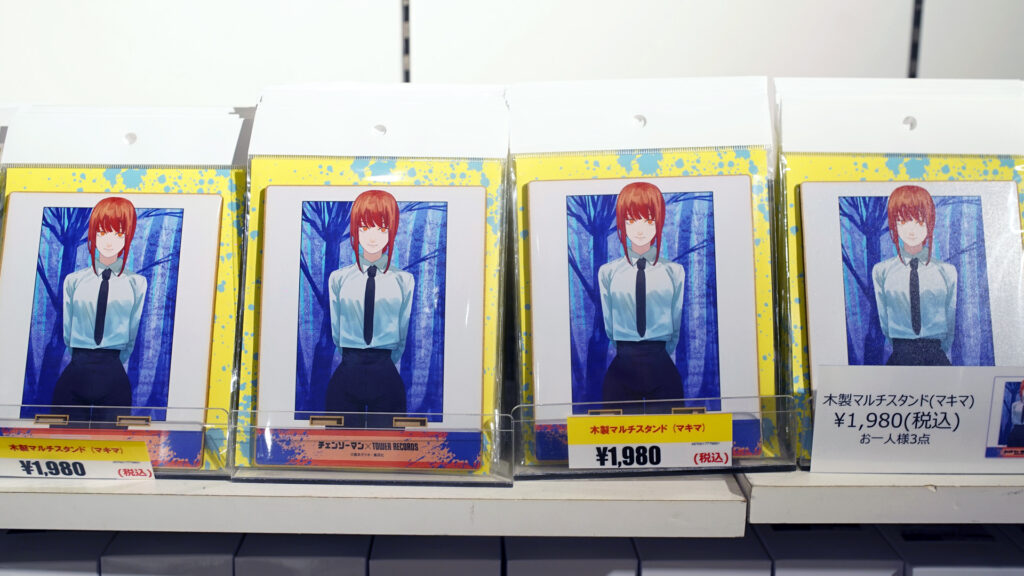 I ended up buying enough to get 2 lottery tickets for the LP jacket art pieces so wish me luck when they draw the winning numbers next month!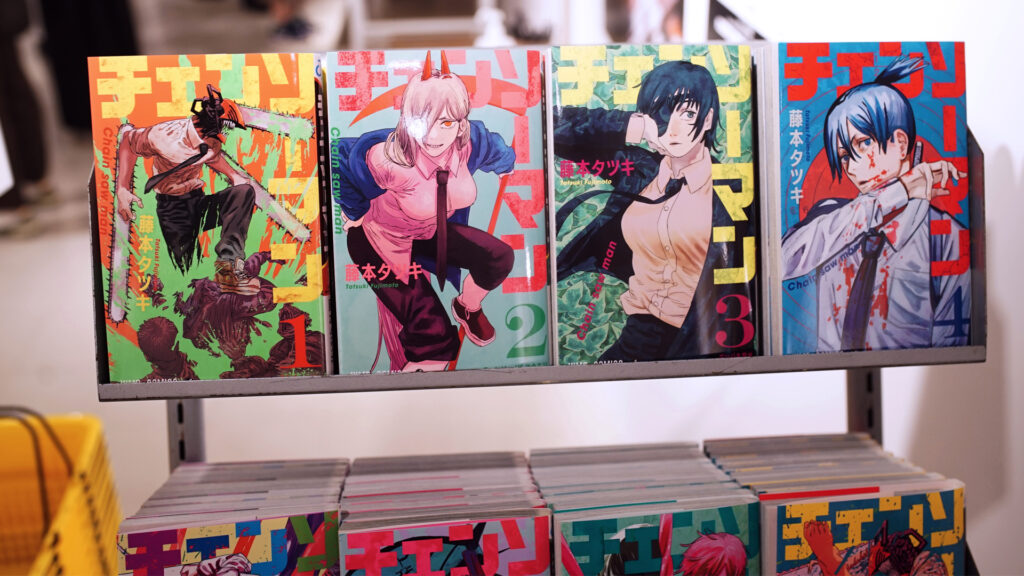 Overall the event was a nice little exhibition for fans of the manga and was a good chance for me to grab some limited merch. I think when the anime adaptation makes its debut many more people will become Chainsaw Man fans. It's a very entertaining story with memorable, albeit kooky, characters and an original spin on the mythology of devils and how to fight them.