Black Lagoon, a popular manga and anime series about a team of mercenaries in southeast Asia, continues to captivate fans despite a decade since its last anime installment. Adding to the franchise's vitality, Black Lagoon now has themed cafes in Tokyo and Kobe, Japan.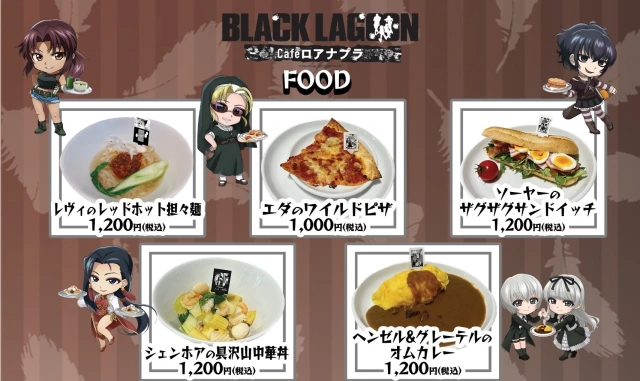 Officially known as Black Lagoon Cafe Roanapur, the cafes pay homage to the fictional Thai port town that serves as the primary setting of the series. Following the typical anime cafe concept, the menu features a wide selection of character-inspired food and drinks. Exclusive merchandise is also available, showcasing new illustrations of the series' characters.
The menu at Black Lagoon Cafe Roanapur focuses on the female cast of the series, with various main course options. Diners can choose from Revy's Red Hot Dandan Noodles, Eda's Wild Pizza, Sawyer's Rough-Cut Sandwich, Shenhua's Generous-Portion Chinese-style Rice Bowl, and Hänsel and Gretel's Curry Rice Omelet.

For dessert, patrons can indulge in Roberta's Black Roll Cake or Balalaika's Blini. Alternatively, they can quench their thirst with seven color-coded ice cream sodas, each representing a character from the series.

Guests who order any food item will receive a special placemat, while each food item or drink ordered comes with a random coaster featuring a super-deformed version of a character holding their respective edible menu item.

Diners may also receive one of two Black Lagoon Cafe art postcards at random while supplies last. Additionally, the cafe offers a range of merchandise, including acrylic mini standees, pins, keychains, mugs, drink bottles, and magnets.
Black Lagoon Cafe Roanapur is hosted at And Gallery in Tokyo's Ikebukuro and Kobe's Sannomiya neighborhoods. The cafes are currently open and will run until July 2nd, 2023, allowing fans to immerse themselves in the world of Black Lagoon and savor the flavors inspired by their favorite characters. Fans won't want to miss this collaborative event of a classic series!
You can find more information about the cafe here.