Multimedia franchise and music phenomenon BanG Dream! is having a special week of events called Bang Dream Week! from May 14th to May 20th at Maihama Amphitheater and Metlife Dome.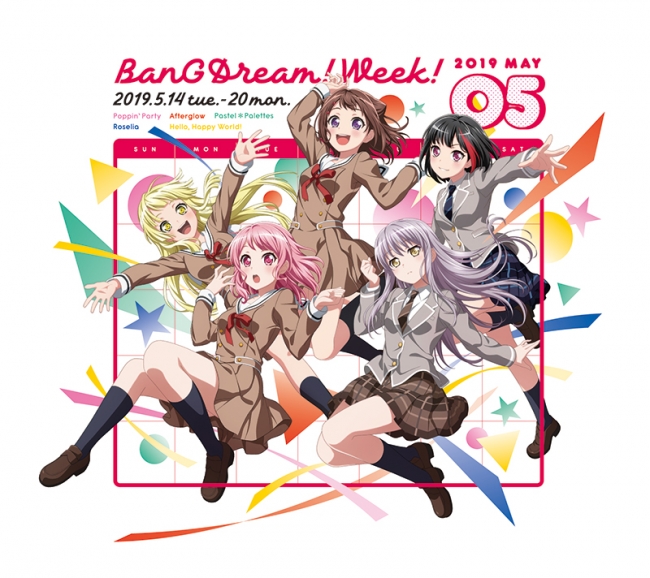 Events happening include viewing parties of past shows, talk shows and Poppin'Party and SILENT SIREN's first ever taiban (A show where more than one band is on the bill).
Take a look at the schedule below to see what events you can check out this week!

Maihama Amphitheatre Schedule
MAY 14th
BanG Dream Radio Matsuri! RADIO SHOUT! x RADIO R•I•O•T
Open 18:00/Start 19:00
Appearances: Roselia (Aiba Aina, Kudou Haruka, Nakashima Yuki, Sakuragawa Megu, Shizaki Kanon), RAISE A SUILEN (Raychell, Kohara Riko, Natsume, Kurachi Reo, Tsumugi Risa)
MAY 15th-16th
BanG Dream! Live Screening Event
Open 18:00/Start 19:00
Performances:
15th: Maeshima Ami, Aiba Aina, Raychell
16th: Raychell, Kohara Riko, Natsume, Kurachi Reo
MAY 18th
NO GIRL NO CRY Pre-show Talk Stage Day 1
Open 10:30/Start 11:30
Appearances: Raychell, Kohara Riko, Natsume, Kurachi Reo, Tsumugi Risa
MAY 19th
NO GIRL NO CRY Pre-show Talk Stage Day 2
Open 10:30/Start 11:30
Appearances: Aiba Aina, Kudou Haruka, Shizaki Kanon
MAY 20th
Bang Dream Radio Matsuri! GalPa Radio x Ami Time x HelloHappy CIRCLE Broadcast
Open: 18:00/Start 19:00
Appearances: Afterglow (Sakura Ayane, Misawa Sachika, Katou Emiri, Kanemoto Hisako), Pastel Palettes (Maeshima Ami), Hello, Happy World! (Itou Miku, Toyota Moe)
Metlife Dome Schedule
MAY 18th/19th
Poppin'Party x SILENT SIREN Taiban Live "NO GIRL NO CRY"
Open 15:00/Start 17:00
Performances: Poppin'Party, SILENT SIREN
Guest Acts: Roselia (18th), RAISE A SUILEN (19th)
For more information on this week of events visit the official website:
https://bang-dream.com/bangdreamweek
Poppin'Party x SILENT SIREN Taiban Live details:
https://bang-dream.com/popi_sp
Original source: PRTimes, Official Website
Latest posts by Phoebe Lin
(see all)