(This is sponsored content brought to Around Akiba by Milestone Inc.) 
Japanese figure company Milestone Inc. announced in early June the release of DAIBADI PRODUCTION's Polynian Rucio figure. DAIBADI PRODUCTION describes Polynian Rucio as a naughty, lively kōhai wearing a competitive swimsuit. The real question is….is Polynian Rucio a boy or a girl? That question is up to the owner to decide.
This 140mm tall non-scale PVC action figure is part of DAIBADI PRODUCTION's Robot Neoanthropinae Polynian series.
The Polynian Rucio figures are slated for release in November. Milestone lists the price of each figure at 6,100 yen ( tax not included ). Preorders of these figures close on June 12. More information about these figures can be found on Milestone Inc.'s official website.
Around Akiba published a feature on DAIBADI PRODUCTION's Polynian for those who are new to these line of figures. Be sure to check it out!
Fans can adjust the Polynian Rucio figure in a variety of poses. DAIBADI PRODUCTION's line of figures is perfect for the person who loves photo suits and giving shape to their imagination.
The accessories that come with the Polynian Rucio highlight the detail of figure.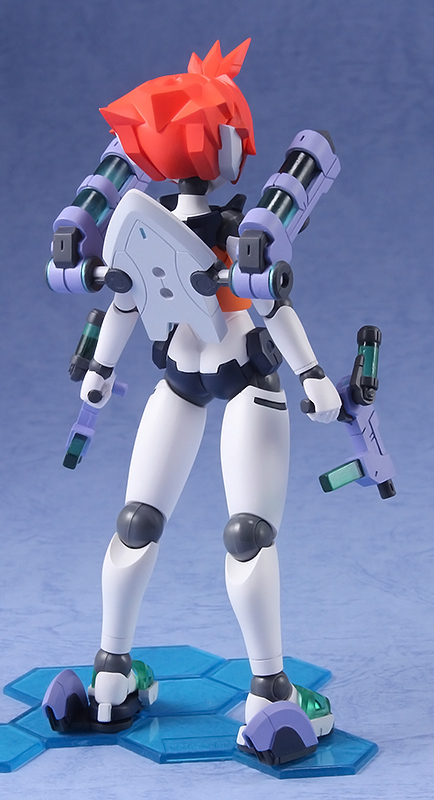 According to Play-Asia.com, the following are included with the Polynian Rucio figure.
Open hand (left and right)

Grip hand (left and right)

Female fist (left and right)

2 Replacement faces

Hydro booster (left and right)

Small water flow booster (left and right)

Hydro-machine gun (right and left)

2 Hydro Grenades

Ion beat version

Lucio front hair ladies

Swimsuit hip woman

Life jacket Bust blur