Pokemon collaborations are always a welcome sight across Japan, and now another restaurant finds itself filled with our favorite yellow mascot: Pikachu!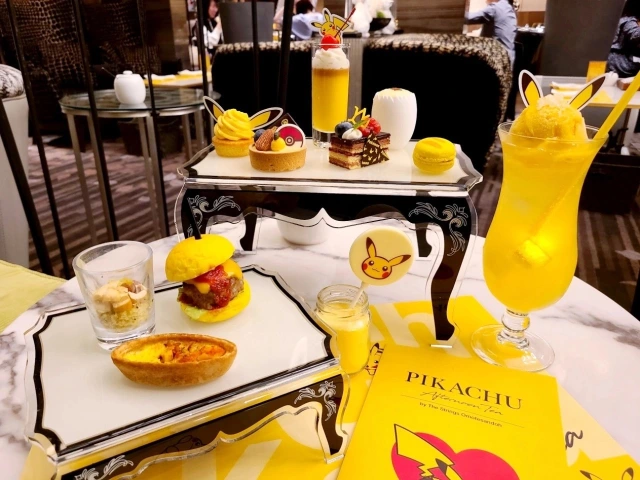 Japanese hotel The Strings recently introduced a Pikachu Afternoon Tea event at its locations in Nagoya and Tokyo's Omotesando, immersing guests in the world of the beloved Pokémon anime series. The highly anticipated event offers a delightful culinary experience inspired by Pikachu and his vibrant universe.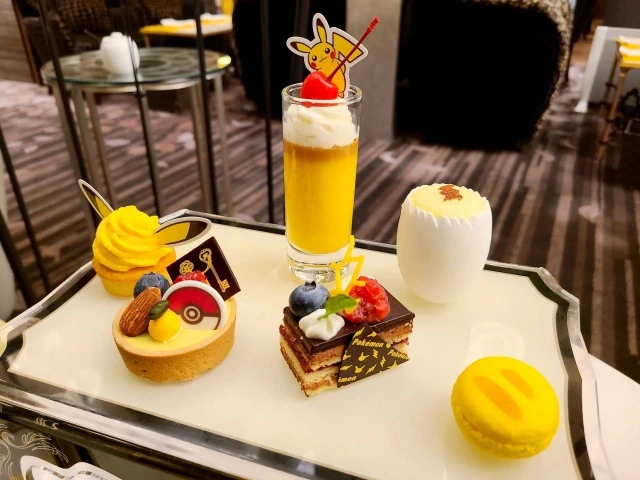 Available exclusively at The Strings Hotel in Tokyo, the Pikachu Afternoon Tea takes place in a whimsically decorated environment that embraces the electric Pokémon theme. The dedicated Pikachu alcove, which accommodates only six tables and requires advance reservations, creates an enchanting setting. However, even the main dining area of the cafe is stunning, adorned with ring lights and giant birdcage installations.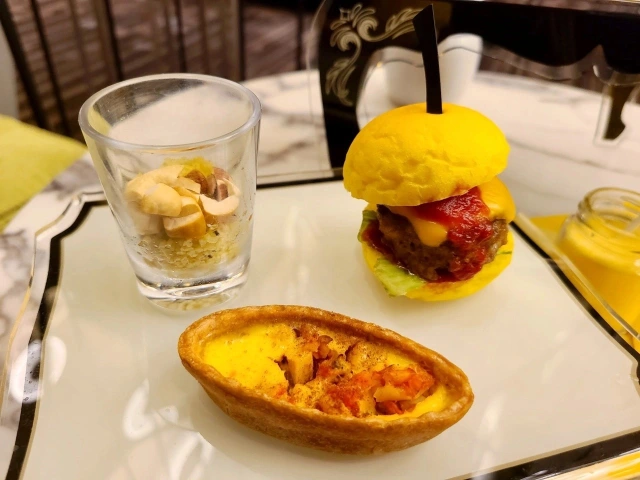 Upon being seated, guests are presented with the visually stunning "Afternoon Tea Drink Set," priced at 6,500 yen. The set includes a choice of one Pikachu-themed drink from three options: Pikachu Fruit Mocktail, Pika Pachi's Passion Fruitade, or Pikachu Art Latte.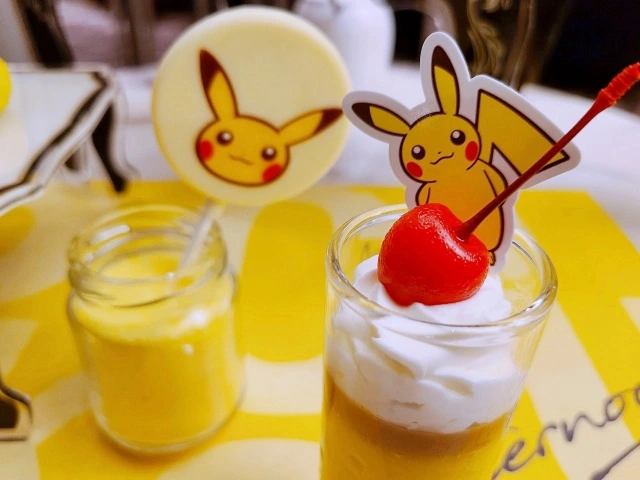 The Pikachu Afternoon Tea is designed to stimulate all the senses, starting with a striking visual presentation. The array of food and beverages showcases a vibrant yellow color palette. Many patrons bring their own Pikachu plushies to accompany them, further adding to the whimsy and creating numerous photo opportunities.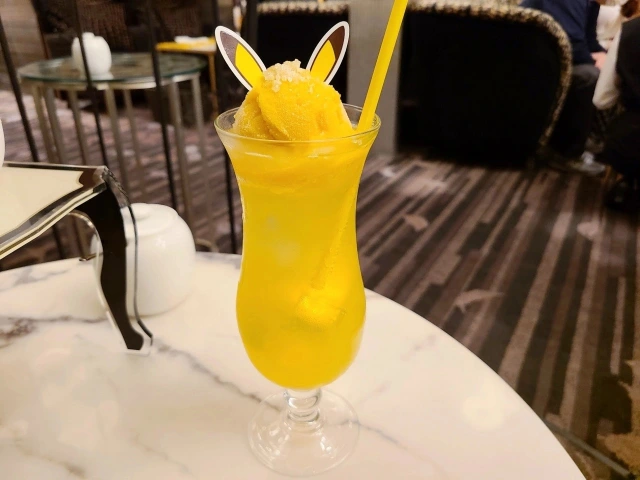 The culinary experience includes a variety of savory and sweet treats. For the savory bites, guests can enjoy the Crispy Nut Tabbouleh Salad, Cheese Slider with Lots of Ketchup, and Chicken and Tomato Biribiri Quiche. The nut salad offers a crunchy texture and exotic flavor, while the cheesy slider provides a familiar taste. The quiche, inspired by Pikachu's electricity, boasts a rich flavor enhanced by a dash of Japanese pepper powder, adding a lightning-like kick of heat.
Moving on to the sweets, guests are treated to six delectable creations. The Pikachu Muffin features Chantilly cream and adorable character ears, bringing a smile to diners' faces. The Forest Pistachio Mousse Tart offers a delightful combination of nuts, berries, and a touch of the Pokémon world. The Honey Lemon Jelly with Plenty of Fruits strikes a perfect balance between tartness and sweetness, while the Thunderbolt-Style Chocolate Opera elegantly combines sweet chocolate with tangy berries. The Pikachu Hide-and-Seek Rich Mango Pudding delivers a melty mouthfeel and tropical flavor, while the Caramel Macaron provides a delightful crunch.
To complete the afternoon tea experience, each set comes with a pot of TWG tea, allowing guests to savor the flavors while enjoying their Pokémon-inspired surroundings. Additionally, diners receive a menu, coaster, and placemat as souvenirs, serving as a savory field guide to navigate through the intricacies of the afternoon tea.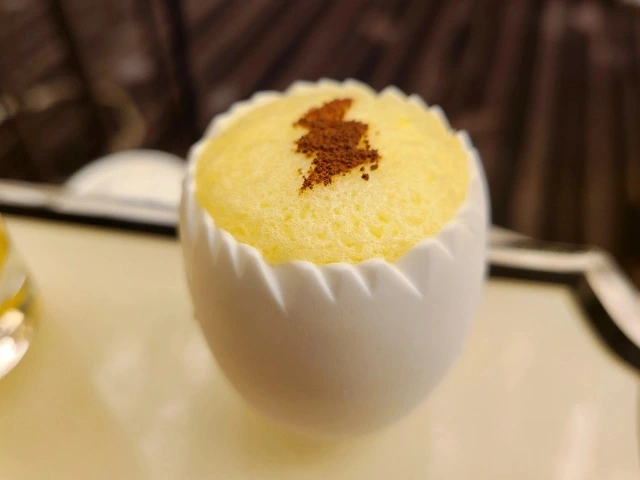 While the Afternoon Tea Drink Set is the main offering, The Strings Hotel also provides other variations of the experience. Prices range from 4,800 yen for a mini afternoon tea set that includes a regular lunch meal to 8,500 yen for a Special Combo Meal featuring a Pikachu Special Dessert shaped like a Poké Ball.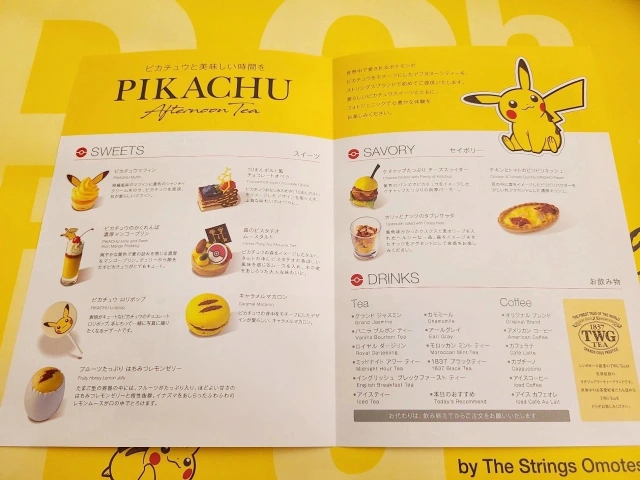 The Pikachu Afternoon Tea is available in Tokyo and Nagoya from November 24th to December 3rd. Whether guests secure a reservation in the limited Pikachu alcove or dine in the main area, the experience promises to be a memorable and delightful adventure. It may be a splurge, but the opportunity to enjoy afternoon tea with Pikachu is undoubtedly worth it.