Hi there everyone, my name's Nate!  I'm the guy who's been working behind the scenes writing these articles, coordinating with shops, and doing lots of other stuff to get Around Akiba up and running.  For today's article, come with me as I experience the famed Gundam Café of Akihabara!  Little precursor, I only watched Gundam Wing growing up, so I don't have extensive knowledge on all the series by any means, but even someone like me could enjoy eating a Zaku-themed dish, so I bet you can too!  Let's get to it!
Outside the café- Suit up!
Due to its incredibly iconic façade, the chances of you missing the Gundam Café are slim to none.  Just take the Electric Town exit of Akihabara Station, turn right, and you're there!  The huge Gundam sign and Gundam standing guard outside should also be dead giveaways.  Alright, let's get inside!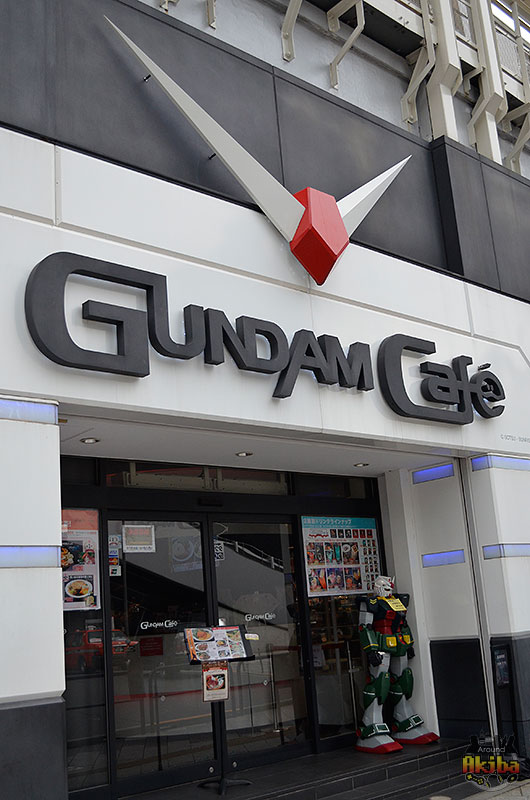 Inside the café – All hands on deck
There's no mistaking where you are inside or outside the Gundam Café.  The interior is adorned with various Gundam paraphernalia including giant Gundams, famous signatures, figures, and pictures, all with Gundam theme songs and videos playing over the speakers and on multiple TVs.  Even the lady at the counter is decked out in a dazzling uniform awaiting your order.  The real crowd-pleaser is actually found where you'd least expect it: the toilet.  There's a huge Gundam face that is behind you watching you do your business, and if you press a button on the wall you're rewarded with the lights dimming while the suit powers up and the eyes come to life!  If that doesn't get you raring to go, nothing will!
Menu – Pick your suit
I really loved how all the dishes and drinks were themed after characters and suits from the various series.  I mean, it is a concept café and all, but still!  I'm a big fan of the incredible detail people in Japan put into their culinary presentation (Google Japanese bento lunch and I'm sure you'll see some of the coolest bag lunches moms have ever made for their kids) and the Gundam Café is no exception.  The wide variety of robotic dishes and colorful drinks made it hard to make a choice, but I opted for the Char Zaku Rice and Setsuna F. Seiei drink.  There's just something about a blue drink that really tickles my fancy.  Maybe Pepsi Blue and my childhood is to blame, but who cares, back to the food!
Flavor – Refueling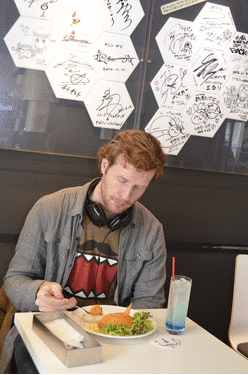 Flavor-wise, I'd put the level of the dishes slightly above that of a family restaurant type place, but not on the blow-your-mind-with-how-freaking-delicious-it-is level.  For the price, I feel it's pretty fair, especially because of how cool the themes of each dish are.  It was prepared nice and fresh so it was warm and fragrant as the eggs melted in my mouth and the sausages popped with juicy succulence at eat bite.  The drink was also fabulous, in many ways.  Fabulous colors blended with the fabulous flavors of grapefruit juice and blue Curaçao (think the flavor from blue Hawaii drinks) into an amalgamation of fabulousity that even Pewdiepie would be proud of.  I really enjoyed it and would go back to the café just for the drinks alone in the future.
Gift Shop – Make home a mini Gundam Café
Freshly refueled I decided to take a gander at the gift shop located right next door and found some interesting things for sale.  From beam saber chopsticks and umbrellas to melon flavored cake rolls to your standard mugs and other souvenirs, there is something for everyone here (and the cake!  Melon flavor is the beeeesssssst!).
Closing Thoughts
I'm not a huge Gundam guy, but I still had a great time at the Gundam café.  I had an image that it would be overpriced and only really worth going to if you were a hardcore fan, but I think anyone can enjoy the futuristic setting and elaborate dishes.  If you are a big Gundam fan, then it goes without question that you should (and probably would even without reading this article) go there, but even if you're not, it's a really fun experience in Akihabara, and the food's not bad either.
[cft format=0]
Ⓒ創通・サンライズ
ad2
Latest posts by Nate Banchou
(see all)
Hi, I'm Nate. I've been learning about Japan since I was a kid and have lived here for 3.5 years and counting. I used to compete professionally in yo-yoing, and have always loved video games, especially fighting games. Not a huge anime/manga buff, but my favorites are One Piece and Slam Dunk.