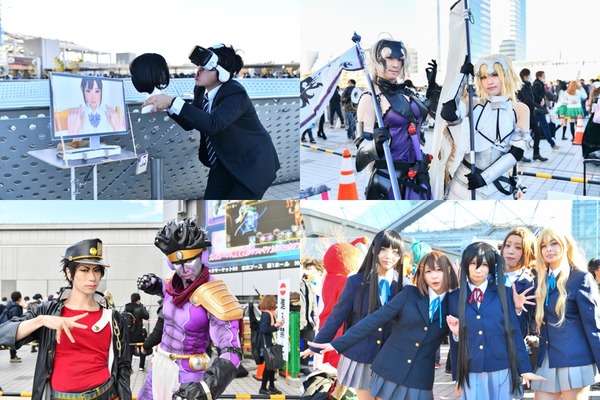 We've got some pics from the Otaku festival "Comiket 93". Check out some snapshots from the first day!
Under the clear winter sky, cosplayers persevered the chilly weather of less than 10 degrees celsius. Nonetheless, they kept on smiling despite the temperature.
"K-On!" Yui: Hirasawa Serina @mane_fuu Azunyan: RJ.Kagura @RJ_Kagura2973 Mio: Tanya @Tanya_JP Ritsu: Ronlin @rolinuntius Kotobuki: Yuriko Tiger @YURIKOTIGER   Cosplays were inspired from nostalgic titles like "K-on!" and recent animes like "Blend S", popular ones like "Fate/Grand Order (FGO)", as well as VR.
"K-on!" Yui Hirasawa Serina
Hatsune Miku (Standard) Honami @mm6910696
"Blend S" Kaho Hinata Yuri @yuri0809_
「ブレンド・S」桜ノ宮苺香&日向夏帆
桜ノ宮苺香:りあんさん @Rian_Cos1229
日向夏帆:塔子さん @105_i10
"Fate/Grand Order" Jeanne d'Arc (Alter) Omame  @omame6263cos
"Idol Masters Cinderella Girls" Shuko Shiomi Miitan @meyou_cos
「Fate/Grand Order」ジャンヌ・ダルク&ジャンヌ・ダルク〔オルタ〕
"Fate/Grand Order" Jeanne d'Arc and Jeanne d'Arc (Alter)
Jeanne d'Arc: Shuma Yuu @shi__ma__yuu Jeanne d'Arc (Alter): Byakko Hiya @byakko_yun2
"Himouto! Umaru-chan" Doma Umaru Kuro-yume @ichigo_0504
Premium Friday Umizaka Usari @usamizaka_usari
"Fate/Grand Order" Heroine X Alter Haruchi @xHa8127
Porco Rosso
VR
A salaryman during a VR Date
Jason (after slaying a reseller)
Thanks to all the awesome cosplayer at the Comic Market!
ad2