Ich liebe Oktoberfest!  And you should too!  Oktoberfest in Akihabara is going on through this weekend, so head over to Akiba on Saturday or Sunday and get some delicious sausages and beer with a side of cosplay and otaku culture!  Oktoberfest goes from 11:00~21:00 each day.
I grew up in Wisconsin, which is a fanciful, far away land with 42.6% of inhabitants being of German descent, right next to a place called Germantown.  Bratwursts and kraut were a regular delicacy, and beer was never too far away, especially during our own Oktoberfest or German Fest, or any of the other fests we had.  Which is why I was stoked to hear there was going to be an Oktoberfest right here in Akihabara!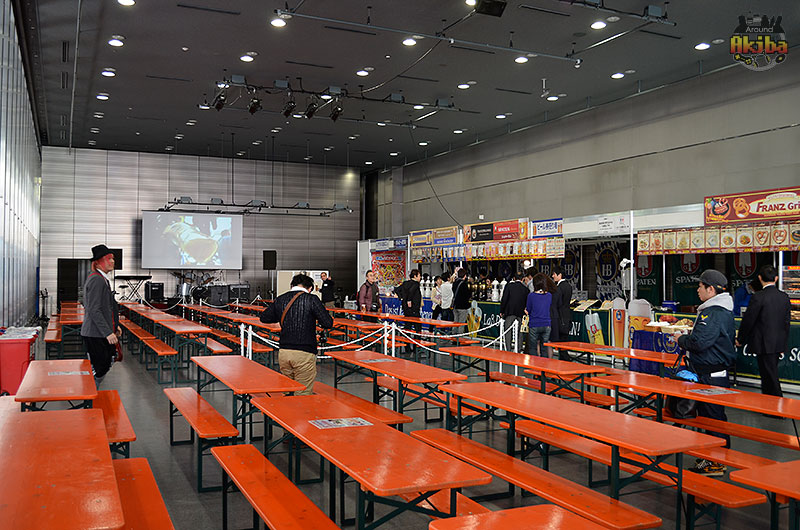 Oktoberfest – Das Festivities
Chock full of a variety of different beers, sausages, kraut, pretzels, and much more, it was like I was back home.  Well, home or right smack in the middle of Germany!  We even spotted some lederhosen!  Now we're talkin!  There are also a variety of music and stage performances for you to enjoy while you knock a few back.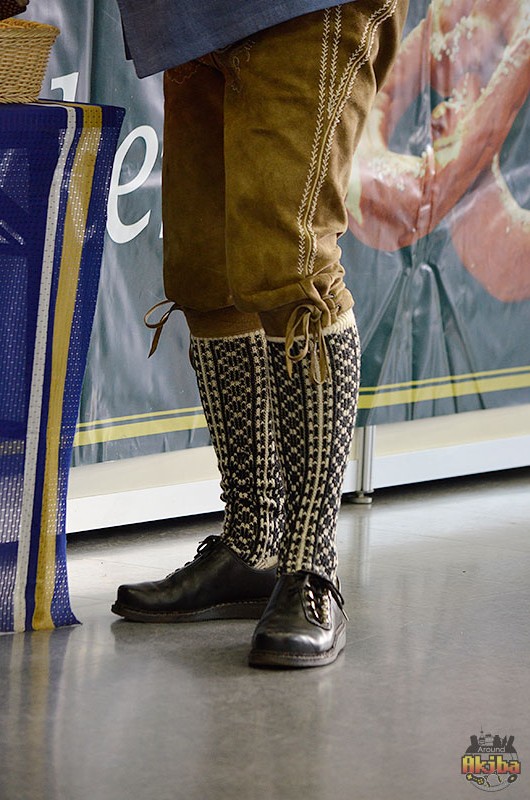 Don't worry, that wasn't the only "cosplay" we found.  At the entryway to the main hall you could find a bunch of awesome cosplayers!  There were some inside the hall too!
We were also super lucky to photograph professional cosplayer Nagisa-chan!  She was dressed up as Kanda Yokumi-chan, the mascot for Kanda's (right next to Akiba) fire station!
If you're a fan (like we are!) then give her a follow on Twitter and go to Oktoberfest again on Sunday, 4/5, when she'll be back!
Beer and… more beer!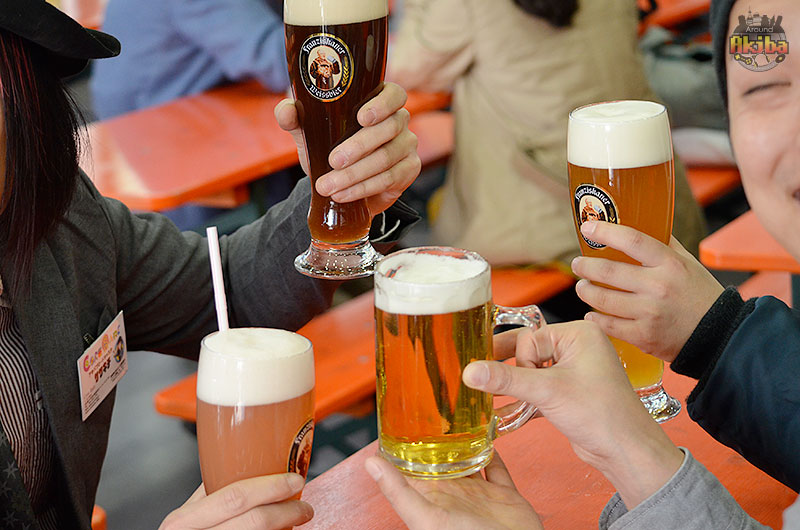 You can't have Oktoberfest without beer, and there is plenty of it in Akiba!  Flowing fresh from the tap with creamy bubbles, you'll definitely find something that goes down smooth and treats you right!  Since it's Friday night, head over for a pint now and start your weekend off right!
Sausages and Wursts Galore!
Polish sausage, Italian sausage, bratwurst, kielbasa, I love em all!  And paired with some nice kraut, mmmmboy!  They did the meats right at Oktoberfest too!
There were more food vendors with kebab, pizza, Haribo gummies, etc as well if you happen to go with someone who doesn't yet know the grandeur of a good wiener.
Oktoberfest in Akihabara was a great blending of a traditional German festival, with the signature otaku culture of Akiba that will provide you with good eats and great times with your friend, so hurry over to Bellesalle in Akihabara before it's over!
Place: Sotokanda 3-12-8, Chiyoda, Tokyo
Time: 11:00~21:00 through Sunday
ad2
Latest posts by Nate Banchou
(see all)
Hi, I'm Nate. I've been learning about Japan since I was a kid and have lived here for 3.5 years and counting. I used to compete professionally in yo-yoing, and have always loved video games, especially fighting games. Not a huge anime/manga buff, but my favorites are One Piece and Slam Dunk.