Ballroom
gave us a physical episode this week.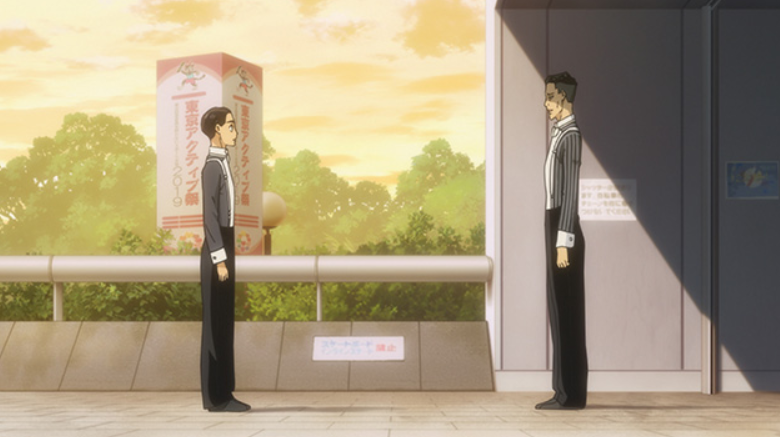 The physicality starts with Chinatsu and Tatara getting in each other's way during the Tokyo DanceSport quarterfinals, Tatara bumping into Chinatsu's pelvis and Chinatsu accidentally stomping on Tatara's toe. After Akari revisits old romantic pain, she drapes herself over Chinatsu and slobbers sweat and tears on her shoulder. Most importantly, Hyodo mounts a prostrate Tatara and stretches his back muscles, which is a dancing thing and not gay at all.
None of these details make sense consecutively, and that's okay, because nothing of consequence happens in this week's episode, anyway. Chinatsu/Tatara advance to the semifinals and Tatara later meets Chinatsu's family. Other than that, "Friend" is just a mishmash of uncomfortable gags and awkward moments meant to bring levity to the show.
Ballroom
's
humor often comes off as lazy and misogynist.
This week's episode gives the audience a breather after Akira's tragic backstory last week, but Ballroom's humor often comes off as lazy and misogynist. Chinatsu once again fat shames Akira by jiggling her belly and cackling, though I'm pretty sure if that belly were framed as fanservice it would get a lot of positive attention (she's not even fat!). Akira's partner's young daughter gets into a staring match with Tatara that emphasizes her masculine face, only to pull away when she senses Tatara judging her looks. Tatara also catches a young couple making googly eyes at each other, and wishes they would drop out of the competition and out of his life, as well. It's all petty and mean-spirited.
Beyond the lazy laughs, the show has some decent gags: Chinatsu and Tatara stare blankly eating bananas while Hyodo tortures/pleasures Tatara on top of his back. Hyodo also burns Tatara with a hair-dryer immediately after Chinatsu's father chastises his "cold friends." But when these jokes distract from the episode's serious topics, namely the broken Akira/Chinatsu romance and Tatara's lack of family support, they dissolve almost immediately after they land. Most of them don't even land in the first place.
When first meeting Tatara, Chinatsu's dad thanks him for getting his daughter in a ball gown, and casually mentions how he's relying on Tatara to get her in a wedding dress, as well. This exchange should elicit reactions, either from the hopeless romantics who hear wedding bells, or the horrified queer audience who sympathize with Akira (has he been watching his gay-ass daughter??). But at this point, we haven't been given much reason to care who Chinatsu ends up with. If Ballroom takes the narrow path by pairing Tatara/Chinatsu for realsies, then whatever. It wouldn't be the worst thing the show has done.
Episode 20 Grade:C-