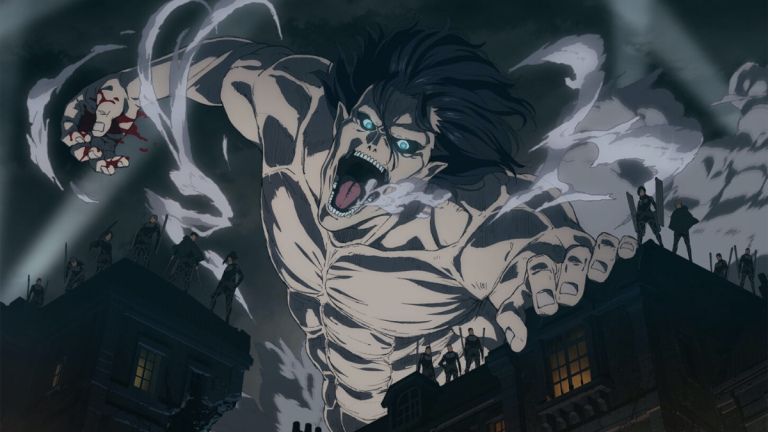 Fans of "Attack on Titan" must be strong now. As the author announced last weekend, the hunt for the Titans will soon come to an end.
As "Attack on Titan" mangaka Hajime Isayama announced on Sunday at the unveiling ceremony of an "Attack on Titan" statue in Hita during his speech, his hit-shounen "Attack on Titan" is slowly but surely approaching its end. This left about one to two percent of the story until it would find its deserved end. He didn't specify exactly how many chapters this statement covers.
In earlier interviews, the mangaka announced that the story had already reached 95% and that he wanted to end the series in 2020.
"Attack on Titan" tells of a world in which man-eating giants have reduced humanity to a minimum. The pitiful remnants of the once-dominant species now eke out their existence in the midst of a post-apocalyptic civilization within massive walls that were able to resist the gigantic danger for a hundred years.
But when one fateful day a colossal titan appears at the gates of Shiganshina County and tears a hole in the ancient walls, hell on earth begins again and the young Eren hunter must witness his mother being devoured by one of the monsters before his eyes.
Filled with a thirst for revenge, Eren vows to wipe out every single Titan and thus becomes the center of an epoch-making fantasy epic the likes of which the anime world has never seen before.
The manga was launched in 2009 in "Bessatsu Shounen Magazine" and quickly developed into one of the most popular Shounen newcomers of recent years.
However, the story achieved its final breakthrough in 2013 with the anime adaptation of the same name.
The first three seasons were directed by Tetsuro Araki ("Death Note", "Guilty Crown") at Studio Wit ("Vinland Saga", "Kabaneri of the Iron Fortress") and are available in many countries around the world,
New Studio?! This is how good the last "Attack on Titan" season will be!
The final season will not be produced at Studio Wit ("Vinland Saga") like its predecessors, but under a largely new team at Studio MAPPA ("Terror in Tokyo", "Dororo").
Director Yuichiro Hayashi ("Dorohedoro", "Kakegurui") is responsible for the production together with Chief Director Jun Shishido ("Yuri!! on Ice"), while Hiroshi Seko ("Inuyashiki Last Hero", "Mob Psycho 100") takes on the role of the screenwriter. The character design, on the other hand, is by Tomohiro Kishi ("91 Days", "Garo -Vanishing Line-"), and Kohta Yamamoto ("Blue Exorcist: Kyoto Saga", "DIVE!!") appears as the new composer.
A full-color edition of the manga was also announced. Whether this will also be published in other countries around the globe will be known at a later date.
Latest posts by Around Akiba
(see all)
Around Akiba is all about bringing you the latest and greatest on everything that happens in the futuristic and fantastic world of Akihabara, Tokyo!