Jujutsu Kaisen and Animate watch Collaboration
Animate, a Japanese online store for Anime, Manga and game merch has released a watch collaboration with the popular franchise Jujutsu Kaisen. The collection includes four designs. Let's have a closer look!
The models
Itadori Yuji
Main character Itadori Yuji's design features a leather wristband and antique gold casing. A finger replaces the watch's short hand, representing Sukuna's cursed bodypart. Furthermore a mouth replaces the number four, so it looks like the finger is about to get swallowed, in similar fashion to the anime. While the rest of the numbers remind me of an Alice in Wonderland font, they're supposed to stand for the chaos within Yuji.
Fushiguro Megumi
Held in simple black and gunmetal this watch design matches Fushiguro's dark and cool character and appearance. The numbers consist of simple lines. In place of the numbers 4 and 10 there are two wolf heads. They represent Fushiguro's white and black Shikigami he uses in the Anime.
Kugisaki Nobara
The more feminine design of Nobara's watch features a rose gold mesh band and casing. It has a pink face with a rose and background design that reminds you of a technique used in one of the later episodes of the anime. Hammer and nail, both of her weapons, make up in the watch's hand and the number 12.
Gojo Satoru
With silver and turquoise as the main colors this watch unmistakably belongs to the trio's popular teacher. A silver mesh band and body to represent his hair, turquoise stones to represent his eyes. The lower half represents Gojo's eye mask and his technique "Infinite Void". Another interesting feature is the holographic property of the upper half.
Properties, price and availability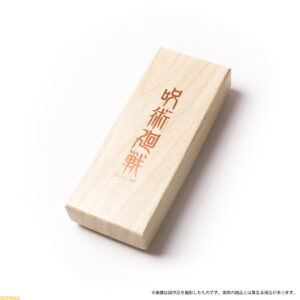 The materials used for the watches are alloy, mineral glass, stainless steel and leather. The watches come in a stylish case.
The band's is approximately 5.5″-7.8″ (14.5-20.0 cm) long and 0.7″ (1.8 cm) wide, the dial is approximately 1.5″ (3.8 cm) in diameter.
The preorder goes from June 4th to June 7th, with the planned release date on September 17th. The watches retail for ¥ 5,500 (~$ 50). According to the Animate Website overseas orders are accepted, you can order here.
Sources: Animate Website