One of the best things about karaoke chains in Japan are the numerous collaborations they do with anime and games! JOYSOUND just announced their upcoming Diabolik Lovers Zero room that will be available at the Ikebukuro West Entrance Park location starting March 14th, 2019. There will be two "waves" of the collaboration with the first being from March 14th – April 30th and May 1st – June 16th.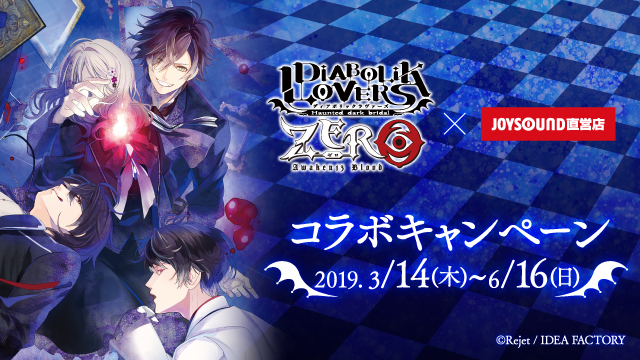 From the walls to the tables, everything will be covered in Diabolik Lovers Zero visuals and motifs. Those who book these rooms will receive a special postcard as a gift.
Four non-alcoholic collaboration drinks representing the different families and Kino, will be available for 680yen per drink, and each comes with an original coaster to take home. Coasters are chosen by random from 13 different designs. The coaster designs will change to a different set of 13 from May 1st. Collaboration drinks will also be available at nine other participating locations!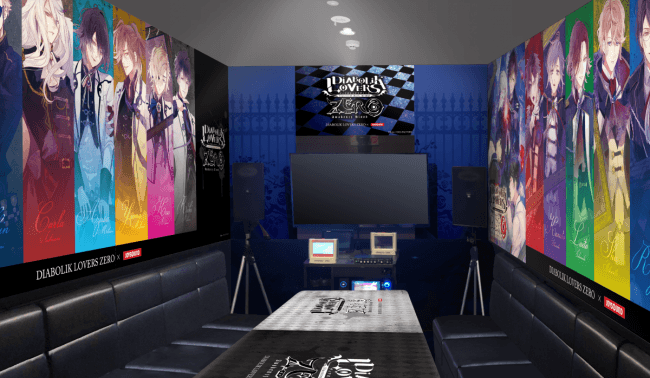 Here are some things to note if you plan on booking the campaign room:
※ Reservations aren't necessary but highly recommended as these collaboration rooms tend to get filled up quite quickly. Reservations are only available by telephone via 03-5956-9686
※ Rooms are for a minimum of 2 people or more for a maximum of 2 hours, however on the day of the booking, it may be possible to extend the time.
※ If you are going solo, you must pay the fee for 2 people.
※ All collaboration rooms are non-smoking.
Customers will receive an original postcard of the mini-menu.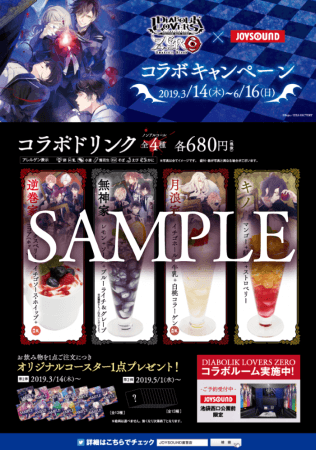 Four collaboration drinks representing the different factions will be available at all ten participating locations. Drinks are 680yen each and are non-alcoholic.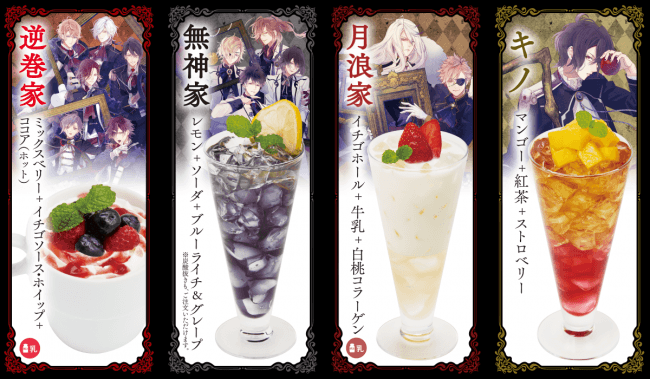 Sakamaki Family: Hot chocolate with mixed berries, strawberry sauce and whip cream.
Mukami Family: Lemon, blue lychee and grape soda drink
Tsukinami Family: White peach collagen and milk drink topped with whole strawberries
Kino: Mango and strawberry black tea
Exclusive coasters come with every collaboration drink. First wave of 13 designs available from March 14th – April 30th. The second wave is available from May 1st – June 16th.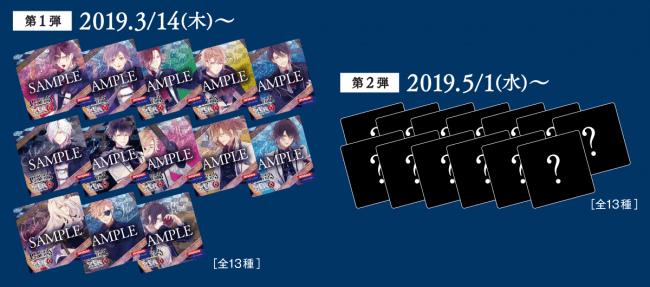 Participating JOYSOUND location details:
Collaboration Room + Collaboration Drink  (1 location)
Tokyo – Ikebukuro West Entrance Park
https://shop.joysound.com/shop/joysound-ikebukuronishiguchi/
Address: 1-10-8 Nishi-Ikebukuro, Sunglow Bldg 6F, Toshima-ku, Tokyo
Telephone: 03-5956-9686
Times of Operation: 11AM ~ 6AM
Collaboration Drink Only (9 locations)
Yamagata – JOYSOUND Yamagata
Saitama – JOYSOUND Oomiya West Entrance
Tokyo – JOYSOUND Shibuya Dogenzaka
Aichi – JOYSOUND Kaneyama
Osaka – Dotonbori 2-Chome
Hyogo – Sannomiya East Entrance Ekimae
Hiroshima – Hiroshima Centre Street
Ehime – Matsuyama Okaido Ichibancho
Fukuoka – Fukuoka Hakata-guchi Ekimae
©Rejet / IDEA FACTORY
Official campaign website:
https://shop.joysound.com/campaign/dialover_2019/
Diabolik Lovers Zero official website:
http://dialover.net/
Source material: PRTimes
ad2
Latest posts by Phoebe Lin
(see all)